It's Time for Wisconsin Gov. Tony Evers to Stop Enforcing the Unborn Child Protection Act
The Unborn Child Protection Act (Act 292) allows Wisconsin to accuse certain pregnant people of "unborn child abuse." Gov. Tony Evers could stop it.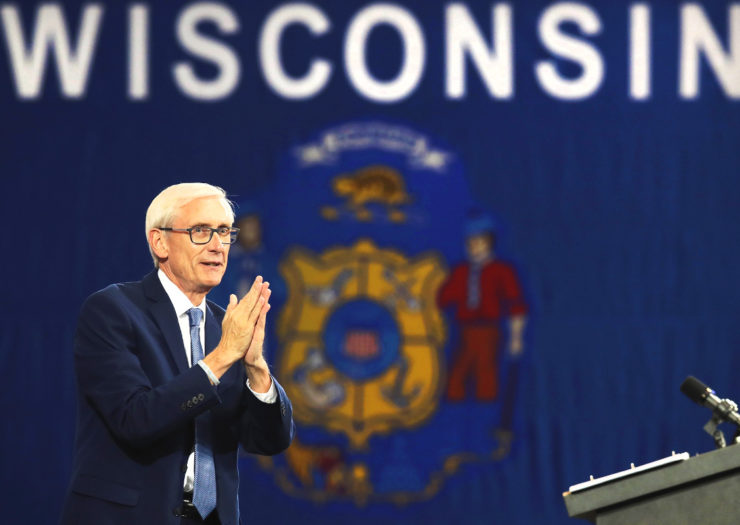 When Republican incumbent Scott Walker lost the governor's race to Democrat Tony Evers in 2018, the entire state of Wisconsin felt it. After eight years of Republican leadership, change was coming. Now that he's in office, it's time to push for the progressive change Gov. Evers campaigned on—including on his pro-choice politics—by halting the enforcement of the Unborn Child Protection Act.
During his campaign, Evers said he was pro-choice, writing on his website that, "The health decisions a woman makes should reside with her, her family, and her physician—not the politicians who represent her." But we shouldn't forget that being in favor of women making their own health decisions is about more than the right to control their own bodies—it's about everything related to pregnancy and reproduction. Pregnant people and their families need to know Evers will stand up for their rights.
The Unborn Child Protection Act (Act 292), also known as the "cocaine mom law," allows Wisconsin to accuse certain pregnant people of "unborn child abuse." Specifically, the state can take a pregnant person accused of using alcohol or drugs now or in the past into custody, appoint a lawyer for their embryo or fetus, subject them to forced medical intervention, and force them into a drug treatment program, mental hospital, or jail regardless of whether they need drug treatment. And that's not all—pregnant people are not entitled to legal representation in the very important early stages of these closed, secret court proceedings.
An instance of this happened to Tammy Loertscher, a woman who sought medical assistance for hypothyroidism, depression, and a suspected pregnancy in 2014. She found out she was pregnant, confided in her doctor that she previously used illicit drugs, and next thing she knew, she was held by the court and almost forced to go to unnecessary drug treatment. Later, she was arrested and held for 18 days, 36 hours in solitary confinement, without necessary prenatal care.
Roe has collapsed and Texas is in chaos.
Stay up to date with The Fallout, a newsletter from our expert journalists.
Tammy's case isn't unique—it's happening to pregnant people across Wisconsin.
Though Act 292 was ruled unconstitutional by a federal district court in April 2017, it remains in effect thanks to the efforts of former Gov. Walker and former Attorney General Brad Schimel (R) who appealed the decision. Later that year, the U.S. Supreme Court issued an order and stayed a decision made by a judge in Wisconsin, meaning that the ruling was put on hold and could be enforced.
Governor Evers could right this wrong by immediately and formally moving to end enforcement of Act 292. The law not only threatens the liberty and autonomy of pregnant people—it's also bad public health policy built on a foundation of junk science. Punishing pregnant people who use or previously used drugs or alcohol discourages them from seeking drug treatment if they need it or critical prenatal care, and is strongly advised against by major state-level and national medical and public health organizations, including Wisconsin Medical Society and the American Academy of Addiction Psychiatry.
Not only does Act 292 allow Wisconsin to control people throughout pregnancy, it does so in cases of current, former, or even suspected drug use, regardless of the drug type, amount of use, or stage in pregnancy. Evidence shows that laws like Act 292 are disproportionately enforced against marginalized communities, including low-income women, drug-using women, and women of color. However, this law is dangerous for all people who experience pregnancy in Wisconsin and can be applied even before a woman knows she is pregnant.
We can't just assume that Act 292 will be eliminated under new leadership. In 2018, Reproaction—where I work an organizer to protect the human rights of pregnant people in Wisconsin—launched the #WIFights292 campaign in order to eliminate Act 292. Already, we've been taking direct action outside of drug treatment centers to hand out informational flyers to those who may be vulnerable to enforcement of this law or may know someone who is. Now that the political landscape in Wisconsin has changed, we intend to organize online and offline to put pressure on Gov. Evers to stop enforcement of Act 292 as soon as possible.
Criminalization of women and pregnant people isn't unique to Wisconsin—it's happening all over the country. Right now, people are being criminalized for pregnancy outcomes, and anti-choice activists are calling for jail time or even the death of people who have abortions. A change in leadership in Wisconsin could mean the progress we've been waiting for and the end of criminalization and dehumanization of pregnant people. We hope everyone will join Wisconsinites to call on Gov. Evers to immediately stop enforcing Act 292.