Meet Another Religious Health System Restricting Reproductive Care
Seventh-day Adventist Church policy opposes abortion, assisted suicide, and the "homosexual lifestyle," but approves of contraception, sterilization, and in vitro fertilization.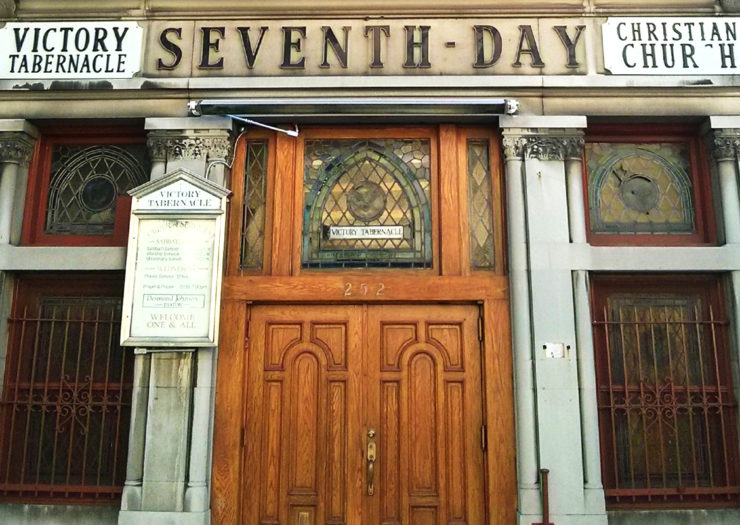 Rewire.News has reported extensively on the spread of Catholic hospitals, which restrict access to abortion, sterilization, and most contraception, and account for one in six acute-care beds in the United States. But Seventh-day Adventist facilities, which have their own rules on reproductive health care, control a growing swath of the health-care landscape—and their policy arm just opened an office in Washington, D.C.
There are about 90 Adventist hospitals and 350 affiliated provider organizations in the United States, and more than 500 facilities worldwide. These include AdventHealth, the largest nonprofit Protestant health system in the country, and Florida Hospital Orlando, one of the nation's largest hospitals.
The Seventh-day Adventist Church opposes abortion, assisted suicide, and the "homosexual lifestyle," but approves of contraception, sterilization, and in vitro fertilization.
"We believe in a creator who has given us choice, and that's what overarches the approach that we take," Carlyle Walton, president of the Adventist Health Policy Association, told Rewire.News in an interview. "We think that infringing, for want of a better term, on people's choices is not something that God has called us to do."
Roe has collapsed in Texas, and that's just the beginning.
Stay up to date with The Fallout, a newsletter from our expert journalists.
But that position does not extend to abortion care.
Loma Linda University Health, a California-based Adventist system with six hospitals, said in a statement that it offers abortions "only in situations in which the fetus has a condition that is incompatible with life, or in a situation when the pregnancy is life-threatening to the mother."
Asked about the Church's opposition to same-sex marriage, Walton said it does not interfere with how patients are treated.
"I mean it's just like, we oppose the eating of pork, but we take care of people who eat pork," Walton said. "That's where we do not allow our beliefs to impact whether we treat someone or not." Walton said the question of gender-affirming surgeries is "still being processed within our various systems."
The Seventh-Day Adventist Church's 2017 statement on "transgenderism" said "the desire to change or live as a person of another gender may result in biblically inappropriate lifestyle choices," citing as examples "cross-dressing, sex reassignment surgery, and the desire to have a marital relationship with a person of the same biological sex." U.S. Secretary of Housing and Urban Development Ben Carson, perhaps the country's most famous Adventist, has called trans people "abnormal."
Walton referred questions about health-care services to the five health systems that make up AHPA, which represents the vast majority of Adventist facilities in the country. Two provided comment by deadline, including the Maryland- based system Adventist HealthCare, which said it "follows the guidelines and philosophy of the Seventh-day Adventist Church."
Loma Linda University Health said in a statement that it "does not have an organized program offering gender-affirming surgeries and hormone prescription services," but "offer[s] treatment to transgender patients for their healthcare needs across our system." A spokesperson did not say if such treatment includes hormone therapy or surgeries. (Catholic systems often refuse to perform gender-affirming surgeries.)
Adventist systems that merge with their Catholic counterparts have made efforts to preserve access to reproductive health care. When Adventist Health and the Catholic St. Joseph Health System announced plans to form a joint operation in California last year, the deal specified that Adventist facilities would not follow the Catholic directives. That would allow both companies "to operate in a manner consistent with their own ecclesiastical standards," the proposal to state regulators said. Centura, a Colorado-based provider that's the largest in the region, is sponsored by Adventist Health and Catholic Health Initiatives (CHI). Community hospitals absorbed by Centura can reportedly pursue sponsorship by Adventist Health instead of CHI to avoid the Catholic rules. CHI is now merging with Dignity to create the nation's largest nonprofit health system, raising a broader set of concerns around reproductive health access.
Walton acknowledged these workarounds could confuse patients, many of whom are unaware of religious affiliations that can affect their care.
But as he prepares to lobby members of Congress, Walton said he is focused not on reproductive health care, but on advancing the Adventist value of "human wholeness." He cited Adventist health systems' efforts to address homelessness, food insecurity, and lack of potable water as examples.
"We have committed to a presence in D.C., and to becoming more engaged in debate on a national level relative to the transformation of health care," Walton said.
Tell us your story. Have religious restrictions affected your ability to access health care? Email [email protected]