Diapers, Tampons, Nursing Bras: The Trump Shutdown's Unseen Costs for Working Families
The longest shutdown of the federal government in U.S. history revealed that missing just one paycheck can put diapers, nursing supplies, and menstrual products out of reach.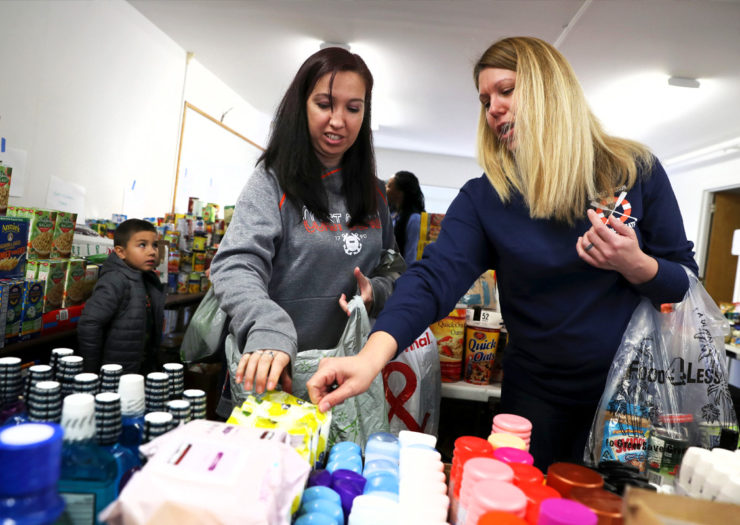 The longest federal government shutdown in U.S. history exposed alarming access issues for necessities like diapers, nursing supplies, and menstrual products.
President Trump on Friday announced a short-term deal with the U.S. Congress to fund the federal government for three weeks, ending the 35-day closure that began when Trump didn't receive funding for his border wall.
Corinne Cannon, founder and executive director of the Greater D.C. Diaper Bank, told Rewire.News Friday that the organization saw "a pretty drastic increase in requests for help for individuals" during the government shutdown. The diaper bank, operating in D.C., Maryland, and Virginia for more than eight years, normally provides "diapers, period products, formula, breastfeeding supplies, adult incontinence supplies, and other hygiene products" to social service organizations that then distribute them to those in need.
But during the government shutdown, there was "a massive increase in need," Cannon said. "We had an increase in requests for individuals, an increase in requests from organizations—we saw a lot of folks who we've never talked to about diaper needs before coming [to us]."
Roe has collapsed in Texas, and that's just the beginning.
Stay up to date with The Fallout, a newsletter from our expert journalists.
The Greater D.C. Diaper Bank directly distributed roughly 20,000 diapers to Coast Guard families working without pay at the TISCOM base in Alexandria, Virginia. It also opened up a direct distribution site in central Washington, D.C., at the World Central Kitchen to give away period products and diapers. On Sunday the diaper bank gave out diapers to Transportation Security Administration workers, air traffic controllers, and Customs and Border Protection staff at local airports.
For many federal workers and contractors affected by the shutdown, the loss of even one paycheck left them unable to afford food, rent, medical services, and personal hygiene necessities. Though some social safety net programs like the Supplemental Nutrition Assistance Program—also known as SNAP or food stamps—and the Special Supplemental Nutrition Program for Women, Infants, and Children (WIC) continued to provide benefits for qualified households, those programs don't cover diapers or menstrual products.
"Periods don't stop for furloughs. Periods don't stop for shutdowns," Dana Marlowe, founder of D.C. area-based nonprofit I Support the Girls, told Rewire.News. During past government shutdowns, Marlowe said, many furloughed workers reached out to volunteer for the organization, which works with vetted social services organizations to distribute donated items like menstrual products and new and gently used bras to people experiencing homelessness. But this time, things were different. I Support the Girls usually works with partnered organizations instead of directly with those in need, but it began receiving messages from those seeking help.
There were "a lot of people who are affected by the government shutdown that are living paycheck to paycheck that are coming to us asking for a package or two of maxi pads or tampons," said Marlowe, "just to get them by until when they get their paycheck again."
After the organization posted on social media in the second week of January asking furloughed workers in need of menstrual products to get in touch, "it was instantaneous. Emails started coming in, the [direct messages] started populating in our phones. [They were] dinging off the hook." Many were reaching out from their work email accounts to prove they were federal workers, said Marlowe, and asking for supplies for themselves and their teenage children. I Support the Girls gave each a three-month supply of period products for each person in the home who menstruated.
"We've gotten so many different stories, people saying that they live paycheck-to-paycheck, that they have to pay money for the utilities," she said. "And so this little support to help manage their menstrual hygiene would be able to then focus their budget on other major priorities, like providing food for their family or utilities or rent."
Marlowe read Rewire.News a message from one employee of the FBI. "I am approaching my second missed paycheck and need menstrual products," the woman wrote. "I'm also a breastfeeding mother without any real bras anymore. Anything you could do will help."
Another message read by Marlowe said: "My husband and I have to go to work and we are not getting paid. We have four kids and it is getting very stressful. His car broke down, so now we are only using one. We have three teenage girls. So, of course, we use lots of female hygiene products in our house."
More messages came from families affected by the shutdown at the Bureau of Prisons, the U.S. Coast Guard, the U.S. Department of Agriculture—and the requests weren't just from those in the D.C. area. They came from California, Florida, Texas, Maryland, Virginia, Alaska, Georgia, and North Carolina, Marlowe said.
It remains unclear when all federal employees will receive their paychecks. Federal contractors, meanwhile, won't get backpay unless efforts to pass a bill through the U.S. Congress prove successful. And though the government has re-opened, the three-week deadline for reaching another spending deal looms over Congress and the Trump administration.
"What the shutdown created was 800,000-plus economically vulnerable families in a very short amount of time," Cannon said. "I think a lot of the families that we serve normally and a lot of the families that we're serving right now learned very rapidly that they couldn't miss more than one without having some severe impacts on their families' quality of life."