Medicaid Work Requirements Rejected by Maine's New Governor
The Trump administration in December gave the green light to former Gov. Paul LePage's request to make Medicaid less accessible.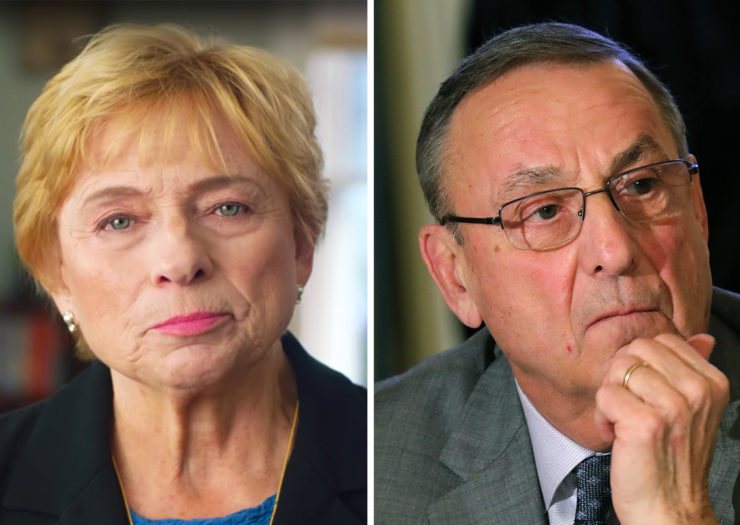 Maine Gov. Janet Mills (D) notified the Trump administration on Tuesday that Maine won't accept the terms of the pending Medicaid waiver submitted by former Republican Gov. LePage that would have applied onerous work requirements and reduced access to health care.
LePage's waiver would also have required people who only use Medicaid to cover family planning to pay premiums, violating federal law prohibiting cost sharing for family planning services and supplies.
Mills instead directed officials in Maine's department of health and human services (DHHS) to increase workforce training opportunities for MaineCare participants.
"While we appreciate the Centers for Medicare and Medicaid Services' consideration, Maine's low unemployment rate, its widely dispersed population, and our lowest per capita income in New England make mandates—without appropriate supports like vocational training and specific exemptions for groups like people undergoing treatment—problematic," Mills wrote in a letter to Centers for Medicare & Medicaid Services (CMS). "We believe that the likely result of this [waiver] would leave more Maine people uninsured without improving their participation in the workforce." 
Roe is gone. The chaos is just beginning.
Follow Rewire News Group on Twitter to stay on top of every breaking moment.
Mills plans to bolster workforce training by increasing the use of Temporary Assistance for Needy Families (TANF) funding for employment services; implementing a new Higher Opportunity for Pathways to Employment (HOPE) program to support families with low incomes; connecting Supplemental Nutrition Assistance Program (SNAP) recipients to jobs through the state's department of labor; and connecting all these recipients with the Maine CareerCenter system, according to a statement from the governor's office.
"Making sure people are healthy is the first step in making them eligible for work," a spokesperson from Mills' office said in an email. 
CMS approved LePage's push for Medicaid work requirements in December. Republican governors across the United States have asked the Trump administration to approve similar requirements, which have made Medicaid inaccessible for thousands of people with low incomes. Almost 17,000 people in Arkansas have lost their Medicaid coverage due to GOP-backed work requirements. 
Last June a federal judge blocked Kentucky's Medicaid work requirements after their legality was challenged. CMS has approved a new waiver there that's also facing a lawsuit.
"CMS has chosen to undermine public health and defy federal law by approving a Medicaid waiver that would deny countless poor and low-income Maine women and men of the high-quality family planning and sexual health care they need," said Clare Coleman, president and CEO of the National Family Planning & Reproductive Health Association, in a statement released after CMS issued its approval for Maine's waiver. 
In an email earlier this month, George Hill, president and CEO of Maine Family Planning, described CMS' approval of the waiver as "a deepening assault on Mainers' public health, reproductive freedom, and basic dignity."
"These fundamental changes to MaineCare would erect unacceptable barriers to care, including birth control, STD testing, and other services covered under the Limited Family Planning Benefit—despite evidence that these benefits help Mainers prevent unplanned pregnancy and disease. If the LePage and Trump administrations really wanted to save on health care costs, they would ramp up their support for family planning and sexuality education," Hill said.
Arizona, Arkansas, Indiana, Michigan, and New Hampshire are among the states where job-requirement waivers have been approved by the Trump administration.
"Maine believes that providing appropriate educational opportunities and vocational training, along with critical health care, is the most effective way to lift people out of poverty and into the workforce," Mills said in a statement announcing the reversal.
Mills this month implemented the voter-initiated Medicaid expansion LePage tried to block in violation of the law. Maine was the first state to expand Medicaid via a ballot initiative in 2017. Mills' first executive order this month asked Maine's DHHS to swiftly implement the expansion, which has enrolled more than 1,500 eligible Mainers in health-care coverage under the program as of January 18.