Senate GOP Prioritizes Abortion Funding Restrictions Over Ending Shutdown
The anti-choice bill went nowhere when Senate Republicans failed to get the 60 votes they needed.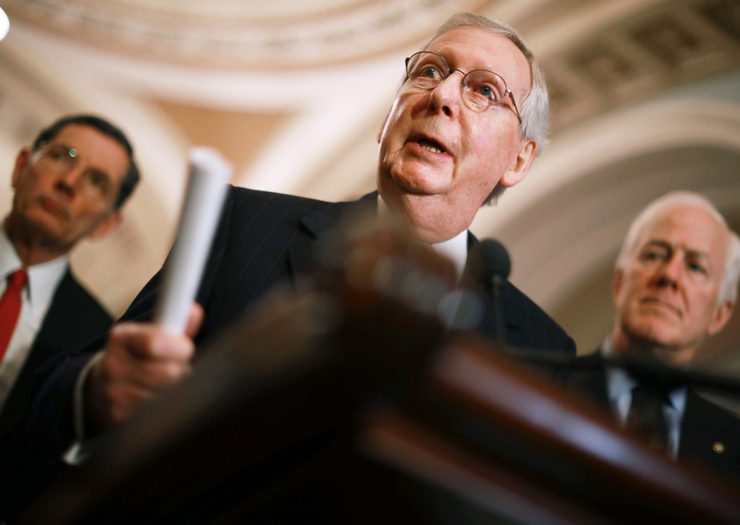 U.S. Senate Majority Leader Mitch McConnell (R-KY) advanced legislation that would codify a ban on federal abortion funding in a nod to anti-choice activists rallying this week in Washington, D.C. But the bill's progress was halted Thursday afternoon when it failed to pass the 60-vote threshold needed to proceed.
Meanwhile, McConnell continues to block legislation to end the partial government shutdown.
Sen. Roger Wicker (R-MS), who introduced the No Taxpayer Funding for Abortion and Abortion Insurance Full Disclosure Act of 2019 alongside Sens. James Lankford (R-OK) and Pat Roberts (R-KS), was transparent about why Republicans were putting forth the legislation. "As thousands gather in our nation's capital this week to March for Life, it is well-past time Congress passed a comprehensive solution to the patchwork of regulations prohibiting federal funding for abortion services," he said.
The bill, S 109, has 39 co-sponsors—all Republican. It would make the Hyde Amendment permanent. Hyde, an anti-choice ban on federal funding for abortion passed each year in budget riders, disproportionately affects people with low incomes and people of color. According to a summary of the bill, the legislation would also permanently ban Washington, D.C., from using its own funds to pay for abortions, prohibit ACA subsidies from being used for insurance plans that cover abortion, and ban federal workers and federal health facilities from providing abortion care.
Roe has collapsed in Texas, and that's just the beginning.
Stay up to date with The Fallout, a newsletter from our expert journalists.
"By restricting consumers' ability to purchase comprehensive health plans that cover abortion, the bill would essentially eliminate abortion coverage across the entire insurance market," NARAL Pro-Choice America said in a statement.
In an email to Rewire.News, Amanda Thayer, a spokesperson for NARAL, added that the bill is "absolutely tied to the March for Life solely to throw a bone to their anti-choice base—everyone knows this bill will fail, this is a hollow effort underscored by a shameful willingness to play politics with people's lives and health in order to score political points."
McConnell on Wednesday filed cloture on the motion to proceed with the bill. Though an identical measure passed the U.S. House of Representatives in early 2017, the Senate never voted on its related bill. Had the bill advanced, it would have been unlikely to be approved by the Democratic majority in the House.
The decision to progress with the bill comes as Senate Republicans refuse to take up a package of bills to re-open the federal government that has already been passed in the House. The shutdown has stretched for 27 days—the longest shutdown in history—and about 800,000 federal workers are going without their paychecks.
Sen. Patty Murray (D-WA) in a speech on the Senate floor Wednesday lambasted Republicans in the chamber for taking up a measure to restrict abortion while refusing to bring legislation to end the shutdown up for a vote. "All it would take is a vote—we know it would pass—and we can move it through the House and send it to the President. But what have Republican leaders done instead?" Murray asked. "They have done what they've always done when they don't know what else to do. They've scheduled a vote to attack women and their health care."
"Instead of ending the chaos and dysfunction, and getting our country back on track they want to chip away—again—at every woman's constitutionally protected right to make her own health-care decisions," Murray continued.
Anti-choice organizations cheered on the bill to further restrict abortion funding, saying it indicated Senate Republicans' priorities at a time when a pro-choice majority has taken over the House, with many House Democrats promising action to permanently end the Hyde Amendment. "The Pelosi-led pro-abortion House has made clear they will try to force taxpayers to pay for abortions by repealing the Hyde Amendment," Susan B. Anthony List President Marjorie Dannenfelser said in a statement. "By voting on the No Taxpayer Funding for Abortion Act, the pro-life majority in the Senate is showing they'll be a brick wall when it comes to trying to force taxpayers to pay for abortion on demand."
Dr. Meera Shah, a fellow with Physicians for Reproductive Health, said in a Thursday statement that the codification of a federal ban on abortion funding would be dangerous. "As a family medicine doctor … I know that it is vital for everyone to have affordable access to the full spectrum of health care options, especially when they are pregnant," said Shah. "This bill will put abortion care out of reach for people nationwide."
"I see how cost determines whether or not someone is able to get the care they need. No one should have to choose between paying rent or paying for their abortions, yet that's a reality many of my patients face," Shah said.