Congressional Pro-Choice Caucus Vows to Use New House Majority to Take on Trump in 2019
Rep. Judy Chu vowed that the Pro-Choice Caucus would "use every legislative and oversight tool in our power to investigate" Trump's attacks on reproductive health care.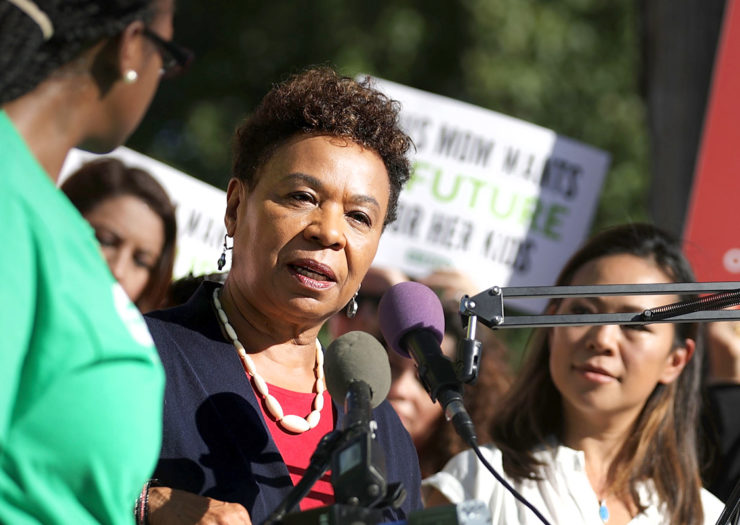 The Congressional Pro-Choice Caucus convened with reproductive rights advocates on Capitol Hill on Tuesday to outline its priorities for the new session of the U.S. Congress, promising to fight back against anti-choice restrictions such as the global gag rule and the Hyde Amendment.
"With this historic Congress of so many Democratic women that have come in, and our male supporters, we know that we will not sit back," said Rep. Judy Chu (D-CA) in her introductory address. "We will not let the Trump administration tell us what to do with our own bodies. We pledge to use every legislative and oversight tool in our power to investigate the Trump administration's attacks on women and show the American people that instead of attacking women and families, we will invest [in] and expand health care. We were elected to hold the Trump administration accountable, and that's exactly what we plan to do."
The kind of oversight that Chu promised became more likely with Tuesday's announcement that Pro-Choice Caucus Co-Chair Diana DeGette (D-CO) was named chair of the House Energy and Commerce Committee's Oversight and Investigations panel. The committee has "direct oversight authority and the power to investigate the actions of several prominent federal agencies," including the U.S. Department of Health and Human Services, according to a press release from DeGette's office.
Chu went on to chart out some of the topics the Pro-Choice Caucus hoped to take on in the new legislative session and noted the Trump administration's many attacks on reproductive health and rights. She condemned the proposed domestic gag rule, which would block federal family planning funds from organizations that provide abortion services in the same location as their Title X-funded services.
Roe is gone. The chaos is just beginning.
Follow Rewire News Group on Twitter to stay on top of every breaking moment.
"The Trump administration's final rule is expected any day now," she continued, explaining that the proposed rule could shut down many Planned Parenthood facilities.
DeGette said the pro-choice majority in the House was historic. "I can't tell you what this means for … protecting the full range of women's health," said DeGette. "Not just here in the United States but around the world," she continued. "We intend to fight aggressively to reverse the terrible decisions made by the Trump administration and, frankly, previous administrations, going back even more than forty years. We intend to reverse all of that. Maybe not in the first month, but soon."
"We're going to use this majority to defend women, to uplift families, and to end the Trump administration's unconstitutional attacks on reproductive health care," said Rep. Barbara Lee (D-CA), the caucus' other co-chair. Lee said she would re-introduce the EACH Woman Act, "the boldest pro-choice legislation in history," which would end the Hyde Amendment's ban on federal funding for abortion. The anti-choice restriction disproportionately affects access to abortion care for people with low incomes and people of color.
"We believe in science. We believe in evidence .… We're going to be bold," Lee said.
Analysis published by ThinkProgress in late November found unprecedented support for ending Hyde in the House. "By ThinkProgress' count, at least 183 House members support repealing the Hyde Amendment," reported Amanda Michelle Gomez. When it comes to Lee's measure to permanently end the restriction, the publication found that "the bill needs support from at least 35 more representatives to pass." The legislation would be unlikely to pass the Republican-controlled U.S. Senate or to be signed by President Trump.
Data for Progress last June found that the unprecedented number of women running for office "dramatically increases the prospects of overturning the Hyde Amendment." Already, several of the House's most buzzed about new members, including Rep. Ilhan Omar (D-MN), who spoke later at the Pro-Choice Caucus event, have unapologetically rejected Hyde.
Rep. Nita Lowey (D-NY) said she would re-introduce the Global Health, Empowerment, and Rights (HER) Act, which would roll back the Trump administration's global gag rule. "For decades, some of us have been fighting against the global gag rule, which has been shown to not only increase abortions but also to decrease the effectiveness of our foreign aid by preventing the United States from working with our most experienced and trusted partners abroad," she said. "Its hard to believe that we have arrived at a terrible place where the administration is trying to replicate this abhorrent policy at home," Lowey continued, referring to the proposed domestic gag rule.
Pro-choice leaders, including Sung Yeon Choimorrow, executive director of the National Asian Pacific American Women's Forum, and Planned Parenthood President Dr. Leana Wen spoke at the event. Wen pointed to the attacks on reproductive rights from state and federal lawmakers, saying "that's why this new Congress, with all of you as our champions and our leaders, is so important."
"You ran on proudly pro-reproductive health-care platforms and the American people said yes," Wen said. "Now we look to you to fight against this Trump-Pence administration's anti-women, anti-health, and anti-family policies."