Maine's New Governor Wants to Guard Against GOP Efforts to Wipe Out Obamacare (Update)
Gov. Janet Mills will join Maine Democrats to protect Obamacare benefits amid conservative legal attacks on the health-care law.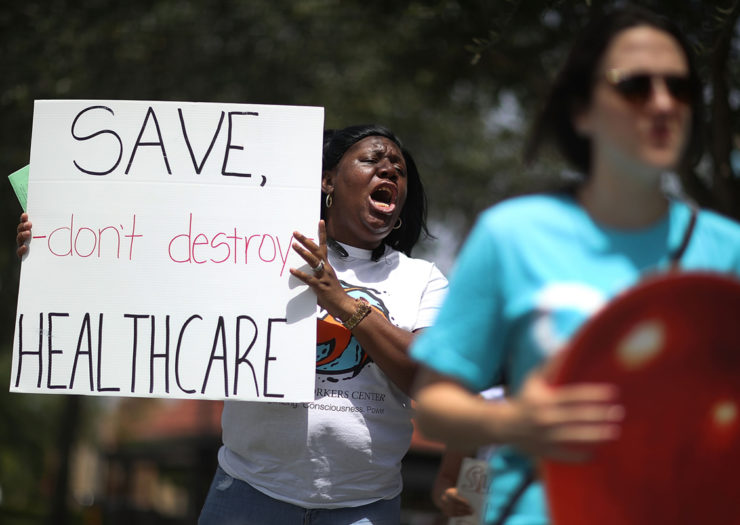 UPDATE, March 19, 10:48 a.m.: Maine Democratic Gov. Janet Mills on Tuesday will sign legislation that codifies into state law patient protections outlined in the Affordable Care Act. 
Maine Gov. Janet Mills (D) kicked off her term with a vow to protect health care in a state that faced myriad setbacks under former Republican governor Paul LePage, who ignored a voter-approved law to expand Medicaid access and didn't fight back against the Trump administration's undermining of the Affordable Care Act (ACA), or Obamacare.
The first bill introduced this year by Maine Democrats fights back against the Trump administration's efforts to weaken the ACA, which has raised costs. The Maine legislation was filed in response to a ruling by Judge Reed O'Connor, who in December declared the health-care reform law unconstitutional.
Introduced by new Senate President Troy Jackson (D-Allagash) in response to the O'Connor ruling, the bill aims to strengthens patient protections in health-care plans offered in Maine, including coverage for pre-existing conditions. It would allow adults up to age 26 to be covered by their parents' insurance and limit what premiums seniors can be charged, so Mainers are protected no matter what happens to the federal health-care law.
Roe has collapsed and Texas is in chaos.
Stay up to date with The Fallout, a newsletter from our expert journalists.
LD 1 was introduced on January 2 and remains in committee. LePage vetoed a similar bill last year.
"I refuse to stand idly by as forces in Washington and elsewhere work to strip Maine people of critical coverage for pre-existing conditions and other essential health benefits like mental health and maternity and newborn care," Mills said in a statement. "Maine can do more to strengthen its laws and align them with the protections guaranteed under the Affordable Care Act.
"Health care is a basic human right," Jackson said in a statement. "With health care increasingly under attack, it's our job as state lawmakers to do everything in our power to protect the health and well-being of Maine people, starting with this legislation. We must also must work together to lower health care costs, increase access to care and strength the quality of coverage."
House Speaker Sara Gideon (D-Freeport), who cosponsored the bill, said Maine needs affordable and accessible health care after having faced too many rural hospital closures and outrageous cost of prescription drugs due to the opioid epidemic. "This lack of access is causing lasting damage to not just individuals, but to our entire economy and it is time we took action," she said in a statement.
From refusing to pass the voter-mandated Medicaid expansion that was supposed to go into effect last January to misspent money and damaging cuts to public health, LePage's policies have curtailed access and raised health costs in Maine, much like the assault on the ACA by congressional Republicans and President Trump.
Rising premiums, deductibles, and co-pays are forcing millions who don't get federal subsidies to turn to cheaper or inadequate insurance, reported Kaiser Health News.
Even though the Trump administration slashed advertising funding for Obamacare signups, and the sign-up period was only half as long as the previous year's, 8.4 million people signed up for 2019 health insurance through the ACA's marketplace in 2018, compared to 8.7 million enrollments the previous year, according to the latest data from the Centers for Medicare & Medicaid Services. Maine added 70,987 new enrollees during the open enrollment period.
Striking down the ACA will have widespread impact, from nonprofit hospitals to individual civil rights and new mandates like breastfeeding breaks, according to a recent analysis from the Kaiser Family Foundation.
The ACA extended Medicaid coverage to low-income people, reducing the number of uninsured non-elderly people from more than 44 million in 2013 to under 27 million in 2016. But the number of uninsured people increased by nearly 700,000 people in 2017, KFF noted.
Enrollment is strong in Maine and nationwide despite the damage inflicted by the Trump administration, Ann Woloson, executive director of Maine's Consumers for Affordable Health Care, told Rewire.News. But the recent dip in enrollment is a problem because there are now fewer people in the pool, meaning people with coverage end up paying more.
It also means Trumps' short-term "junk" plans are becoming more prevalent for people struggling with health-care costs. That's a problem because these plans do not provide the same consumer protections as those required under the ACA. "We've heard from people in the last couple of weeks who have these plans and [who have] people in their families who have cancer, and the treatment needed is not covered under these short-term plans," Woloson said.
Maine is not the only state pushing back against Trump's continued assault on the ACA in 2019. Washington Gov. Jay Inslee (D) on Tuesday called for a public health insurance option, just days after new California Gov. Gavin Newsom (D) took a step to overhaul the state's health-care system in a move towards single payer.
Obamacare is popular in Maine, and the intent of the new legislation is to help codify the consumer protections it provides into state law to help people access the health-care coverage they need, Woloson said.
"This is a smart move by the sponsors of the bill, and the hope is that the legislature will pass a bill … providing all the protections incorporated by the Affordable Care Act," she said.
These consumer protections "have gone a long way in making sure that more people in Maine and in the United States have the coverage that they need. There's much more we can and should be doing around affordability. But making sure these consumer protections remain in place in the state, should something happen at the federal level, is really important, Woloson said.