Amid Recount Chaos, Gillum and Florida Voting Rights Groups Refuse to Concede
Candidates are going to court and advocates are taking to the streets as recounts proceed in Florida.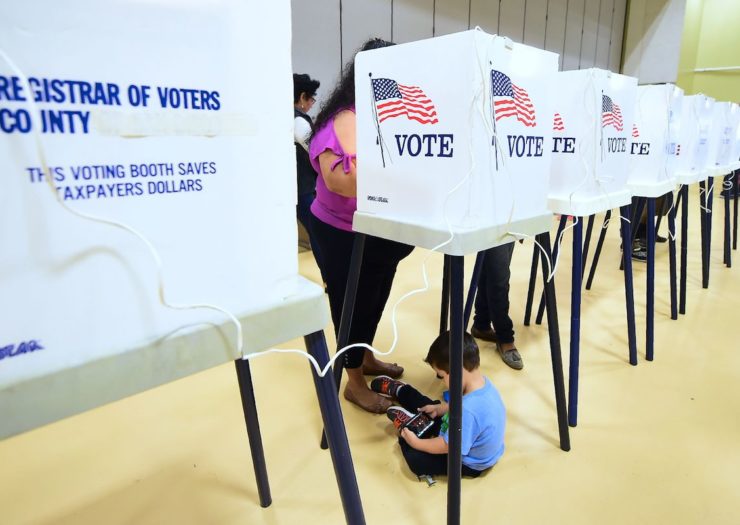 The state of Florida is once again the locus of electoral chaos. Over the course of the past week, lawsuits have been flying and machine recounts underway in races for governor, U.S. senator, and commissioner of agriculture. Given extremely slim margins in the senate and agriculture commissioner contests as of this evening, hand recounts will begin tomorrow to determine the winner. "Official" results at  the close of the machine recount in the governor's race between Republican Ron DeSantis and Democrat Andrew Gillum did not meet the standard for a hand recount.
Those results led DeSantis to declare victory. Gillum, however, is not conceding, in part because the ostensibly official tally omits thousands of uncounted votes.
"A vote denied is justice denied — the State of Florida must count every legally cast vote," Gillum said in a statement after the recount totals were released. "As today's unofficial reports and recent court proceedings make clear, there are tens of thousands of votes that have yet to be counted. We plan to do all we can to ensure that every voice is heard in this process. Voters need to know that their decision to participate in this election, and every election, matters. It is not over until every legally casted vote is counted."
A recount is meant to ensure an accurate tally of votes in tight races in part by ensuring that machine or other errors in processing votes are caught in the final total. After a week of arduous work during which crowds of Trump supporters gathered daily to try to intimidate election officials, results of recounts in both Broward and in Palm Beach counties—the second- and third-largest counties in the state, respectively—were not accepted. In Broward, vote counts were sent via computer to the secretary of state, but because of problems with the website they were transmitted two minutes past Thursday's 3 p.m. deadline, thereby invalidating the recount and reverting to election night totals.
Roe has collapsed in Texas, and that's just the beginning.
Stay up to date with The Fallout, a newsletter from our expert journalists.
In Palm Beach County, ballot machines failed, and the recount came to a halt. "Update from Palm Beach: Nothing." tweeted NBC News reporter Alex Seitz-Wald. Palm Beach's vote count also reverted to election night totals.
UPDATE FROM PALM BEACH: Nothing.

We're now 18 hrs from a deadline they're supposedly rushing to meet and there are *zero* machines running, *zero* employees visible working on the floor, and no new info in hours.

I just asked supervisor for update, she waved hand, walked away. pic.twitter.com/pXswQZhm9K

— Alex Seitz-Wald (@aseitzwald) November 15, 2018
The breakdown of machines, persistent under-investment in election infrastructure, and absurd deadlines seem to underscore that Republicans (who control the state government) want to get it done fast rather than right.
But the fight is still on to ensure all votes are counted. In addition to including corrected tallies from both Broward and Palm Beach, two heavily Democratic counties, the Gillum campaign and its supporters argue all other ballots must be counted, including military and absentee ballots, those originally rejected because of "mismatched signatures," and those not originally counted because they were not delivered to elections officials by November 6, even though they were officially post-marked in time. And why shouldn't every single vote cast be counted?
Gillum will make his case in court.
Progress was made on some of these ballots by the campaign of Democratic U.S. Sen. Bill Nelson. Nelson's lawyer, Marc Elias, won a suit this evening to have mismatched ballots "cured" or counted.
BREAKING: As a result of our successful lawsuit, Florida Secretary of State sends directive to counties informing them of extended period to cure signature mismatched ballots. pic.twitter.com/OCUsljHysZ

— Marc E. Elias (@marceelias) November 15, 2018
While candidates are going to court, advocates are taking to the streets.
"Let us be clear. This is not over," said Andrea Mercado, executive director of New Florida Majority, a group organizing in communities across the state. "It is wrong to call an election before every vote is counted. That's what happened last Tuesday and that's what's happening tonight."
"We're going to fight for every Floridians' vote to count because that's what it means to live in a democracy," Mercado said. "And we're prepared to continue to fight for a Florida for all of us after the election is over. There's too much at stake for us to leave this to any one candidate. On the 20th of November we'll be rallying for a Florida for all of us and we'll be prepared to hold every officeholder to account to make this a state where all of us can thrive."
New Florida Majority has planned rallies on November 20 in six counties so far.
Correction: This post has been updated to correct the name of Democratic Sen. Bill Nelson.