State Protections Take Center Stage as Trump Readies Attack on Transgender Rights
"The American people overwhelmingly oppose the cruelty of this administration and we must make our voices heard at every opportunity."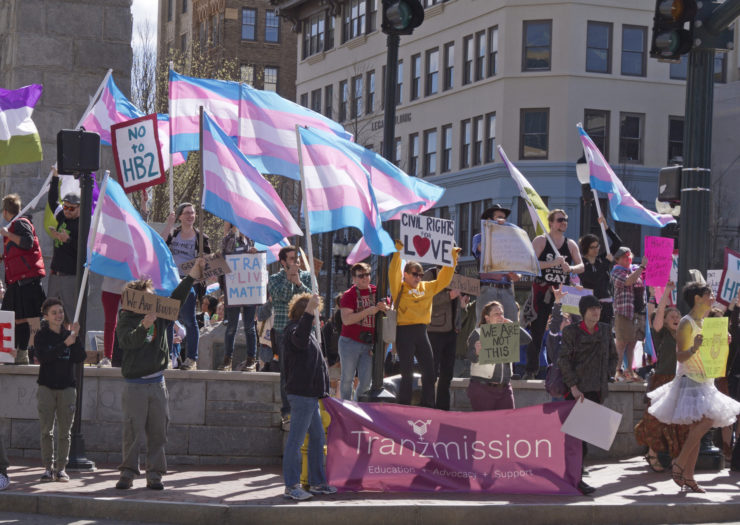 Attorneys general like Maura Healey in Massachusetts plan to protect transgender rights no matter what the Trump administration does in changing gender definitions to erode those rights. 
"No matter what happens on the federal level, we have strong laws in Massachusetts that protect transgender people from discrimination and guarantee equal rights. That's why it is so important to keep these laws in place to ensure that everyone is treated with fairness, dignity, and respect," Healey said after a New York Times report on a move by the Trump administration to erase civil rights protections for transgender people by narrowly defining gender identity to what was assigned at birth.
Healey is no stranger to anti-trans efforts in her home state, where Question 3 on the November ballot would repeal transgender legal protections passed in July 2016 that prohibits discrimination in public places based on gender identity.
Healey worked with advocates to secure support for the transgender public accommodations bill, and considered its passage "a huge victory for civil rights and for our transgender friends, family and neighbors," according to a statement.
Roe has collapsed and Texas is in chaos.
Stay up to date with The Fallout, a newsletter from our expert journalists.
Last year, she led a multi-state court brief opposing the Trump administration's effort to ban transgender people from military service.
In Vermont, Democratic gubernatorial candidate Christine Hallquist denounced this latest move by the Trump administration as "disheartening."
"Eroding Title IX protections for transgender people will precipitate a dangerous rollback of civil rights and put already marginalized people at further risk. The Trump administration's proposed decision flies in the face of science, common sense, and basic human decency," she said in an email to Rewire.News.
Hallquist, the first openly transgender candidate for governor to be nominated by a major party, said today that the memo created by the U.S. Department of Health and Human Services (HHS) targeting the transgender community "must be protested at every step of the way."
"The American people overwhelmingly oppose the cruelty of this administration and we must make our voices heard at every opportunity. We need to win in November and take power away from those who abuse it," she said. "And, as always, we must take care of each other and protect marginalized people in our communities."
California has been proactive on LGBTQ rights, with Gov. Jerry Brown (D) signing 12 pro-LGBTQ measures this year, according to the Bay Area Reporter. This includes a law allowing foster children as young as 12 to receive taxpayer-funded gender-affirming treatments and services without parental consent.
California Attorney General Xavier Becerra said he plans to "continue to protect those who may face discrimination because of their gender identity."
"We have a Constitution, both federally and also in our state, that protects people's rights and their freedoms. We certainly intend to continue to enforce those protections that people have," Becerra said in a statement. "I'm not sure what President Trump is planning to do, but certainly, I do not think that in this country we are looking to try to reopen doors to discrimination against people who have a history of having faced that type of animus."
The Trump memo could have dire consequences for transgender people and their families by denying them coverage for health care or insurance, advocates said, but it applies only to federal anti-discrimination law.
"It's all the more important for states to be picking up the slack and ensure that trans people are fully protected by state law," said Joshua Block, senior staff attorney with the LGBT & HIV Project at the American Civil Liberties Union (ACLU).
States can follow the lead of states like Massachusetts, New York, and California to pass comprehensive civil rights protections in education, public accommodation, health care, and employment. "Having those laws on the books and having vigorous enforcement mechanisms are I think exactly the types of stuff the federal government should also be doing but hasn't been doing under this administration," Block said.
The latest attack on trans rights is another reason for states to strongly defend their transgender residents against a hostile administration, said Kasey Suffredini, president of strategy at Freedom for All Americans and co-chair of Yes on 3 in Massachusetts. Suffredini said "this is not a red or blue issue, but a human issue. Our Commonwealth and country have now reached a fork in the road, and when Massachusetts votes Yes on 3 to continue treating each other with dignity and respect, we will show the country the path forward is love, not fear."
Even so, the new effort to restrict existing civil rights laws was a shock for the trans community to wake up to, said Chase Strangio, senior staff attorney with the ACLU during a press call today.
"This isn't about erasing trans people from existence because that is impossible, we do exist," he said.
"Lots can be done in the states, whether by governments or private litigants. The more we pay attention to what is going on in states, more we will see things happening even in states where we haven't see mobilization," he said.