Culture & Conversation Sexual Health
Rethinking the Retrospective: AIDS Activism Isn't Old History. It's Not Even Past.
When the Whitney Museum staged a show of works by the late artist David Wojnarowicz, members of ACT UP New York reminded curators and visitors that the pandemic isn't over.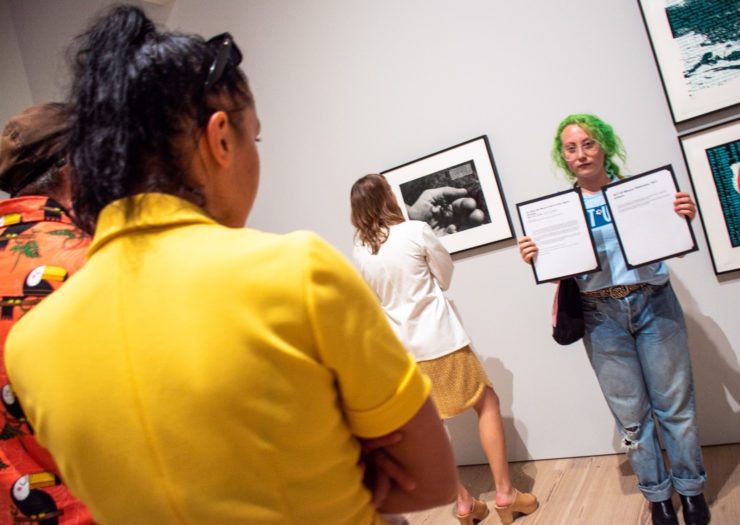 On July 27, visitors to the Whitney Museum of American Art's retrospective on the late David Wojnarowicz, famous for his protest art focused on the HIV and AIDS crisis, suddenly found themselves at the center of another act of protest.
This time, it was about the show itself, which ended on September 30.
Wojnarowicz, an artist whose paintings, photography, film, and writing confronted homophobia and the HIV and AIDS crisis in the late 1980s and early 1990s, has always had a special way of courting controversy.
In 1990, David Wildmon and the American Family Association used out-of-context images from Wojnarowicz's work in a pamphlet condemning the use of federal funds for what they considered obscenity. As recently as 2010, the Smithsonian's National Portrait Gallery stripped a controversial scene from Wojnarowicz's unfinished film collage A Fire in My Belly (in which fire ants crawl over a crucifix), due to complaints from the Catholic League, former House Speaker John Boehner, and other conservatives. The censorship sparked counter-protests from prominent artists and arts institutions like the Andy Warhol Foundation.
Roe has collapsed in Texas, and that's just the beginning.
Stay up to date with The Fallout, a newsletter from our expert journalists.
But this summer, the protests didn't come from social conservatives. Instead, it came from ACT UP NY (the AIDS Coalition to Unleash Power), the storied HIV and AIDS advocacy organization to which Wojnarowicz belonged.
The reason: The retrospective failed to connect the past fight against HIV and AIDS to the continued struggle.
The Whitney's original curation focused heavily on Wojnarowicz's connection to HIV and AIDS activism as well as his 1992 death from an AIDS-related illness. But ACT UP's Ariel Friedlander says it failed to educate visitors about the ongoing efforts of activists and the reality of HIV in 2018.
"When you memorialize something on a wall, you have to put it in a modern context or else it will be historicized by the viewers," said Friedlander, 20, one of the organizers of the July protest. "We were commenting on the curation. We love Wojnarowicz."
ACT UP NY criticizedthe "historicization" of the ongoing crisis in a statement on its website.
"When arts institutions do not connect historical activism to the present activism being done on the same issue, they are missing an opportunity to reach an interested and sympathetic audience who might then become activists themselves, or who might at least be inspired to read up on the state of the world," the statement reads.
While the reality of HIV and AIDS has changed since Wojnarowicz's time—thanks to the existence of effective medications to both prevent and manage HIV—infection rates in communities of color are on the rise in the United States, and costly medications remain out of reach for many here and across the globe.
"We live in a time when people are not being swept away in a tsunami of dying like in the early years," said Andy Velez, an ACT UP founding member. "A lot of people at risk don't think about it. They think it's no big deal. But it is a big deal. People are still dying."
To draw attention to the enduring crisis, ACT UP staged a protest on July 27, during one of the museum's free Friday evenings. Members scattered throughout the exhibit and stood beside a selection of Wojnarowicz's works, holding framed news clips designed to look like artist statements. The news clips highlighted issues such as the increasing rates of HIV among Black gay and bisexual men; the 2017 death of Roxana Hernandez, an HIV-positive transgender woman, in ICE detention; and the high cost of pre-exposure prophylaxis (PrEP). The response to the exhibit revealed the tension between the public's imagination of HIV and AIDS and today's reality.
Speaking of visitors' reactions to the protest, Friedlander said: "We thought they'd read the headlines. But they all stood there and read the entire article, thanking us for doing what we were doing. People got emotional. I'm sure most of these people thought ACT UP died in the '80s and that AIDS did, too."
The museum's response was also anything but hostile. Within a few days, it added wall text to a print Wojnarowicz made to benefit ACT UP in 1990, explaining Wojnarowicz's role in the group's early years. The museum also invited ACT UP to re-stage the protest the following week during the museum's regular hours on August 4.
Esther McGowan, executive director of Visual AIDS, an organization that raises HIV and AIDS awareness through art, said there are things art institutions can do to connect art history to contemporary struggles.
"What can be effective for institutions when they are putting on an exhibition that is historical, like someone who isn't living, is they can think about context in multiple ways—like wall text, additional information they can hand out, and also public events," she explained. The Whitney planned to do all of these at the exhibition's outset and in response to ACT UP's intervention.
"We've been very open to engaging in dialogue with ACT UP and are grateful to them for bringing their concerns to our attention," said a statement from the Whitney. "We feel deep affinity with those concerns and welcome the opportunity to bring more awareness to the ongoing AIDS pandemic."
In 2015, nearly 40,000 people were newly diagnosed with HIV in the United States, according to the Centers for Disease Control and Prevention. HIV and AIDS haven't gone away—and neither has ACT UP.
More than three decades after its founding, ACT UP NY continues to wrestle with a variety of issues related to HIV and AIDS.
Just days after its second demonstration at the Whitney, the group was out demonstrating again. This time, its members protested the displacement of low-income HIV patients from 45 Rivington Street, the site of a former HIV and AIDS nursing home that was sold to developers.
Two other actions this summer focused on the high cost of Truvada, a daily medication used to prevent HIV infection, whose price tag is prohibitive to many patients. At the New York City Pride parade in June, the organization tied black balloons to the NYC AIDS Memorial and staged a die-in to protest Truvada-maker Gilead's presence in the parade.
Velez is heartened to see young people get involved. He said many of the young people who've shown up to ACT UP meetings in recent years have ended up there after seeing David France's 2012 film How to Survive a Plague.
Friedlander said she hadn't realized the group still existed until she saw its presence at this year's Brooklyn Pride. A student at University of Michigan, Friedlander was only in New York to take summer classes at Pratt Institute, but she says she plans to take what she's learned back to school.
"The fact that me and my friends didn't know about this crisis is really a shame," she said.