Judge Temporarily Blocks Trump Administration From Terminating TPS for Four Countries (Updated)
In his decision, Judge Chen said the Trump administration lacked explanation or justification for terminating TPS, and cited evidence DHS officials were influenced by Trump's "animus against non-white, non-European aliens."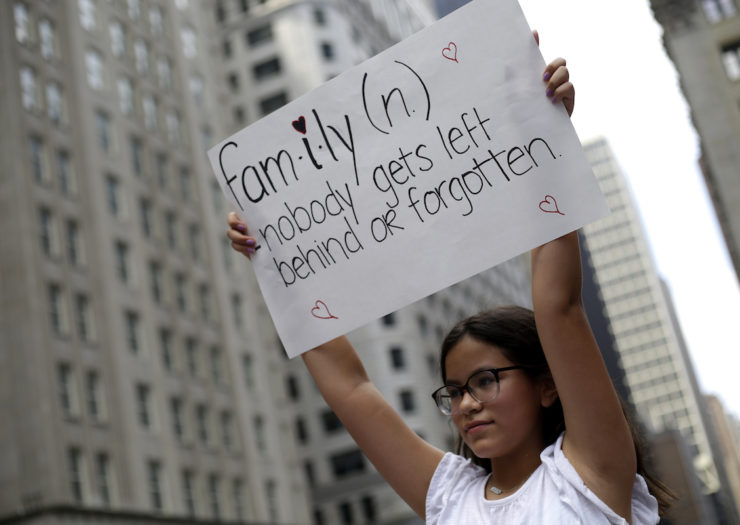 UPDATE, March 1, 10:11 a.m.: The Trump administration on Thursday extended Temporary Protected Status for Haiti, Sudan, Nicaragua, and El Salvador as immigration advocates continue their legal challenge against the administration's attempts to end TPS for these groups. The extension is scheduled to end in January 2020, McClatchy reports.
A federal judge in California has temporarily blocked the Trump administration from terminating Temporary Protected Status (TPS) for 300,000 immigrants, many of whom have U.S. citizen children and have lived in the country for decades.
In the decision issued Wednesday, which came as a result of Ramos v. Nielsen, one of a slate of TPS lawsuits against the Trump administration, U.S. District Judge Edward M. Chen argued that the Trump administration lacked "any explanation or justification" to end TPS designations for immigrants from Haiti, Sudan, Nicaragua, and El Salvador. In explaining his decision to issue a preliminary injunction, the San Francisco federal judge said that without it, these TPS beneficiaries would likely be subject to removal from the United States and "suffer irreparable injury."
"TPS beneficiaries thus risk being uprooted from their homes, jobs, careers, and communities. They face removal to countries to which their children and family members may have little or no ties and which may not be safe. Those with U.S. citizen children will be confronted with the dilemma of either bringing their children with them, giving up their children's lives in the United States (for many, the only lives they know), or being separated from their children," Chen wrote. "Understandably, this prospect is a source of great emotional distress, fear, and anxiety."
Sex. Abortion. Parenthood. Power.
The latest news, delivered straight to your inbox.
This was the case for Jorge (a TPS recipient) and Araceli Velasquez (an undocumented immigrant), both from El Salvador, whom Rewire.News spoke with earlier this year. At the time, we reported:
Araceli told Rewire that for many in her community, there is a mounting sense of fear, especially as more and more parents are faced with heartbreaking decisions regarding the future of their American citizen children.

"I feel attacked, and I feel a lot of frustration. We're getting ready to submit a new packet in my case in January or February and now I'm wondering: Will I be able to leave sanctuary when Jorge has to enter it? My work has been in the home with our three small kids. Jorge sustains all of us with his income. If he is targeted for deportation, how will we survive as a family?" Araceli said. "When it was just me, I often thought if they decided to deport me, at least the kids would be safe with Jorge in the U.S. Now both of us are being targeted, and my heart is breaking."
In his decision, Chen said that the Trump administration lacked explanation or justification for terminating TPS, and cited evidence DHS officials were influenced by the White House and President Trump's "animus against non-white, non-European aliens."
As evidence, Chen recounted a series of comments made by President Trump, including his June 2015 characterization of Mexican immigrants as drug dealers or users, criminals, and rapists; his June 2017 assertion that 15,000 recent immigrants from Haiti "all have AIDS" and that 40,000 Nigerians would never "go back to their huts" in Africa after seeing the United States; and the president's January comment that Salvadoran and Haitian TPS recipients are from "shithole countries."
"The Court also notes that not only is there direct evidence of animus, but there is also circumstantial evidence of race being a motivating factor," Chen wrote. "The impact of the TPS terminations clearly bears more heavily on non-white, non-European individuals … Also, the sequence of events leading up to the challenged decisions are irregular and suggestive of a pre-determined outcome not based on an objective assessment."
Advocates have for months argued that the Trump administration was clearly moving to end the TPS program entirely, as Rewire.News reported. While the Trump administration has extended TPS for South Sudan, Somalia, Yemen, and Syria, TPS designations were terminated for Haiti, El Salvador, Sudan, Nicaragua, Nepal, and Honduras over the span of eight months. About 90 percent of TPS recipients are from El Salvador, Honduras, and Haiti. In March, Trump also stripped Liberia of the little known designation Deferred Enforced Departure (DED), an administrative stay of removal that only the president can authorize. While DED offers similar benefits as TPS, they are different programs and both have been terminated for Liberians by the Trump administration.
Chen's decision was Sudanese TPS recipients' last line of defense, as they had a November 2 departure deadline.
Trump's decision to terminate Sudan's TPS status was illustrative of a trend by the president and his administration, which compiled "decision memos" to justify its termination of TPS for each nation. When the evidence for ending TPS actually suggested the opposite, that TPS should be extended, "officials tried to twist the evidence to steer toward termination," the Washington Post reported this week.
In a memo—cited in Chen's decision—for Sudan from August 2017, for example, U.S. Citizenship and Immigration Services (USCIS) noted that because of an ongoing armed conflicted, it was "unsafe for individuals to return to Sudan." The information came with a recommendation to extend TPS for the country. Just one week later, however, USCIS issued a second memo reiterating the same evidence, but this time recommending TPS be terminated.
USCIS director, L. Francis Cissna, who is increasingly supporting his agency's participation in immigration enforcement, sent an email to USCIS and DHS officials noting that the memo "seems a bit confused."
"The memo reads like one person who strongly supports extending TPS for Sudan wrote everything up to the recommendation section, and then someone who opposes extension snuck up behind the first guy, clubbed him over the head, pushed his senseless body out of the way, and finished the memo," Cissna wrote. "Am I missing something?"
It remains to be seen whether TPS recipients from Honduras and Nepal will see similar outcomes. As USA Today reported, "attorneys are sure to press other courts to follow suit and temporarily suspend those decisions."
Honduran TPS recipient Belinda Hanzman told Rewire.News late Wednesday that not a day has gone by that she hasn't "obsessively thought" about the termination of her status.
"My husband and my children are American citizens and every single day I've thought about the possibility of being deported because once my TPS ran out, I wasn't going to leave. I wasn't going to choose to leave my family; I wasn't going to take my kids to a dangerous country," Hanzman said.
Hanzman told Rewire.News that she is hesitant to get her hopes up, knowing "the unstable" nature of the Trump administration and that the preliminary injunction is not a permanent solution. Still, she said, she is still hoping one day to become a naturalized citizen.
"There are many people like me, who have raised families in this country, who have contributed to this country, who may not be from this country, but who call this country home. I was 21 when I came here, now I'm 49," Hanzman said. "I feel like this is my country."