Lawmakers Told Her Health Care Story During the Kavanaugh Hearings. Here's Why.
Kelly Gregory said her life is an example of what can happen when politicians and the courts meddle with the health care system.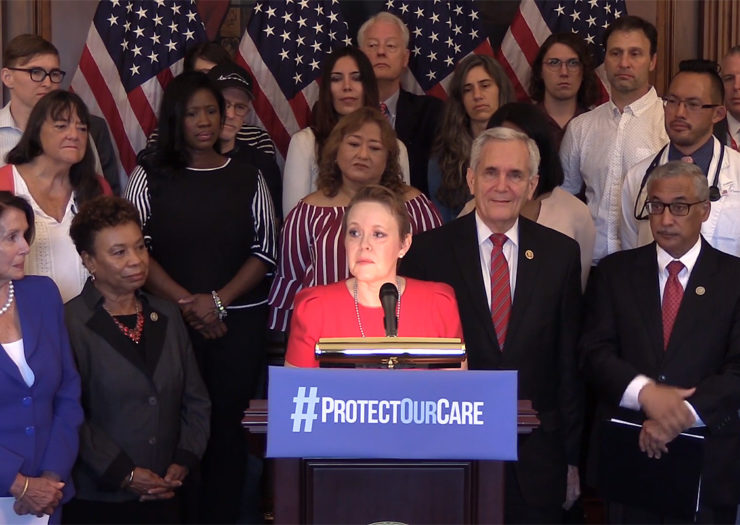 Kelly Gregory is a Tennessee resident living with stage 4 terminal breast cancer. Her story is emblematic of what is at stake for many people in the United States when it comes to health care, and that's exactly why Sens. Dianne Feinstein (D-CA) and Amy Klobuchar (D-MN) both told it last week during confirmation hearings for Judge Brett Kavanaugh to the U.S. Supreme Court.

As Kavanaugh dodged explicit questions regarding his views on policies ranging from abortion to affirmative action throughout the week, a lawsuit led by 20 GOP state attorneys general looms, marking an uncertain future for the Affordable Care Act (ACA) and bringing the health care law to the forefront for Democratic senators as they questioned the potential Supreme Court justice.

"So what does that warning mean in real life terms today? Here's one example. It means whether people like Kelly Gregory, an Air Force veteran, mother, and business owner, who is here from Tennessee and who is living with stage 4 breast cancer can afford medical treatment," said Klobuchar, speaking of the importance of an independent judiciary in her opening statement in the hearings on Tuesday. "At a time when the administration is arguing that protections to ensure people with pre-existing conditions can't be kicked off their health insurance are unconstitutional, we cannot—and should not—confirm a justice who believes the president's views alone carry the day."

For Gregory, the road leading up to the hearings has been a heartbreaking experience of frustration with the worst portions of the U.S. health-care system. 
"My health-care experience is a year-by-year explainer for why the health-care system in this country is broken," explained Gregory, in an exclusive interview with Rewire.News. She described finding a lump in her breast in 2011 with further tests showing that the cancer had spread to her spine. It was stage 4 and terminal. 
Tennessee, where Gregory lives, is one of 32 states where legislators have refused to expand its Medicaid program to cover more people with low incomes. She was only able to get coverage under the program once she was diagnosed with cancer.
Roe is gone. The chaos is just beginning.
Follow Rewire News Group on Twitter to stay on top of every breaking moment.
"I wasn't able to get Medicaid in the state and was locked out of the system" prior to the diagnosis, she said. "Because I wasn't getting my annual well-woman visit, I didn't get my mammogram at 40. Breast cancer is like a lot of other cancers in that, usually once you know something is wrong, it's too late. If you can catch it early through screenings, there's a phenomenal success rate."
She may have been able to access Medicaid earlier, and possibly caught her cancer at a more treatable stage, if the state had expanded Medicaid. But instead, the GOP fought the ACA's Medicaid expansion requirement, resulting in a two-year long court battle and a ruling from the Supreme Court in 2012 finding it unconstitutional to require states to expand their Medicaid programs under the ACA.
Now, as the GOP's new lawsuit threatens the ACA, patients like Gregory must once again wait and see if they will be able to access life-saving insurance coverage. As was the case in 2012, it is likely this lawsuit and the health-care law's fate could ultimately be decided by the Supreme Court. After repeated failed attempts by Republicans to repeal the law through legislative action, conservatives have turned to the courts to get their way.
"Republicans have launched unsuccessful attack after unsuccessful attack against the ACA in the courts and this case should be dead in the water. But it's not,'" said Jessica Mason Pieklo, vice president of law and the courts at Rewire.News in an interview. "And that's not because the law has changed. It's because the courts are changing thanks to a very successful push by the Trump administration to stack the federal judiciary with partisan ideologues whose lifetime appointments will in turn shape the law for decades to come."  
That makes Kavanaugh's potential confirmation to the bench all the more dangerous to Gregory, who fears that the GOP may not stop at striking down the ACA. "I would suggest that Medicaid is also on the line. If they can do what they want to do with the ACA, Medicaid will be the next on the list and that fills me with dread," she said. "Medicaid is what has kept me alive for the last seven years. It's literally a matter of life and death."
While on Capitol Hill last week, Gregory also told her story at a press conference alongside House Minority Leader Nancy Pelosi (D-CA) ahead of debates on the future of the ACA scheduled to continue this week in the U.S. House of Representatives. "It takes real bravery and generosity of spirit to share a story as heartbreaking and personal as Kelly's," Pelosi said in a statement to Rewire. News, before reiterating what's at risk for millions of people in the US. "But Kelly's story shows exactly what is at stake—not only for her, but for each of the 130 million American who have a pre-existing condition, and whose access to health care the Republicans have put on the chopping block. In the fight to protect our care, nothing is as eloquent and powerful as the stories of the men, women, and children whose lives are at risk from the GOP assault on health care."
Gregory, a self-described politics nerd who used to watch C-SPAN for fun, attended Tuesday's hearing as a guest of Klobuchar's, which she described as "an out-of-body experience." 
"It was a little surreal," she said of being there in person. "The import of it didn't really hit until I got in the room. You're witnessing history."
During Tuesday's hearing, however, Gregory took particular offense to Sen. Ben Sasse's (R-NE) comments that the women disrupting the proceedings were being "hysterical."
"If they confirm Kavanaugh, and the pre-existing conditions clause and the rest of the ACA is struck down, then people will die. It's just that simple," she said. "It's not deranged or hysterical to say that. Maybe they don't want to be reminded that they have consequences, but they have consequences."

In the end, Gregory suggested that her life is a glaring example of what can happen when GOP politicians and the courts start meddling with the health-care system.
"My life is a direct rebuke of the idea that the legislative and court decisions that we make don't have consequences."