We Should Be Celebrating an Abortion Rights Anniversary. Instead, We Fear for Our Future.
If Kavanaugh is confirmed as our next Supreme Court justice, the crisis won't just be in some states. It will become a nationwide problem.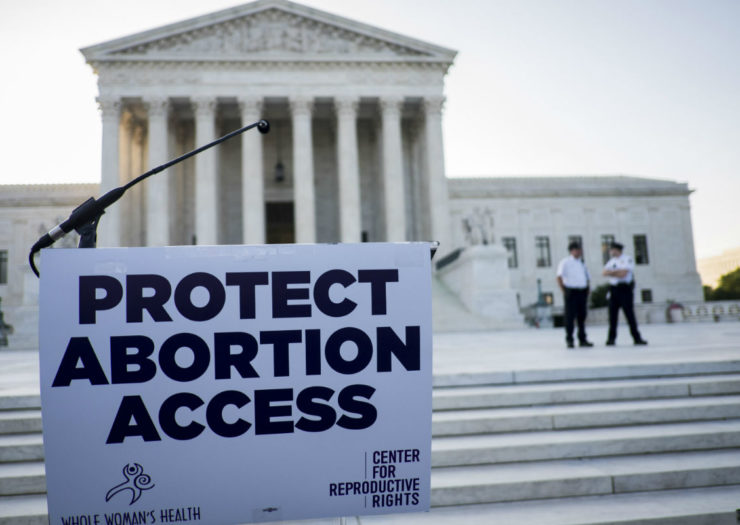 The right to abortion—which has been defended for decades and reaffirmed just two years ago at the U.S. Supreme Court in Whole Woman's Health v. Hellerstedt—is now threatened by the nomination of Judge Brett Kavanaugh to replace Justice Anthony Kennedy on the nation's highest court.
June 27 was the anniversary of the monumental Whole Woman's Health decision that strengthened the Roe-established precedent and struck down Texas' requirements that abortion clinics conform to ambulatory surgical center standards and that physicians have admitting privileges at nearby hospitals. But instead of celebrating, we found ourselves fearing for the future of abortion rights; it was also the day Justice Kennedy announced his retirement. Shortly afterward, despite widespread public support for abortion rights, President Donald Trump nominated a Supreme Court justice who is apparently committed to overturning Roe v. Wade and rolling back the longstanding precedent that ensures the right to safe, high-quality abortion.
Justice Kennedy was an important deciding vote on the court when it came to abortion rights, demonstrating his concern for a woman's dignity when he joined with progressives on the Whole Woman's Health decision. Kavanaugh is different. He voted against giving a teen immigrant known as "Jane Doe" in Texas access to the compassionate, dignified, safe, and legal abortion care that she—like everyone—deserves. Together with Jane's Due Process and the American Civil Liberties Union, Whole Woman's Health fought for Jane. We opened our clinic at the wee hours of dawn and brought our staff and physician to the clinic on a day we weren't usually open, all to provide Jane the care she needed before a court could rule against her again. We overcame Kavanaugh's opposition once, and we plan to fight his nomination to the Supreme Court with everything we have.
Despite our worries about the future of abortion rights in this country, we continue our fight in the courts. Conservative lawmakers, emboldened by the Trump administration, continue to restrict abortion access. In Indiana, for example, physicians must provide women with scientifically false information about abortion procedures. Virginia, meanwhile, forces all abortion providers to comply with extraneous hospital-style building standards and mandates that second-trimester abortions happen in hospitals rather than clinics.
Roe has collapsed and Texas is in chaos.
Stay up to date with The Fallout, a newsletter from our expert journalists.
To fight these onerous restrictions, Whole Woman's Health and the Whole Woman's Health Alliance have lawsuits moving through the courts in Texas, Virginia, and Indiana. In these fights, we are leveraging the Whole Woman's Health standard and seeking repeal of a web of restrictions these states have built up over decades to block thousands of people from accessing the quality care they deserve.
While the makeup of the nation's highest court will change, the facts remain the same. Abortion is safe, and medically unnecessary regulations harm women and do not advance health or safety. Justice Stephen Breyer championed these facts in his majority decision on our case, and a new report from the National Academies of Sciences, Engineering, and Medicine (NASEM) does the same. Abortion rarely involves serious complications and has no effect on a person's future health. In most cases, abortion does not require special equipment or emergency arrangements. And a trained physician, physician assistant, certified nurse-midwife, or nurse practitioner has the skills and experience necessary to perform most abortion procedures.
The NASEM research also reaffirms what we already knew: that the accessibility of abortion care depends to a great extent on geography. In many parts of the country, particularly in the South and Midwest, state regulations have created barriers that prevent women from seeking high-quality care. Although nurses, nurse-midwives, and physician assistants have the skills and experience necessary to perform abortions, 34 states prevent those trained clinicians from doing so.
America is already facing an abortion-access crisis—one that is especially burdensome for low-income people, teens, people of color, and those who lack the time and resources to travel long distances. If Kavanaugh is confirmed as our next Supreme Court justice, the crisis won't just be in some states. It will become a nationwide problem. We are not backing down from the fight.