Wednesday's Lawsuit Is Republicans' Next Chance to Gut the ACA—But It Won't Be Their Last
If the court decides that the Affordable Care Act is unconstitutional, health insurance providers will be allowed, once again, to deny coverage to people with pre-existing conditions or require they pay more.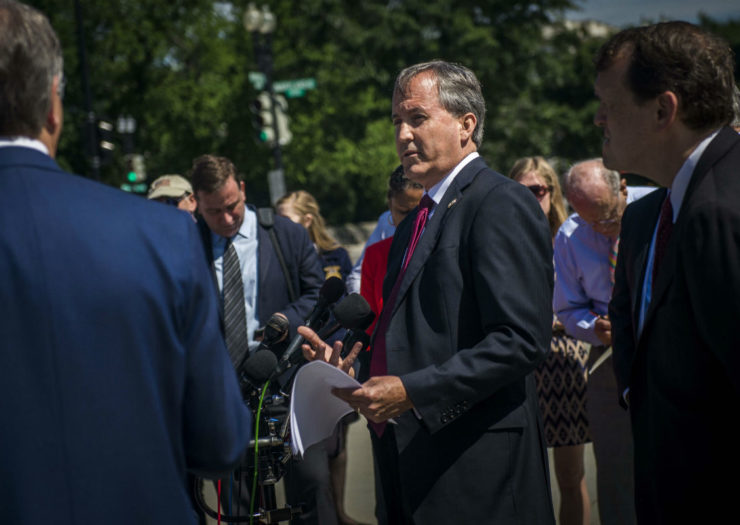 On Wednesday, September 5, oral arguments begin for the latest lawsuit aiming to overturn the Affordable Care Act (ACA). The outcome of this case could be devastating for hundreds of millions of people in the United States—including the more than 133 million adults under age 65 who may have a pre-existing condition. If the court decides that the ACA is unconstitutional, health insurance providers will be allowed, once again, to deny these people coverage or require they pay more.
In the case before U.S. District Judge Reed O'Connor in Fort Worth, Texas, 20 states have asserted that because Congress repealed the ACA's individual mandate penalty—which required that all people be insured or pay a penalty—in the GOP tax bill, the mandate is now unconstitutional, along with the rest of the law. In fact, Texas Attorney General Ken Paxton, who is leading the lawsuit, has made clear to the court that he wants the protections for people with pre-existing conditions to be repealed, even if the court does not rule against the ACA as a whole. And, to make matters worse, the Trump administration has decided not to defend the ACA, but instead has taken the position in a brief that the pre-existing conditions protections are unconstitutional.
Pre-existing conditions include any health issue a person has prior to enrolling in health insurance or switching to a new provider. Dozens of conditions are considered pre-existing conditions, including Alzheimer's, arthritis, cerebral palsy, epilepsy, heart disease, kidney disease, mental health conditions (including depression), muscular dystrophy, and sleep apnea, to name a few. Pregnancy is also considered a pre-existing condition. Prior to the ACA, health insurers often denied policies to those with pre-existing conditions. Among the ACA's wide-ranging provisions is its mandate, which went into effect in 2014, that health insurance providers cover people with pre-existing conditions.
Protections for people with pre-existing conditions are increasingly popular. A recent CBS News Poll found that in general, health care is the item voters are least willing to compromise on, with 75 percent saying a candidate must agree with them on health care to get their vote. Likewise, a July poll by the Kaiser Family Foundation found that protections for people with pre-existing conditions was a top priority for many voters. Notably, this issue transcends party lines: Most Democratic and independent voters, and nearly half of Republican voters, said a candidate's position on continued protections for pre-existing conditions is either the "single most important factor" or a "very important factor" in their 2018 vote.
Roe is gone. The chaos is just beginning.
Follow Rewire News Group on Twitter to stay on top of every breaking moment.
It is perhaps not surprising, then, that health care has gained significant attention as the November 2018 elections near. Indeed, Democratic candidates across the country have made preserving health care a rallying call and top policy priority. And the upcoming case as well as the broad popularity of the ACA has evidently made some Republicans increasingly uneasy.
Trying to defuse any potential repeals by the courts and ease the minds of voters, Sen. Thom Tillis (R-NC) and nine other Republican senators introduced a new bill late last month that they contend will guarantee protections for people with pre-existing conditions. This bill aligns with an emerging trend among some Republican candidates to come out in support of pre-existing conditions protections.
The Republican bill, if passed, would continue to prohibit health insurance providers from denying people coverage or charging people higher premium because they have pre-existing conditions. In that vein, the bill would preserve this very popular provision of the ACA.
Nonetheless, further analysis has found that this legislation would not guarantee that health insurance providers would actually have to cover all necessary services for people with a pre-existing condition. As the Wall Street Journal points out, "insurers would still be able to exclude any coverage related to that condition … and could vary premiums based on age and gender." In other words, although people with pre-existing conditions would ostensibly be guaranteed a health insurance plan, that plan would not be required to cover services related to the pre-existing condition.
This is a glaring issue for the very people Republicans are supposedly trying to protect with this legislation.
For example, an individual with muscular dystrophy may need a power wheelchair that can cost as much as $55,000. Although their health insurance provider would be required to provide them with a health insurance policy, the provider would be permitted to deny them coverage of this important piece of durable medical equipment. In other words, the insurer would not have to cover something critical to their functioning, rendering the insurance policy essentially useless. The same could be true for a health insurance provider being able to deny  coverage for chemotherapy to someone with cancer.
Undoubtedly, the Texas lawsuit could have important and deleterious consequences for people with pre-existing conditions, and it appears that the proposed Republican bill, which has not yet been voted on, may do little to actually ensure people receive the health care they need. But even if the lawsuit does not undercut the ACA, the law is far from safe. Just last week, Vice President Mike Pence stated that Republicans will again seek to repeal the ACA if the November 2018 election goes their way. Moreover, this week, confirmation hearings for Supreme Court Justice nominee Brett Kavanaugh begin in the Senate. Many believe that if Kavanaugh is appointed to the Supreme Court and a case is brought before him, the future of the ACA is in grave danger.
As voters go to the polls in November, many will surely remember these incessant threats to health care.