Teacher Strikes Could Be on Their Way to Washington State
The push for better pay from teachers this summer is a result of the Washington Supreme Court's ruling that the state was not adequately funding education.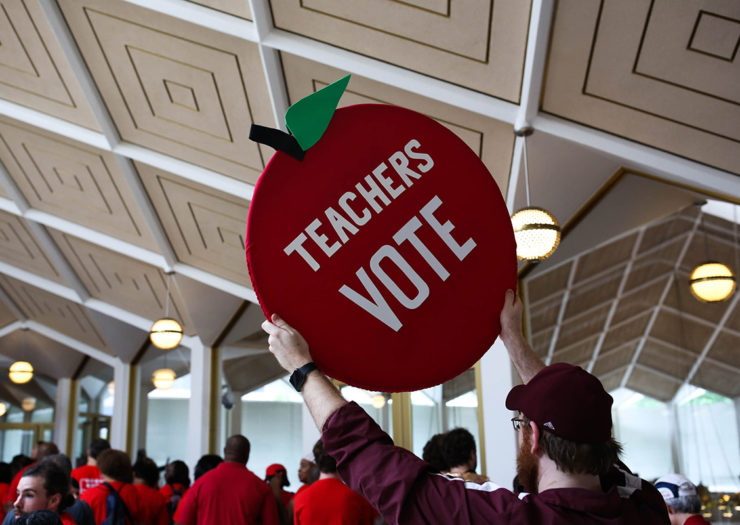 Kerri Kite-Pocklington has taught physical education to elementary school students in Washington's Centralia school district for 31 years, and this year marks her first time to join a teacher picket line. She has seen firsthand the effects of lagging teacher pay in her three decades as an educator.  
Kite-Pocklington said her district of 220 educators lost 47 teachers this year to districts in the state with higher teacher salaries.
"If we had the pay that has been mandated for our salaries, we would be able to retain quality teachers for our district," Kite-Pocklington said. "We do not want our students to have this district be a training district for teachers to come for a year or two and then leave. We want quality teachers for our students."
Kite-Pocklington is among hundreds of teachers in Washington state fighting for better pay. Of the 295 school districts across the state, 180 are still negotiating teacher contracts in the final days of summer break. Teachers in the Longview, Evergreen, and Washougal districts are on strike, putting a hold on classes that were set to start this week. Teachers in Camas and Sultan voted Monday to authorize strikes while several other labor unions have set strike deadlines this week.  
Roe has collapsed and Texas is in chaos.
Stay up to date with The Fallout, a newsletter from our expert journalists.
Kite-Pocklington's union voted on August 1 to authorize a strike. She said she's hopeful teachers and school administrators will come to an agreement that includes a 15 to 20 percent pay increase by the end of the month, but if not, she and her colleagues will remain on strike when school starts September 5.
The push for better pay from teachers this summer is a result of the Washington Supreme Court's decision in the McCleary vs. Washington case. The court ruled in 2012 that the state was not adequately funding education, but it has taken six years for the legislature to fully comply. In 2017, the Democratic-held Washington legislature allocated $7.3 billion to schools over a four-year period, and this year allocated an additional $1 billion to go to teacher salaries.
The Washington Education Association (WEA)—a statewide union made up of 375 local chapters across the state, representing teachers and education support staff—is recommending teachers fight for raises of at least 15 percent. Kite-Pocklington's last pay increase was a 2 percent cost-of-living adjustment two years ago.
"Over the years we have fallen tremendously behind other professions in terms of pay," said Rich Wood, spokesperson for the WEA. "In a typical year we will see some 5 percent raises in some districts, but there there have been many years where all teachers receive is a cost-of-living adjustment, which barely keeps up with inflation."
Washington state is the latest example of teachers across the United States striking for better pay and benefits. The average annual salary for teachers in public K-12 schools is $58,950, according to the National Center for Education Statistics. While teacher salaries have risen nominally in the past 50 years, when adjusted for inflation and analyzed in "constant dollars" based on the consumer price index, teacher salaries have actually decreased since 2009, according to an analysis by Credit Sesame. In contrast, the average annual earnings for workers who hold a bachelor's degree or higher is $77,526, resulting in a national teacher pay gap of 24 percent.
In Washington, teachers earn 31.8 percent less than college graduates in other fields. The annual average salary for teachers in Washington state is $54,147, while the average annual earnings for all college graduates is $79,418, according to Credit Sesame.
Teacher strikes and walkouts have swept through the United States over the past year—a reaction to economic austerity policies that have gutted education investment over the past decade. Educators in Colorado threatened to go on strike despite Republican lawmakers' threats of jail time for teachers. West Virginia teachers this year staged a lengthy walkout as state GOP legislators refused to raise taxes on oil and gas companies to better fund schools.
Washington state has a long history of local collective bargaining and strong teachers unions, Wood said, with the first teacher strike dating back to 1972. The shortest teacher strike in the state lasted one day, while the longest was 15 years ago and lasted 50 days.
While 180 districts are still negotiating teacher contracts, 115 have reached settlements, many with double-digit salary increases ranging from 12 percent to 34 percent, Wood said.
"All educators whether it's the bus driver, the cafeteria worker, the paraprofessional or the teacher, they all deserve to make a competitive, professional salary, a living wage," Wood said. "The Supreme Court of Washington was very clear that the state has an obligation to fund competitive salaries not just for teachers, but for all education employees. This is a historical situation we're in that has been years coming. If school administrators don't invest this year we may not see another opportunity."