Women of Color Head to Capitol Hill to Protest Kavanaugh
The actions themselves were peaceful, but Capitol Police escorted the protesters out of the building quickly nonetheless.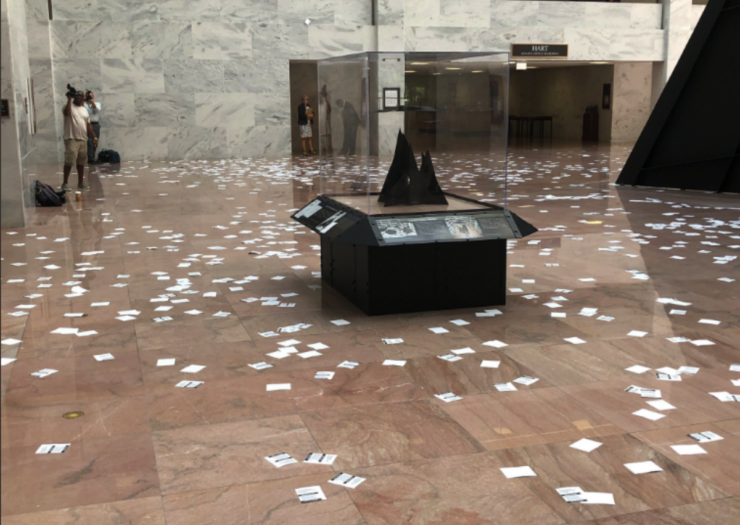 More than 100 activists of color voiced their disapproval of Judge Brett Kavanaugh's nomination to the U.S. Supreme Court in direct actions at U.S. Senate office buildings on Thursday.
"We know that the Supreme Court weighs in on crucial issues like how our voting districts are drawn, whether workers can unionize, [and] how to regulate abortion, and so all of those things will have a direct impact on our families and our communities," said All*Above All Co-Director Destiny Lopez in an interview with Rewire.News before the protest. "[Kavanaugh] will have a lifetime appointment to the Supreme Court, which means that he will potentially sit on the Court for decades. We know ultimately that [is] the impact that his decisions will make on our lives, in particular for people of color and our communities for decades to come, so that's really why we've committed to being vocal and physical on this day."
The protest was organized by advocacy groups including All* Above All, the National Asian Pacific American Women's Forum (NAPAWF), and the National LGBTQ Task Force. Protesters, largely women of color, wore matching shirts that read "JUSTICE IS fair wages, strong unions, voting rights, health care for all, immigrant rights, abortion access, and LGBTQ liberation," in an effort to call attention to issues that the Court has recently ruled on.
Speaking with Rewire.News, NAPAWF Executive Director Sung Yeon Choimorrow explained that those judicial decisions—which include Masterpiece Cakeshop v. Colorado Civil Rights Commission, Janus v. AFSCME, NIFLA v. Becerra, and Trump v. Hawaii—directly affect communities of color. "I don't think that people have lived in an era in recent generations where they've felt the impact of SCOTUS decisions to be so personal in such a grand way. We are immigrants, we are women, we are Muslims, we are workers, and it was just like, 'bam bam bam.' I think there was something about that that just shook people and they're like, 'we've got to stop this'."
Roe has collapsed and Texas is in chaos.
Stay up to date with The Fallout, a newsletter from our expert journalists.
The actions themselves were peaceful, but Capitol Police escorted the protesters out of the building quickly nonetheless. Still, some protesters met with their respective senators or their staff, including potential Kavanaugh swing vote Sen. Lisa Murkowski (R-AK). According to Choimorrow, one of the goals of the protest was to put a face to constituencies that some senators don't always have a lot of contact with and about which they may have certain preconceived notions.
"We've completely busted the bullshit stereotype that Asian women are quiet and we don't break rules," she said, indicating that it was the first such action for most of the protesters. "I think it really gave our folks a way to engage and participate in a democracy that some of them of them have never experienced before. Whichever way this [vote] goes, we're going to go back home and build more power and come back with more people next time. To me that's the power of the people that we're building."
Intersectionality was paramount for organizers, who see the issues that the Supreme Court has taken up recently as inherently linked together. "If you just look at that handful of decisions that happened during this court session, you can see that that's about the intersectional approach," said Lopez. "If you look at the intersection of all of those issues, it's about folks of color, it's about LGBTQ folks, it's about workers' rights. If you do this in a siloed way, it would mean that we are not actually looking [at] the reality of how the world works."