Report: Most Maternal Deaths for Black Women in Texas Are Preventable
Lawmakers in the GOP-dominated Texas Legislature have failed to pass any meaningful policy changes to address the high rates of maternal mortality among Black women.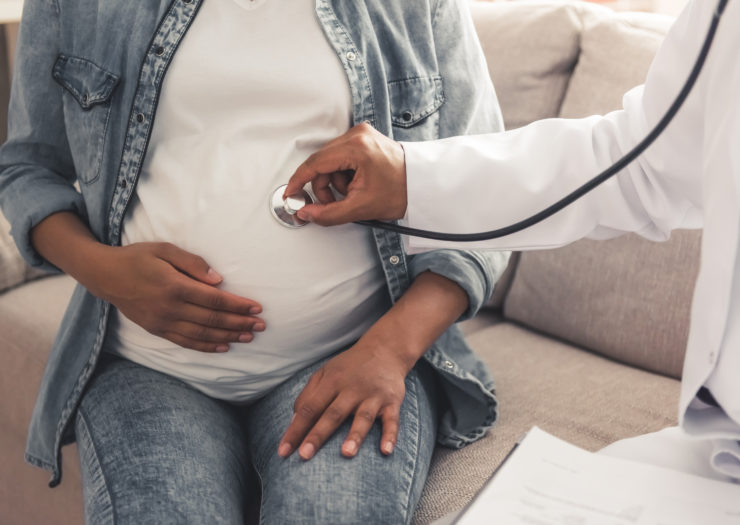 For more anti-racism resources, check out our guide, Racial Justice Is Reproductive Justice.
The majority of pregnancy-related deaths in Texas are preventable, and Black women are twice as likely to die from pregnancy-related deaths as white women, according to a new report.
The Texas Department of State Health Services (DSHS) on Monday published the Maternal Mortality and Morbidity Task Force and DSHS Joint Biennial Report, which found that 118 women died in 2012 during pregnancy or in the year after giving birth. The task force examined 89 of those cases in order to "determine the causes and contributing factors to death, pregnancy-relatedness, and preventability."
Nearly 8 in 10 of the pregnancy-related deaths in Texas were preventable, and those deaths could have been prevented by "one or more reasonable changes to the circumstances of the patient, provider, facility, systems or community factors."
Sex. Abortion. Parenthood. Power.
The latest news, delivered straight to your inbox.
Black women, regardless of socioeconomic status including income, education, and marital status, "continue to be at greatest risk for maternal death," according to the report.
The pregnancy-related mortality rate for Black women 13.9 per 100,000 live births, while the pregnancy-related mortality rate was 9.3 per 100,000 live births for Hispanic women and six per 100,000 live births for white women.
State Rep. Shawn Thierry (D-Houston) said in a statement it is "mind-blowing and shocking" that Black women are more likely to die from pregnancy or giving birth, regardless of background or socioeconomic factors.
"While we knew that Black women were dying from pregnancy-related deaths at much higher rates than all other women, we did not conclusively know that predisposed medical conditions or socioeconomic variables were not causing the rate increase," Thierry said.
The report underlines the complex nature of identifying the causes of pregnancy-related deaths.
Of the 89 cases reviewed by the task force, 34 cases were determined to be pregnancy-related, and 50 were determined to be pregnancy-associated. The task force identified 178 factors that contributed to the 34 cases of pregnancy-related deaths, and there were an average of 5.2 contributing to each case.
The report found the leading causes of pregnancy-related death in 2012 included cardiovascular and coronary conditions, obstetric hemorrhage, infection/sepsis, and cardiomyopathy.
Dr. John Hellerstedt, commissioner of DSHS, said in a statement that the report highlights the importance of programs such as Texas Alliance for Innovation on Maternal Health (AIM), which has partnered with more than 180 hospitals to implement policies that assist hospital staff prevent and respond to pregnancy complications.
The report outlines ten recommendations for improving pregnancy outcomes and lowering maternal mortality, including increasing access to health care during the year after pregnancy, improving the screening process for risk factors, the creation of a public awareness campaign, and increasing maternal health services that target high-risk populations.
"These findings illustrate the important need to change the way obstetric care providers and our patients look at the postpartum period," Dr. Lisa Hollier, chair of the task force, said in a statement. "Women can benefit from a better understanding of potential complications and access to their care providers for services and supports tailored to a woman's individual needs."
Deneen Robinson, program director for the Afiya Center, told Rewire.News the report's recommendations for an "increase maternal health programming" for high-risk populations lacked details for how those policy changes should be implemented.
There should be education at every entry point that a Black woman had into the health-care system, Robinson said. That should include discussions about maternal mortality and access to preventive care services for women who access programs such as Medicaid.
"There should be education provided to the physicians on dealing with microaggressions and other biases that may impact and or impede this woman from getting the best care possible, or that would potentially make the delivery environment more stressful," Robinson said.
During the 2017 legislative session, Thierry filed legislation to require the state to investigate the underlying causes of the rising rates of pregnancy-related death among Black women in Texas. Lawmakers in the GOP-dominated legislature failed to pass any meaningful policy changes to address the high rates of maternal mortality. They instead opted to approve a measure to allow the task force to continue to study the issue.
The Texas Legislature convenes on January 8, 2019, and Thierry and her fellow lawmakers will have an opportunity to consider implementing the policy recommendations listed in the report.
"I will continue to work in my capacity as a legislator with allies and the medical community to root out why Black women are receiving disparate medical treatment, care, and attention during pregnancy, labor, and postpartum with the goal of resolving this immoral endemic," Thierry said.