Democrats' Path to Flipping Colorado Senate Runs Through a Virulent Anti-Choice Lawmaker
Colorado state Sen. Tim Neville, a leading anti-choice Republican, has supported "personhood" abortion bans and opposed a successful teen pregnancy prevention program.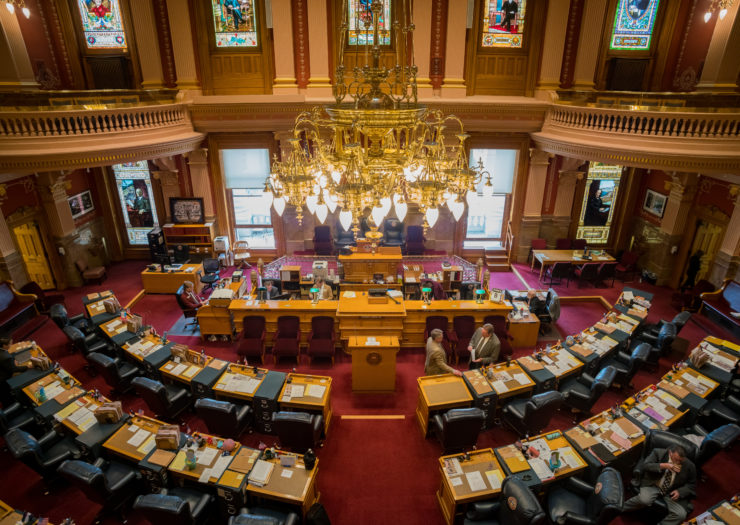 Control of Colorado's state senate could hinge on whether a leading anti-choice lawmaker and President Trump loyalist can defend his seat in a suburban district won handily by Hillary Clinton in the 2016 presidential election.
Republican incumbent, state Sen. Tim Neville (R-Littleton) led a failed effort to cut off state funding of a teen pregnancy prevention program that reduced abortion and pregnancies each by more than 50 percent, saying in 2016 that the intrauterine devices (IUDs) used in the program would result in "increased sexual activity" and "psychological and medical risks." Scientific evidence contradicts this.
Neville sponsored so-called personhood legislation, along with bills to limit abortion access by, for example, forcing people to wait 24 hours and have an ultrasound prior to the common medical procedure. He opposes federal funding of international organizations that offer abortion counseling or referrals.
Reproductive health and justice advocate organizations have for years denounced Neville and his legislation.
Roe has collapsed and Texas is in chaos.
Stay up to date with The Fallout, a newsletter from our expert journalists.
"Time and again we see that the same lawmakers who attack the right to seek an abortion also undermine the ability for us to have healthy pregnancies when they oppose efforts to close gaps in access to health services," said Karla Gonzales Garcia, policy director for Colorado Organization for Latina Opportunity and Reproductive Rights. "They make it that much harder for us to raise our families with dignity when they perpetuate hateful rhetoric about immigrants or oppose common sense limits on guns to make sure schools are safe."
"We have to speak out when people are supposed to craft policies to solve the problems we face make it that much worse for our families and our communities," she said.
Neville has long taken a hard line stance against immigrants, sponsoring failed legislation last year that took aim at so-called sanctuary cities by allowing crime victims to sue public officials when an undocumented person breaks the law. Neville defended the white supremacist group VDARE, which was scheduled to meet in Colorado Springs last year.
Neville faces Democrat Tammy Story, who's been endorsed by Planned Parenthood Votes Colorado and Barack Obama. Story was among the leaders of a contentious and successful 2015 campaign to recall three charter school-backing members of the Jefferson County Board of Education, and she's prioritizing education issues in her 2018 campaign. She opposes "vouchers" and wants more money for public schools. She backs gun-safety legislation, including a "red flag" bill that would allow police to seek judicial approval to remove guns from those deemed a threat to themselves or others.
Story in 2016 lost a state house bid by a narrow margin in a district that historically backs Republicans.
Neville won his swing senate seat in 2014 by 1,900 votes out of a total of about 69,000, defeating pro-choice Democrat Jeanne Nicholson by 3 percentage points, helping deliver the state senate to the Republicans.
But his Jefferson County district, located just southwest of Denver, voted for Clinton over Trump in 2016 by a 50 to 41 percent margin, with the Libertarian Party's candidate Gary Johnson, the Green Party's Jill Stein, and other third-party candidates winning 6, 1, and 2 percent of the vote, respectively. Barack Obama in 2012 defeated Mitt Romney in the district, 50 to 47 percent, with Johnson getting 1.5 percent.
Meanwhile, Trump's approval rating in Colorado has tanked since January 2017, dropping by 17 points as of May 2018.
State senate Republicans effectively have a one-vote advantage over Democrats, 16 to 18, with one additional seat occupied by a term-limited unaffiliated senator who caucused with the Democrats.
Neville's seat is one of the top two pickup districts where Democrats can oust a sitting Republican, according to political observers. Colorado's state house is controlled by Democrats, as is the governorship, which is up for election this November. Democratic Gov. John Hickenlooper is term-limited.
Analysts have noted Neville is one of the state's most conservative lawmakers, but unlike his fellow conservatives on the far right, who come from areas where "ideological extremes often triumph," Neville's stances are out of step with his swing district, according to a 2016 Denver Post analysis.
Neville's conservative positions go beyond health-care issues. He's been an outspoken supporter of President Trump, both before and after the 2016 election, and backs key elements of the Trump agenda. This year, Neville again sponsored a bill that would have allowed citizens to carry concealed handguns without a permit.
Neville, who did not return an email seeking comment, has said his constituents in Senate District 16 share his values, and he and his supporters point to his 2014 race as proof that he can win in purple territory.
When Neville launched a failed primary bid to be Colorado's Republican U.S. Senate nominee in 2015, he pointed to his state-senate victory in 2014 and said, "We were able to prove the pundits wrong who said a conservative like me couldn't win a race like that in that district," he said, adding later, "I know how to run tough races, and I know how to win."
The state senator describes himself as a principled leader.
His campaign website touts previous endorsements from prominent Colorado conservative and anti-choice radical Tom Tancredo and Arizona's extremist anti-immigrant former sheriff, Joe Arpaio.