Tuesday's Primary Elections Bring a Wave of Firsts
November's gubernatorial races will shape the drawing of congressional lines in coming years.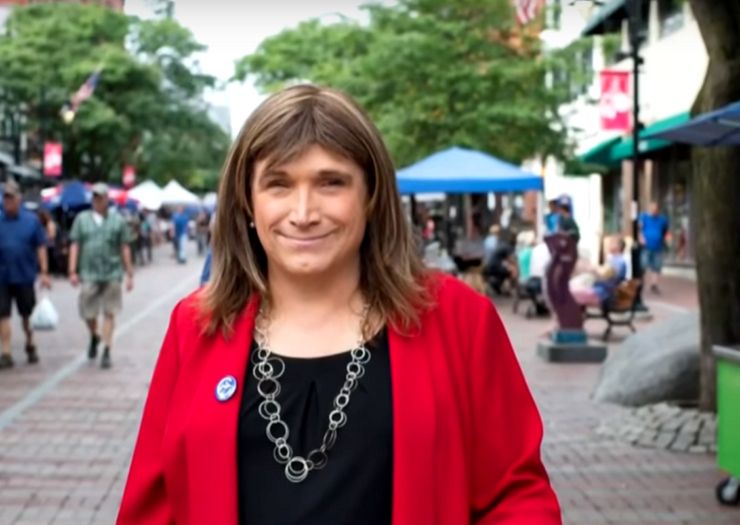 Tuesday's primary elections produced historic results: Vermont could soon have a transgender governor who backs Medicare For All, Connecticut is on track to have its first Democratic Black member of Congress, and Minnesota could send to Congress a Muslim woman who supports housing as a human right and elect the first Muslim attorney general in the United States.
Many victorious Democratic candidates stood behind some the most progressive policy positions on the state and federal level, sometimes bucking the party's endorsements, while GOP candidates who didn't stand firmly behind President Trump fared poorly.
Christine Hallquist on Tuesday became the first openly transgender candidate for governor to be nominated by a major party when she handily won Vermont's Democratic primary after campaigning in support of Medicare For All, a $15 minimum wage, criminal justice reform, and other progressive priorities.
Hallquist, a former energy company executive in Vermont, earned 48 percent of the vote in Tuesday's primary, as gubernatorial races in Wisconsin, Minnesota, and Connecticut came into focus ahead of November's midterm election. These gubernatorial races will shape the drawing of congressional lines in coming years. 
Roe has collapsed in Texas, and that's just the beginning.
Stay up to date with The Fallout, a newsletter from our expert journalists.
"Christine's victory is a defining moment in the movement for trans equality and is especially remarkable given how few out trans elected officials there are at any level of government," Annise Parker, president and CEO of LGBTQ Victory Fund, said in a statement. "Many thought it unthinkable a viable trans gubernatorial candidate like Christine would emerge so soon. Yet Vermont voters chose Christine not because of her gender identity, but because she is an open and authentic candidate with a long history of service to the state, and who speaks to the issues most important to voters."
"When voters head to the polls this November, we are confident Vermonters will make her the first openly trans governor in the nation and just the second openly LGBTQ person elected governor in American history," Parker said. 
Vermont Gov. Phil Scott (R), who survived a GOP primary challenge Tuesday despite a disapproval rate that doubled during his term as governor, will face Hallquist in November. Democrats hope to retake the governor's mansion, giving the party total control over state government in Vermont.
Meanwhile, Wisconsin's gubernatorial race could become a referendum on Republican Gov. Scott Walker's economic austerity program—including massive cuts to education investment—after state schools superintendent Tony Evers, won Tuesday's Democratic primary with 41.7 percent of the vote. Evers beat a crowded field that included state Sen. Kathleen Vinehout, who has worked with the anti-choice organization Democrats For Life.
Walker, one of the least popular governors in the United States, is vying for a third term after sweeping into power in 2010 during a Republican wave election. He swiftly moved to crush labor unions, slash government programs for low-income families, and stage a frontal assault on reproductive rights with help from the state's Republican-held legislature.
Evers has pledged to expand Medicaid in Wisconsin, a popular policy that would cover more than 170,000 people in the state who don't currently have access. The longtime schools superintendent has said he would boost education funding after years of cuts by the Walker administration have robbed hundreds of millions from public education. A July NBC poll showed Evers with a sizable lead over Walker.
Tuesday also saw primary elections to fill retiring House Speaker Paul Ryan's seat, for which upstart Democratic candidate Randy Bryce won the nomination to face off against Bryan Steil, the GOP candidate endorsed by Ryan. Bryce has championed Medicare For All and criminal justice reforms that include an end to for-profit prisons and mandatory minimum sentencing, earning him endorsements from many progressive organizations.
U.S. Rep. Keith Ellison (D-MN), a former co-chair of the Democratic National Committee, won by a wide margin in a five-person field the Democratic primary race to become Minnesota's next attorney general. If he beats Republican Doug Wardlow, Ellison would be the first Muslim attorney general. Ellison's platform highlighted enforcing wage theft laws, fighting predatory lending, addressing mortgage fraud in Minnesota, and pushing back on the Trump administration's attacks on immigrants. The congressman is facing as yet-to-be substantiated allegations made public last Saturday that he abused an ex-girlfriend. The Democratic National Committee has said it will investigate the charges, which Ellison has denied.
Minnesota state Rep. Ilhan Omar (D), a Somali refugee who came to the United States in her youth, won the Democratic primary to replace Ellison in Minnesota's Fifth Congressional District. Omar is on track to join Michigan's Rashida Tlaib as the first Muslim women members of Congress. Omar has said she would advocate for a $15 minimum wage, tougher wage theft laws, and a federal jobs guarantee program favored by the most progressive members of Congress. She supports a Medicare For All health-care system and housing as a human right. 
Also in Minnesota, U.S. Rep. Tim Walz won the Democratic gubernatorial primary to replace retiring Gov. Mark Dayton (D). Tim Pawlenty, a former Minnesota governor who has been critical of President Trump, lost his bid to become the state's GOP gubernatorial candidate. Former state Rep. Jeff Johnson won the Republican primary after campaigning to use federal waivers to undermine protections in the Affordable Care Act (ACA), or Obamacare. Johnson, a Trump loyalist, opposes abortion rights and claims in his platform to believe in "the sanctity of human life from conception"—language often used by supporters of radical fetal "personhood" measures.
Walz's campaign platform includes a $15 minimum wage in Minnesota, along with expanded paid family leave benefits and protections for labor unions' collective bargaining rights. Walz also calls for an end to so-called conversion therapy across the state.
In Connecticut, progressive gubernatorial candidate Ned Lamont— who in 2006 beat then-Sen. Joe Lieberman for the Democratic nomination for Lieberman's seat— won the Democratic primary race against Joe Gamin with more than 80 percent of Tuesday's vote. Lamont will face Republican Bob Stefanowski, a former General Electric executive and chief financial officer of UBS Investment Bank, in the race to replace deeply unpopular Gov. Dan Malloy (D). Stefanowski, who was once registered as a Democrat and campaigned on eliminating the personal income tax along with the estate tax for wealthy families, pulled what is widely considered an upset in Tuesday's GOP primary.
Lamont has said he would back state-level efforts to protect essential benefits in Obamacare while the Trump administration undermines the law in a variety of ways. Connecticut has been at the forefront of countering the administration's rollback of health-care benefits and civil rights.
Jahana Hayes, after earning 62.2 percent of the Democratic primary vote for Connecticut's Fifth Congressional District, could become the state's first Democratic Black congressional representative. Hayes, who supports a single-payer health-care system and has pledged to defend immigrants against Trump and his congressional allies, won a decisive victory over Mary Glassman, who had the backing of the state's Democratic Party.