Trump's Labor Department Is Expanding Its Imposition of Religious Fundamentalism
The new appointee to the Department of Labor's Wages and Hours Division potentially has influence over its policies regarding family and maternity leave for private employers and government contractors.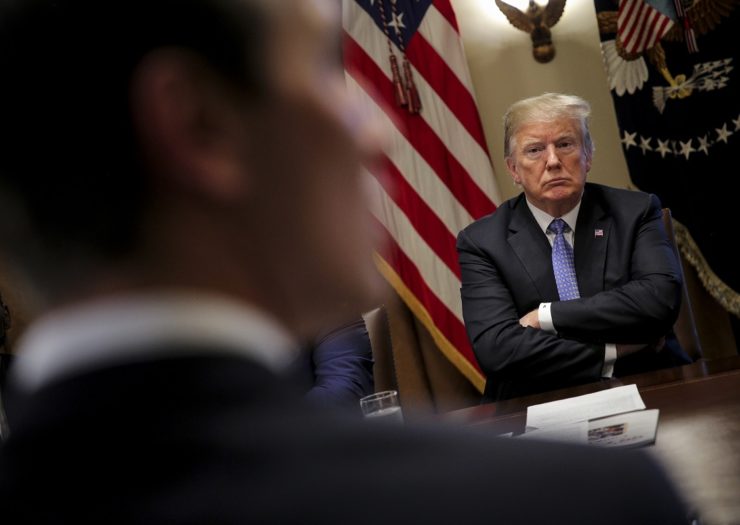 The U.S. Department of Labor (DOL) moved to further cement the imposition of fundamentalist Christian religious beliefs on economic and employment policies last week through a new directive and an appointment to the federal agency.

So-called religious freedom and natural law advocate Steven Begakis was on Monday appointed policy adviser to the agency's Wages and Hours Division (WHD), which oversees enforcement of rules regarding family leave, wage theft, and employment discrimination. The news came just after DOL's Office of Federal Contract Compliance Programs (OFCCP) on Friday announced a directive instructing its staff to "in all their activities … take into account recent U.S. Supreme Court decisions and White House executive orders that protect religious freedom," according to a press release on the move, referencing the recent Masterpiece Cakeshop decision, Trinity Lutheran Church of Columbia, Inc. v. Comer, as well as the Hobby Lobby decision from the Court.
The DOL directive imposing religious beliefs sets out new guidelines for the OFCCP to follow "in anticipation of an addition to the Department's regulatory agenda followed by rule-making informed by public comment." The guidelines won't become an official regulation until the agency develops a formal rule that must pass several bureaucratic hurdles, including a public comment period, before being finalized and implemented.
According to Bloomberg BNA, the DOL's directive doesn't revoke or change the Obama administration's 2014 executive order banning government contractors from discriminating against LGBTQ employees. "But it does task OFCCP auditors with granting companies—including those with no formal religious affiliation—a religious exemption from LGBT discrimination charges, if certain requirements are met." 

Roe has collapsed and Texas is in chaos.
Stay up to date with The Fallout, a newsletter from our expert journalists.
"This is an attempt to encourage businesses to take taxpayer dollars and then fire people for being transgender," said Harper Jean Tobin, director of policy at the National Center for Transgender Equality in a statement. "Religious organizations have ample protections under federal law, but they are not allowed to use federal money to discriminate against people. The language of this directive is so broad and so vague because it is part of a long line of attempts by this administration to sow confusion and encourage any employer to act on their worst prejudices. No employer should be allowed to use taxpayer dollars to fire someone because of who they are."
This is the latest administration move to exempt individuals and corporations claiming religious belief from LGBTQ anti-discrimination laws, stemming from a Trump religious imposition executive order signed last May. So-called religious freedom laws, referred to here as "religious imposition" laws cover a range of legislation designed to shield private individuals and businesses from complying with nondiscrimination laws and to affirmatively deny services such as employment, housing, and reproductive health care based on a religious objection to that service or the population served. DOL's move follows the establishment of a "religious liberty taskforce" by the U.S. Department of Justice (DOJ) on August 1st, as well as a new rule announced in March by the U.S. Department of Health and Human Services (HHS) allowing health-care providers to impose their religious views on the health care of their patients.

According to Bloomberg's report, Begakis, an attorney who has a long history of publishing conservative work for both the University of California-Santa Barbara (UCSB) and Notre Dame student newspapers, will not directly control anti-discrimination policy for WHD but will be involved in setting policies regarding family leave and wage equality.

Writing for UCSB's the Daily Nexus as an undergrad from 2008-2012, Begakis expressed a wide range of conservative opinions, including anti-choice and anti-LGBTQ sentiments. He now potentially has influence over DOL policies regarding family and maternity leave for private employers and government contractors. A former WHD official who spoke with Rewire.News on the condition of anonymity said political appointees like Begakis have broad autonomy when it comes to responsibilities, doing everything from conferring and working with other divisions to developing new policies to more general project management. "It seems strange that at first glance, he doesn't have labor experience but given he's in a junior-to-mid-level position, it's not a red flag."