New Lawsuit Challenges Illegal 'Debtors' Prison' System in Arkansas County
District Court Judge Mark Derrick routinely levies punitive fines for misdemeanors. And when defendants can't pay, their court fees and troubles start to add up.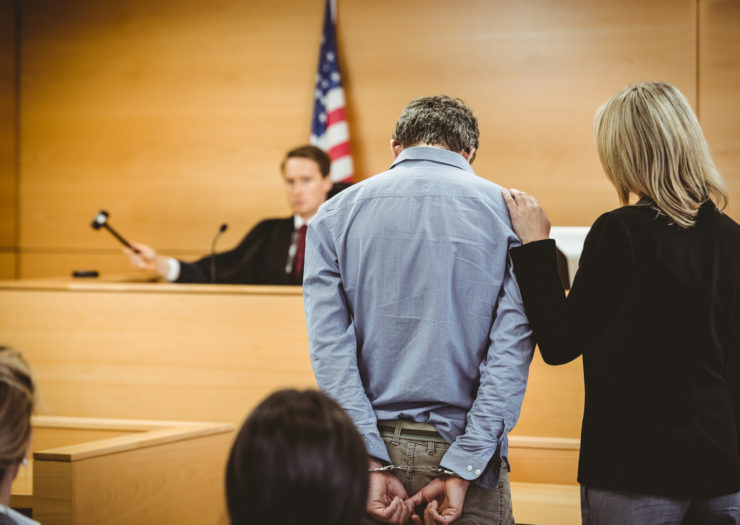 A new class action lawsuit alleges that a state court judge has created an illegal debtor's prison system in White County, Arkansas. The suit is the latest in a nationwide string of lawsuits challenging policies and practices that force indigent criminal defendants to pay exorbitant fees—with no regard for their ability to pay—or else face jail time or other punishment. 
Thousands of White County residents have been and will be stripped of their constitutional rights, incarcerated solely because they are indigent and unable to pay the court fees and fines that they owe, according to the lawsuit filed by the Lawyers' Committee for Civil Rights Under Law.
That's because District Judge Mark Derrick, who presides in in eight different courtrooms in eight different towns in White County (about an hour from Little Rock) and two additional courts in another county, has implemented a zero-tolerance policy when it comes to failure to pay court debt.
Defendants who face Judge Derrick often plead guilty and are sentenced without ever speaking to an attorney, according to the lawsuit. These defendants are usually charged with minor infractions; Derrick's docket consists primarily of traffic and contempt offenses. And once Derrick sentences the defendant—and court fees and fines are assessed—that's when, for a lot of Arkansans in White County, the nightmare begins.
Roe is gone. The chaos is just beginning.
Follow Rewire News Group on Twitter to stay on top of every breaking moment.
Derrick's policies as described in the lawsuit certainly sound draconian: He levies substantial fines on individuals convicted of minor infractions like parking tickets. If defendants in his courtroom are unable to pay the fines and court costs in full, Derrick forces them into an installment plan that requires them to make monthly payments of at least $100 without determining whether or not defendants can afford to make those payments in the first place.
The lawsuit alleges that Derrick's policies are unconstitutional and a violation of Arkansas state law. The 14th Amendment prohibits incarcerating a person for nonpayment of legal debt (including court fines, fees, costs, assessments, or restitution) without first conducting an inquiry into the reasons that the person failed to pay their debt and determining that the person willfully refused to pay. The Arkansas fines collection law has a similar requirement.
In some cases, according to the complaint, Derrick suspends the driver's license of defendants who miss payments without giving them any advance warning or a chance to contest the license suspension. And in many instances—because Derrick presides over multiple courtrooms—defendants find themselves obligated to make multiple payments of $100 dollars as a result of Derrick's zero-tolerance policy. Those who don't make their monthly payments are subject to jail time—30 days in most cases. That incarceration adds another several hundred dollars to the court-ordered debt.
That's what happened to Kimberly Snodgrass, one of the six named plaintiffs in the lawsuit. Since Snodgrass first appeared before Judge Derrick in 2014, she has spent one out of every three days of her life in jail, not because she's a violent offender or a threat to the community, but because she cannot afford to pay the $500 a month in court costs and fines that she owes.
Each time Snodgrass is arrested for failure to pay her debt—ten times in the past four years—she racks up hundreds of dollars of additional debt and, in most cases, Judge Derrick sentences her to 30 days in White County Detention Center.
Tina Phares, a 47-year-old mother of one, didn't fare much better. In the last three years, she has spent one out of every five days in the White County Detention Center, mostly for failure to pay. Judge Derrick has convicted her of failure to pay nine times and has sentenced her to 30 days in jail seven times.
Last year, Nikita Mahoney, a 32-year-old mother of four and certified nursing assistant, lost custody of her children when she and her husband were jailed for overlapping days due to warrants issued by Judge Derrick. She spent 42 days in jail on a charge that was ultimately dropped, but she lost custody of her kids anyway and has been struggling to get them back due to nearly $20,000 in legal debt.
These plaintiffs represent a class of potentially thousands of Arkansans who have been harmed by Derrick's policies. It's not that Derrick is just "tough on crime." He routinely sentences defendants convicted of failure to pay to twice the length of jail time as those convicted of the most serious misdemeanors under Arkansas law.
Judge Derrick also seemingly prides himself on levying high fines.
"I know my fines are a lot higher," he said according to the lawsuit. "I have people in my court that owe thousands and thousands of dollars because they keep getting in trouble. Some people may owe $12,000, $15,000, or $20,000. I have a policy: Stay out of trouble for four years. That's a long time. Make your monthly payments. I set everyone at $100."

Derrick says that after four years, he will write off any outstanding balance: "I want to impress on them that the payments are important. That they need to make it. Make the payments for 48 months, and stay out of trouble. Come back before me. I'll verify it and then write off any outstanding balance. If they can do that for four years, they can do it for the rest of their lives."
But Derrick ignores that paying $100 a month is too much for many indigent defendants, and under the law, courts cannot jail people because they are too poor to pay fines—sometimes called "pay or stay."
In 1833, Congress abolished the use of debtors' prisons and in 1983, the U.S. Supreme Court followed suit in a case called Bearden v. Georgia.
In Bearden, the Supreme Court noted that it had "long been sensitive to the treatment of indigents in our criminal justice system." It continued: "There can be no equal justice where the kind of a trial a man gets depends on the amount of money he has."
If a person has the means to pay court fines but simply refuses to do so, that person can be jailed after a court determines that they had the ability to pay but willfully refused. But it is patently unconstitutional to lock up a person in jail if they are poor and simply do not have enough money to pay the fines.
But that's what Derrick is doing. The lawsuit paints a picture of a merciless judge who metes out harsh penalties without considering the practical effect that his sentences will have on the lives of the defendants who appear in his court.
A sign posted in his courtroom warns defendants of the consequences of failure to pay: "[I]f payment is not receipted in the system prior to the end of the month, a non-payment of fine warrant will be issued with a cash bond for the full sentenced balance plus the new charge and your [driver's license] will be suspended until such time as your account is paid in full."
It doesn't matter how much you owe. It doesn't matter if you don't have the ability to pay because you have to pick and choose which bills to pay, and you decide keeping the lights on is more important than paying the court debt. It doesn't even matter if you contact the court clerk in one of Derrick's courts and ask for an extension or make a partial payment.
Judge Derrick will have you thrown in jail (usually for 30 days) and your driver's license suspended. Ironically, of course, this makes it virtually impossible to maintain a job that will allow you to actually pay down your debt. And should you decide to drive on a suspended license so you can get to your job and pay your debt, you better pray you don't get pulled over. If you do, you'll be arrested and charged with driving on a suspended license, which means more jail time and more fines to add to your existing pile of debt.
It's a Kafkaesque feedback loop in which a defendant's inability to pay can lead to incarceration, which in turn generates more fees and fines that the defendant is unable to pay, which leads to more jail time.
Derrick's policies have had devastating consequences for the indigent Arkansans who appear in his courtroom. Many have lost their jobs and thus their main source of income. Some have lost their homes. Others served jail sentences of upwards of 30 days based on faulty failure to appear warrants and found their lives in shambles when they were released. Eviction, physical and mental health complications, joblessness, and an inability to climb out of the vicious cycle are common for victims of Derrick's policies, according to the Lawyer's Committee.
The lawsuit seeks a judgment declaring that Derrick's policies are a violation of the U.S. Constitution and Arkansas state law.