Exclusive: New Immigrant-Led Coalition Is 'Going to Get People Out of Sanctuary'
Colectivo Santuario is not taking no for an answer anymore. "We are going to get people out of sanctuary. We are going to stop their deportations. We're not going to stand for people being incarcerated in churches anymore," said one organizer.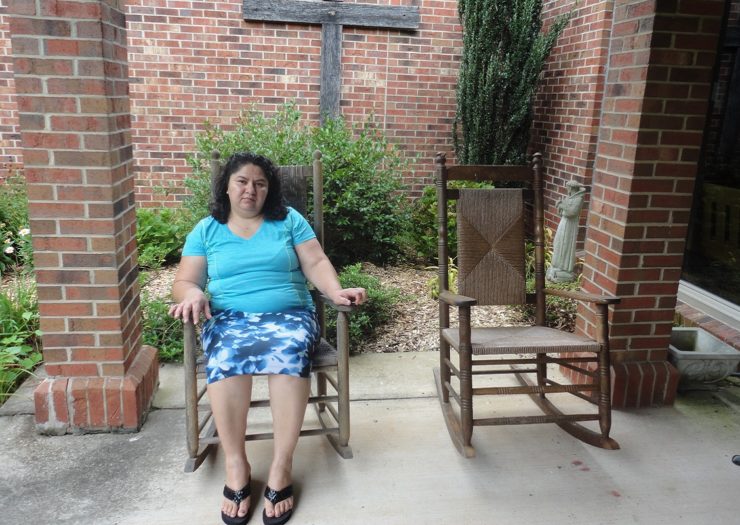 Click here for more of Rewire.News' coverage of the sanctuary coalition.
A new nationwide coalition has formed to free the people forced by the Trump administration to enter churches where they have been confined for weeks, months, and in one instance, more than a year.
Called Colectivo Santuario, the coalition comprises immigrants in sanctuary, immigrant organizers, attorneys, and allies in faith communities spanning seven states—Colorado, Missouri, North Carolina, Ohio, Pennsylvania, Texas, Virginia. While there are currently 44 public cases of immigrants in sanctuary nationwide, Colectivo Santuario represents a small fraction of those cases.
Its members in sanctuary participate in weekly phone and video calls with each other. Organizers working in the collective, some of whom are undocumented immigrants themselves, refer to those members as "sanctuary leaders," a term Juana Luz Tobar Ortega is not entirely comfortable with. The 50-year-old immigrant from Guatemala, whose case has received widespread media attention, was the first person in North Carolina history to enter sanctuary in May 2017.
"We're all in this same situation, we're in this situation together. I don't think of myself as a 'leader,'" Ortega told Rewire.News at Greensboro's St. Barnabas Episcopal Church, where Ortega has remained for 15 months. 
Roe is gone. The chaos is just beginning.
Follow Rewire News Group on Twitter to stay on top of every breaking moment.

"Really, only the other people locked up in sanctuary know what I'm feeling. I'm grateful to be here, but it's a certain kind of suffering being stuck in one place. I call it a 'golden cage.' So many good people help us, we are never lacking food, shelter; we have everything we need, but we can't leave. Others in sanctuary understand these feelings and we talk about it in our calls and try to lift each other's spirits. But we are also tired and frustrated, and this movement happening is us trying to figure out what can be done because there has to be something we can do. There has to be a door that can open in our favor," Ortega said.

The coalition is pushing for legislative fixes at the local level that would support the sanctuary movement and offer protections to those in sanctuary.

In June, the Durham City Council passed a resolution in support of the national movement of congregations offering sanctuary to immigrants. The resolution also asked U.S. Reps. David Price (D) and G.K. Butterfield (D) to intervene on behalf of two fathers in sanctuary in Durham: Samuel Oliver-Bruno, who is in sanctuary at CityWell United Methodist Church, and Jose Heriberto Chicas, who is in sanctuary at St. John's Baptist Church School of Conversion.

North Carolina has six public sanctuary cases—two in Greensboro, one in Chapel Hill, two in Durham, and one in Raleigh—making it the state with the most people in sanctuary, according to a list shared exclusively with Rewire.News by Church World Service.

Viridiana Martinez, a co-founder of the Durham, North Carolina-based grassroots organization Alerta Migratoria, is one of the organizers behind Colectivo Santuario. She told Rewire.News that she sees her role in the collective as helping the families of those in sanctuary, building the leadership of those in sanctuary, and being an ally to sanctuary leaders, the kind she needed when she was a young organizer in the DREAM movement.

"A lot of the people doing work around sanctuary right now have very good intentions, but they have never done deportation defense work before and they don't understand what effective organizing can do. They think that because some of the people in sanctuary have attorneys, its best to see what plays out legally. They have a lot of faith in the legal system, but what I have learned as an organizer is that you can't put all of your eggs in that basket," Martinez said. "Sanctuary is still family separation; sanctuary should not be seen as a solution, but as a means to an end."

Of all the sanctuary leaders in Colectivo Santuario, Ortega has been in detention the longest. When others in North Carolina were considering sanctuary—including Minerva Garcia of Winston-Salem, who remained in sanctuary for 96 days just a few miles from St. Barnabas—Ortega talked them through the process, allowed them to view her lodgings, and listened to their concerns.

"I've talked to people considering sanctuary or who are in sanctuary in many places, and I tell them it will not be easy," Ortega said. "I have cried so many times, and I have heard others cry so many times. Some of them have been in sanctuary less time than me, but they are really upset. This is a very difficult thing to do, it is like being in jail. It's so frustrating not to be able to leave anywhere, not even go to the store. It can fill you with such despair." 


The seamstress first came to North Carolina in the early 1990s. Ortega fled Guatemala "after receiving death threats because of her refusal to join rebel forces that sought to overthrow the government—a conflict that was a legacy of a 1954 CIA-backed coup that precipitated nearly half a century of civil war," Triad City Beat reported. Ortega applied for asylum in 1998 and was denied, as was her appeal. While undocumented, she returned to Guatemala in the late 1990s to care for her ailing daughter, using a fraudulent visa to return to the United States in 1999. Ortega was apprehended by Immigration and Customs Enforcement (ICE) and briefly detained before being released. For nearly 20 years, she lived and worked in the United States with no issue, and then President Trump took office. In April 2017, ICE gave Ortega just 30 days to leave the country. She entered sanctuary because returning to Guatemala, Ortega told Rewire.News, was not—and is not—an option for her. With the help of the Quaker organization the American Friends Service Committee (AFSC), Ortega was able to enter sanctuary at St. Barnabas. 

Ortega says she finds solace in her faith, in her visits with her family, who spend time with her each week, and in her connections to others in sanctuary. It is through her involvement with Colectivo Santuario that Ortega has felt truly understood.

Unless a member of Congress intervenes on Ortega's behalf and requests that federal immigration authorities reopen her case, Ortega said her only option is to return to Guatemala and face a ten-year-bar from the United States, effectively ripping her from her U.S.-citizen husband, children, and grandchildren in North Carolina. 

Colectivo Santuario's work extends to Philadelphia, where immigration attorney David Bennion is representing Carmela Apolonio Hernández. The mother of four from Mexico came to the United States in 2015 after a relative was murdered by an organized crime gang that threatened her, according to Bennion. 

Like Ortega, Hernández's asylum claim was denied by both a judge and the Board of Immigration Appeals. While her federal appeal was still pending, her attorney at the time told her that she needed to return to Mexico, and if her appeal was successful, she could return to the United States. Although that is technically true, Bennion said, appeals at the circuit court level are rarely successful and Hernández knew that. In December 2017, she decided to enter sanctuary with her four children at Church of the Advocate, a historically Black church in Philadelphia.

"Carmela's family, and many like hers—including leaders in sanctuary—have gone through the asylum process and are forced to enter sanctuary because their claims were denied," Bennion said. "Cases like hers highlight the extreme arbitrary nature of the asylum process. You have some judges denying 3 percent of cases, while others deny 99 percent of cases."

Bennion further noted that Attorney General Jeff Sessions' recent decision to override current asylum law and instruct immigration judges to stop granting asylum to most victims of domestic abuse and gang violence "makes a bad situation much worse. And it's not just bad for people on the ground who will be harmed or even killed if they are deported, but as a country, it brings us further out of line with the international law agreements and treaties we are supposed to be bound by."

Local organizers, including Jazmin Delgado, who is part of Colectivo Santuario and the Sanctuary Advocate Coalition in Philadelphia, have put pressure on state legislators to act. In April, U.S. Rep. Robert Brady (D-PA) introduced a private bill to the House Judiciary Committee on behalf of the Hernández family with the goal of getting Congress to intervene in their case and grant them permanent residence in the United States. And in June, the Philadelphia City Council passed a resolution that calls on the U.S. Department of Homeland Security (DHS) to reopen the family's asylum case, and urges Congress to provide relief for Hernández.

Elsewhere, in Texas, local organizing by the Austin Sanctuary Network has led to

a resolution there

, supported by the Texas City Council. Colectivo Santuario organizer Alejandro Caceres, the immigration organizer at Austin-based Grassroots Leadership,

worked with

the Austin Sanctuary Network, a coalition of more than 25 faith-based congregations and nonprofit organizations, to successfully fight the deportations of Sulma Franco and Hilda and Ivan Ramirez—all of whom were in sanctuary in the state. Franco now works with Grassroots Leadership as the organization's Austin sanctuary network organizer and is a member of Colectivo Santuario. Grassroots Leadership's immigration programs director, Claudia Muñoz, is also a primary organizer in Colectivo Santuario.

Members of the collective in Ohio, Missouri, and Colorado are also pressuring elected officials to use their power to support immigrants in sanctuary.

Delgado told Rewire.News that she sees the collective as an opportunity to "catapult individual sanctuary cases onto the national stage." Each sanctuary leaders' story, she said, highlights everything that is wrong with the asylum system, immigration law, and the ways that immigrant communities are criminalized "the moment they step foot in the U.S."

"This type of pressure is really important because it forces elected officials to act and it also allows them to hold the federal government accountable," said Martinez. "If nothing else, we're seeing a rise in local leadership, and even these city resolutions are really important because at the end of the day, for a lot of our people in sanctuary, their only hope is that someone in their state who has the power to, will intervene, advocate for them, and stand up to federal immigration agencies."

In North Carolina, Martinez said that allies and members of the faith community need to continue pressuring elected officials, including Sen. Richard Burr (R-NC), Rep. David Price (D-NC), and Sen. Thom Tillis (R-NC), to introduce private bills on behalf of sanctuary leaders who, without political intervention, may be confined in churches indefinitely.

"I'm tired of hearing that because there is a Republican in the White House we're powerless. We don't believe that. We've never believed we're powerless," Martinez told Rewire.News on Monday, a few minutes after getting off the phone with Jose Chicas' wife, Sandra. "People in sanctuary are being their own heroes, and so are their family members. Sandra just told me she's ready to fight and she's not going to take no for an answer anymore. So this is what's happening. The goal of Colectivo Santuario is not to take no for an answer anymore. We are going to get people out of sanctuary. We are going to stop their deportations. We're not going to stand for people being incarcerated in churches anymore. These are the goals of the families, so they are our goals too."
CORRECTION: This story has been updated to correctly identify who organized to fight the deportations of Sulma Franco and Hilda and Ivan Ramirez.