As Comment Period Closes, Doctors and Advocates Warn Title X 'Gag Rule' Will Cause 'Unthinkable Harm'
Governors from Oregon, Washington, and Hawaii announced they would reject Title X family planning funding, should the proposed restrictions on abortion care for grantees become policy.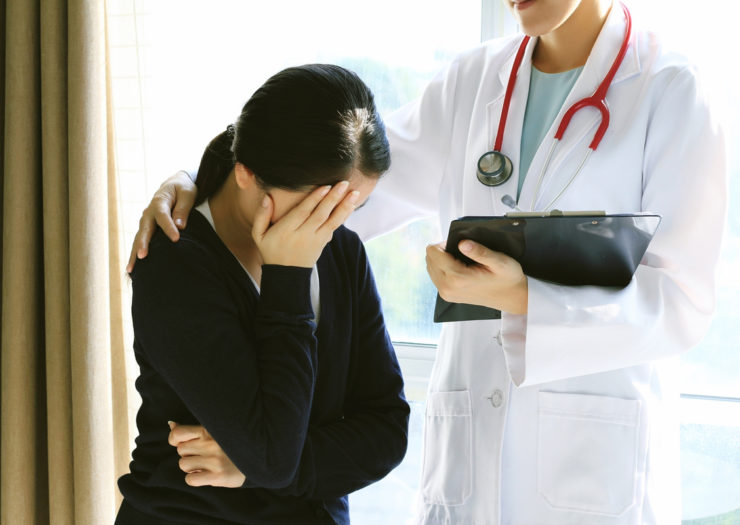 The 60-day public comment period for the Trump administration's proposed Department of Health and Human Services (HHS) Title X "gag rule" concluded this week with more than 200,000 comments listed on the HHS site, including many sharp rebukes from major medical and health-care advocacy organizations.
The proposed rule, which was announced in May, would restrict patients from obtaining abortion care from reproductive health providers who receive funds through the federal Title X family planning program, while also barring clinicians at facilities that receive Title X funding from referring pregnant people to abortion providers. Advocacy groups responded by pointing out that the policy would risk the health care of millions of people.
"High-quality medical care relies on honest, unfiltered conversations between patients and their physicians," said American Medical Association President Dr. David O. Barbe in a statement. "Gag orders that restrict the ability of physicians to explain all options to their patients and refer them—whatever their health care needs—compromise this relationship and force physicians and nurses to withhold information that their patients need to make decisions about their care."
Governors from Hawaii, Washington, and Oregon announced this week that if the gag rule goes into effect, they will turn down Title X funding for their states to ensure residents can continue to access the broadest range of health-care options. New York Gov. Andrew Cuomo (D) implied he would do the same in a letter to HHS Secretary Alex Azar, writing, "If the rules are enacted as proposed, it will be impossible for New York to continue its comprehensive Title X program."
Roe has collapsed and Texas is in chaos.
Stay up to date with The Fallout, a newsletter from our expert journalists.
"The [Notice of Proposed Rule Making]'s proposed rule threatens to reverse crucial expansions of access to reproductive health care, replacing a decades-long decrease in teen and unplanned pregnancies across the U.S. with unnecessary, unethical, and potentially illegal barriers for those seeking family planning services," Cuomo's letter said. "It will deny women the information necessary to make their own medical decisions and could eliminate the ability of pregnant women to give informed consent on their post-conception options. The proposed rule violates long-standing principles limiting the interference of Congress in the sovereignty of individual States and impairment of private contracts."
Oregon Gov. Kate Brown (D) pledged in a statement Monday to exhaust every option in opposing the rule. "If the Trump gag rule is adopted and legal challenges are unsuccessful, it would leave me no choice but to act in the best interests of the citizens of Oregon and our state law, and withdraw our state's participation from an unethical, ineffective Title X program that reduces access to essential preventive health services."
As Jessica Mason Pieklo wrote for Rewire.News, "About two-thirds of people receiving preventive care through the Title X program live in poverty and 88 percent have incomes that are at or below 250 percent of the federal poverty level."
The National Association for Community Health Centers, a national advocacy organization in support of community-based health centers and the expansion of health-care access for the medically underserved and uninsured, denounced the rule in a statement: "It is imperative that health center patients feel confident that they are receiving comprehensive, medically-informed and accurate information about health care from their doctors at all times. Should this proposed rule be adopted, health centers would have to choose between allowing federal regulations to dictate what they can and must discuss with their patients, and losing a critical source of revenue to support patient care. Either way, patients would not be well-served."
The Maine Women's Lobby, a group that advocates on issues affecting the lives of Maine women and girls, drew attention to the ways in which reproductive freedom intersects with domestic violence. "Maine has a disturbingly high rate of domestic violence. Access to effective contraception is an important strategy for women who suffer violence at the hands of a partner to maintain control over their reproduction and avoid further legal and economic entanglement with an abuser," the lobby said in a public comment regarding the rule. "Has HHS considered the ramifications for women who are victims of domestic violence in promulgating this rule?"
Planned Parenthood Vice President Dawn Laguens called for Azar to withdraw the rule entirely. "Since the moment the Trump-Pence gag rule was proposed, doctors, health care experts, and the general public have expressed their outrage and concern. It is clear that the Trump gag rule is unethical, unworkable, and would cause unthinkable harm to people across the country," she said in a statement. "Planned Parenthood condemns the proposed gag rule. We call on HHS Secretary Azar to listen to the medical community and withdraw this gag rule."