Culture & Conversation Maternity and Birthing
How This DC Birth Center Is Building the 'Answer for Black Women'
D.C.'s Family Health and Birth Center is showing what it might take to improve the health and wellness of Black women and children.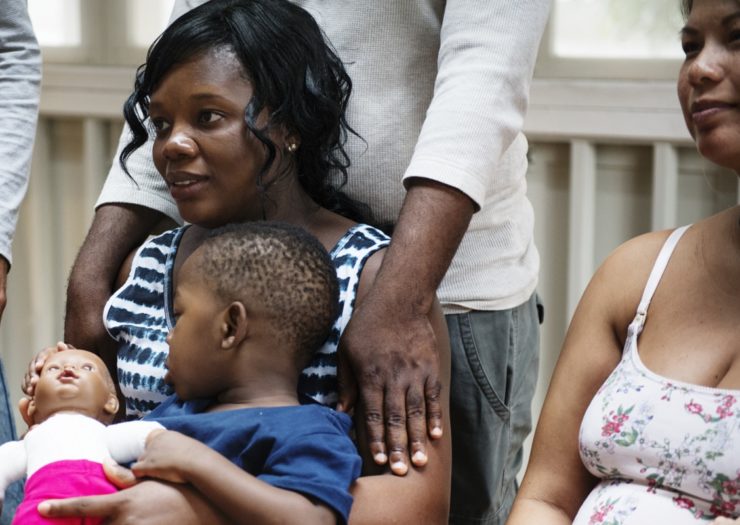 It's a Wednesday morning at the Family Health and Birth Center (FHBC), a prenatal clinic and birth center housed within a larger federally qualified health center called Community of Hope. The clinic is located in a shopping mall, across the street from a Safeway grocery store, next door to an Aldi store, and situated in a predominantly Black and low-income part of the city, that, like most of Washington, D.C., is rapidly changing. The lot on which the clinic stands is set to become condos, and signs outside the parking area proudly announce that fact.
But today, seven Black pregnant women have gathered in a classroom for their two-hour prenatal care group, facilitated by FHBC's group care coordinator, Paris Carter, a Black woman in her late 20s with long braids and a shaved undercut. As the women snack on fruit, yogurt, and muffins, they paint the plaster casts of their pregnant bellies that they made at the last session. Beyoncé plays in the background.
This group is one of three or four that meet each week at FHBC and represents a core part of the prenatal care model gaining traction nationally, called CenteringPregnancy, which recommends this kind of setting and provides training and materials to facilitators. In the midst of a national dialogue about the health of pregnant and parenting Black women, FHBC's work shows what it looks like to provide prenatal care that significantly improves outcomes for vulnerable populations. The clinic has seen healthier moms and babies than the statistics for the region have shown, offering a model for others on what it takes to improve health and wellness for Black women and children.
All of the women in the group Rewire.News observed were close to term, around 37 weeks pregnant. Three have children with them, all little boys between 13 months and a few years. One boy watches a show on his mom's phone while munching on fruit. Another spends most of the session painting his mom's belly cast with messy streaks of black and blue paint.
Roe is gone. The chaos is just beginning.
Follow Rewire News Group on Twitter to stay on top of every breaking moment.

The two hours the group is together is loosely held, with women arriving at different times, and multiple activities taking place at once. Halfway through, for about 30 minutes of the session, Carter walks through a PowerPoint presentation on infant sleep safety and how to avoid sudden infant death syndrome (SIDS). Each woman also spends about ten minutes with Rebekah Schmerber, a white nurse midwife who does belly checks behind a screen in the corner throughout the session. She takes their vitals, weighs them, and then has each woman lie down on a massage table next to a wall draped with a colorful batik cloth. As she examines the belly and uses a Doppler to listen to the fetus' heartbeat, she addresses any questions and concerns the woman might have.

Mercedez Milling-Robinson finished the Centering program last year when her daughter, her second child, was born. "I just had such a good time," she recounted about her experience with Centering in a recent phone call with Rewire.News. For her first child, she received care from an obstetrician at another local health provider and was really unhappy with the care she received. Her appointments with her OB were really impersonal, she said, and her desire for an unmedicated labor wasn't respected. During her delivery, she described, "they were telling me … stories about women who wanted to go natural pulling the IVs out and acting crazy to try and scare me out of my decision." In spite of that, Milling-Robinson had delivered her son without medication. When she got pregnant again two years later, she sought out care at FHBC, which she had known about, but had been closed when her son was born.

She only had good things to say about her experience at FHBC. "I love their energy and their vibe," she described. "My first time meeting Ebony [Marcelle, director of midwifery at the clinic] was the day I was giving birth to my daughter. She came in and fit right in and was really encouraging." One of the things that was challenging about her first child's delivery was that she felt like the nurses and OB were forcing her to push when she wasn't ready. Because of that experience, she explained, "with my daughter I didn't know when to push or when not to push." Instead she recounted Marcelle saying: "'You know when to push'—giving me back what [the first providers] took from me."

Historically, the CenteringPregnancy model starts with monthly group meetings early in pregnancy. At FHBC they start later, around 20-24 weeks, but meet biweekly until the end of the pregnancy. The complete program is ten sessions, and each session covers a different topic related to pregnancy, childbirth, and parenting. The model is touted by health-care providers, researchers, and advocates for improving maternal health, and Marcelle said FHBC's outcomes have been significantly better than average in D.C. Among the 2017 group, only three had issues with preterm labor or low infant birth weight—two problems that disproportionately affect Black women. In 2016, the preterm birth rate for Black women nationally was 14 percent. In 2012, the rate of infants born below a healthy weight to Black mothers was also about 14 percent.

Approximately 391 women came to Community of Hope for prenatal care in 2017, and 35 percent of those clients participated in the Centering groups. Among all the prenatal patients seen, only 5.8 percent gave birth preterm, and 4.6 percent had infants born underweight. There were no infant or maternal deaths among any of the clients seen at the practice. For context, a 2015 study showed that Washington, D.C., has the highest infant mortality rate of any capital city in the developed world. The maternal mortality rate is also twice the national average, and between 2014 and 2016, 75 percent of those deaths were Black women.

FHBC has seen a lot of change in the 18 years since its founding by Ruth Lubic, a white nurse midwife who received a MacArthur Fellowship that she used to fund what was then called the DC Developing Families Center. While the intention has always been to serve women living in the vicinity of the center, how that service is provided has shifted greatly over time. Much of the recent shifts can be attributed to Marcelle's leadership.

One of the things that makes FHBC's model unique, said Marcelle, is that it is part of a larger federally qualified health center. Not only does that provide an important source of revenue via federal funding, but it offers her clients wraparound services for the whole family. "What it allowed me to do was build a program that I think is the answer for Black women," said Marcelle, who first connected with FHBC as a volunteer in 2002. In 2008, she came back to FHBC as a nurse midwife, where she stayed for two years before leaving to work at Washington Hospital Center. She returned to FHBC in March 2015 as the midwifery director.

"It's lovely having family practice providers here. We have dental at two of our other sites. We have a housing arm. We have healthy start and integrated behavioral health." This comprehensive care model impacts the health of an entire family, explained Marcelle. "It's fantastic. If I have a patient come in and her partner looks sick, I can get him an appointment. Your grandmother is sick? We can see her."

There are two other key elements of Marcelle's model, which I found in my reporting on Jennie Joseph's practice in Orlando, Florida, as well. One, the majority of her staff are women of color. Marcelle recounted that even while interviewing with the CEO, she foreshadowed this change when she was asked what she would need to be successful. At the time, the birth center was closed, and the practice was only seeing a limited number of prenatal clients, staffed by just two midwives, both white. "Complete trust," Marcelle recalled responding. "You're going to have let me do things you don't understand. You're going to have to let me make decisions."

Marcelle also moved to soften the center's approach with clients—another key element that is part of how Joseph's clinic works. Joseph heavily emphasizes respect and understanding for her patients as soon as they step foot in the clinic, and Marcelle is equally passionate about that.

"They come very defensive because they've had bad experiences in the past, so we also have to restructure their concept of care," said Marcelle. "We have some patients who just come to hang out, probably because we are the only people who are super nice to them."

This softer approach is reflected in a change she made regarding the center's late policy. When she came on as director, the policy mandated that if you were ten minutes late for your appointment you had to reschedule. Marcelle recalled: "I knew I had a problem when it was 4:10 and the midwife had already moved her to no show, and the patient shows up at 4:12." Within a few months of taking over as director, Marcelle shifted the policy. "We have to see late patients," she explained. "Some of these women are taking multiple buses, sacrificing [by accepting] unsafe child care, all kinds of shenanigans to get here—we have to see them."

The official policy now is 15 minutes, but if you're pregnant or with a newborn, Marcelle said you will get seen, no matter what. Millings-Robinson remarked on this as well, sharing that the staff will always work with her, even if she's late.

When asked what really stands out about the center's environment, she answered without hesitation: "They don't forget a face or a name. I'm able to talk to them, and they are really excited about what they are doing."

The clinic represents a bright spot in an otherwise grim situation. Advocates and journalists have come to call D.C. a "maternity desert" after two hospital labor and delivery ward closures last summer, limiting options for people living in some of D.C.'s lowest-income areas. Newsweek reported in 2015, "infants born into the city's poorest area, Ward 8 in the southeast, are 10 times more likely to die than children in Ward 3, Washington's affluent northwest."

The FHBC is located in Ward 5, not far from one of the closed labor and delivery wards, and also has a location in Ward 8, where it offers prenatal care and where some of the Centering pregnancy groups meet. The vast majority of its clients are Black, and it accepts all insurance plans, including Medicaid. Most of the center's clients are on public insurance.

Marcelle has big dreams for the birth center. For starters, she would like to increase the number of women giving birth at the center each month. Milling-Robinson wanted to deliver her daughter at the birth center, but a suspected fetal heart murmur later in pregnancy required her to deliver at the hospital instead. Complications are common, shared Marcelle.

The majority of FHBC's patients deliver not at the birth center, but at Washington Hospital Center, a nearby hospital where FHBC midwives can attend to them during their deliveries, according to Marcelle. Between two and four women give birth at the birth center each month, she said.

Pregnant with her third child and due in January 2019, Milling-Robinson has returned to the center for prenatal care and is hoping to give birth there this time.

In 2017, according to statistics Marcelle provided to Rewire.News, 137 women came through the Centering program, representing 78 percent of the delivery clients seen by the nurse midwives at FHBC. Marcelle's goal for this year is to increase that by threefold or fourfold, up to 15 births each month. She is working through ideas for how to get her clients on board with an unmedicated birth, including working more closely with Mamatoto Village, a local perinatal support organization, since wanting an epidural is a big reason her clients who aren't facing complications choose the hospital instead.

Marcelle brings a unique perspective to the midwifery world because she's practiced in hospitals with high-risk deliveries and in the birth center, where women deliver in rooms decorated like a bedroom at a bed and breakfast. "I can definitely whip out the rebozo [a garment used in indigenous midwifery practice] and be crunchy and granola, but I can [also] manage your twins with pre-eclampsia."

There are only a handful of birth centers that are situated within federally qualified health centers, and that alone is what makes the center sustainable as compared with other clinics. But even Marcelle's center is facing uncertainty—its lease is up in 2020, when its building will become another luxury condo development in a city where these developments abound.

The center is looking for a new space, Marcelle said, but so far hasn't found anything affordable and in the right location. It won't be an easy hurdle given the realities of real estate in the rapidly gentrifying D.C., but Marcelle is determined to charge ahead and continue offering something truly unique in the midst of a challenging landscape for Black women.

Carter, whom Marcelle hired two years ago, was actually a patient at FHBC ten years ago when she had her son at age 20. She recalled what it felt like to arrive at FHBC for prenatal care after an unsatisfactory experience at her first prenatal care provider. "Besides the front door, there [were] no locked doors here. It felt like the staff knew everybody. It didn't feel so sterile. I just liked how I was addressed here. It was kind of, 'Ooh, hey, what's up?' instead of it being very straightforward and strict." Marcelle was actually Carter's midwife and even attended the birth of her son Kingston, who is now 9.

"It was really cool seeing other moms like me who were pregnant," Carter said. "[They] lived where I lived, lived how I lived, looked like me, were dealing with some of the same issues as me. It felt like home."