Gavel Drop: Six Years of Clinic Protests Is Not Harassment, Says Federal Judge
And in other news, convicted rapist Brock Turner thinks his appeal should be overturned because he never wanted intercourse with an unconscious woman. He wanted "outercourse."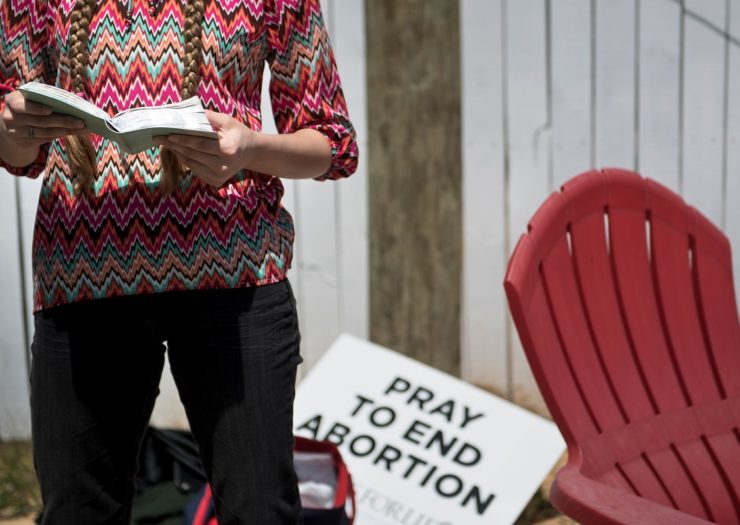 Welcome to Gavel Drop, our roundup of legal news, headlines, and head-shaking moments in the courts.
A federal court in New York ruled that anti-choice protesters who have been protesting the same abortion clinic in Queens every Saturday since 2012 were not harassing patients. The court said that the state attorney general failed to show that the defendants "had the intent to harass, annoy, or alarm" patients going to the Choices clinic. Because wielding photos of aborted fetuses and making death threats to clinic escorts is apparently hunky dory.
An attorney for rapist Brock Turner is appealing Turner's conviction, claiming that the former Stanford student wanted to have "outercourse" with an unconscious woman outside of a dumpster. We at #TeamLegal are confident that woman wanted zero-course, not outer or intercourse.
Plaintiffs who filed a lawsuit filed demanding a recount of a 2014 Tennessee constitutional amendment vote are appealing to the U.S. Supreme Court. The amendment in question—Amendment 1—passed by a small margin and states: "Nothing in this Constitution secures or protects a right to abortion or requires the funding of an abortion. The people retain the right through their elected state representatives or state senators to enact, amend, or repeal statutes regarding abortion, including, but not limited to, circumstances of pregnancy resulting from rape or incest or when necessary to save the life of the mother." The Sixth Circuit Court of Appeals denied a recount, ruling that the plaintiffs' voting rights had not been infringed.

Roe is gone. The chaos is just beginning.
Follow Rewire News Group on Twitter to stay on top of every breaking moment.
Jay Sekulow, one of President Trump's lawyers, is using the Trump administration's investigation into the long-debunked smear that Planned Parenthood is selling baby parts on the black market to raise money for his right-wing activist group, American Center for Law and Justice. And wouldn't you know, that group has funneled millions of dollars to his law firm and his family.
Last week, the Sixth Circuit Court of Appeals heard arguments in EMW Women's Surgical Center v. Beshear, a case challenging Kentucky's forced ultrasound law. The law has been blocked since September of last year, when a district court judge struck it down by ruling that the law violated physicians' First Amendment rights. EMW Women's Surgical Center in Louisville is the state's only abortion clinic.
A case about whether Sugar Grove Township in Pennsylvania can force an Amish woman to stop using outhouses and to connect to the sewer system raises religious freedom issues that must be considered more carefully, according to a state appeals court. Iva Byler claims that using the sewer system would burden her religious beliefs. The Amish severely limit use of technology; some don't use electricity, and Byler's conservative sect is banned from using items such as chain saws.
Seventeen Democratic attorneys general are ramping up the pressure on the Trump administration in the wake of its family separation policy with a new lawsuit filed in federal court in Seattle. They are asking the judge to order the administration to reunite every family without requiring the families to pay travel costs, end the detention policy, accept asylum seekers at the border, and declare family separations unconstitutional.
Pennsylvania State University Professor Eleanor Marie Lawrence Brown has words for her fellow graduates of esteemed institutions like Harvard and Yale when it comes to the nomination of Brett Kavanaugh. "In less politically precarious times, we might debate whether Kavanaugh's impressive resume should earn him a 'yes' vote, even from Democratic senators," writes Brown. "But if anyone should realize that extraordinary 'constitutional politics' are required in these abnormal times, it is the legal elites who are now writing in support of Kavanaugh." Read the rest at Vox.
The lawsuit challenging the Trump administration's decision to add a citizenship question to the 2020 census can move forward. A federal judge ruled the cities and states challenging the move had "plausibly" alleged that the item was "motivated by discriminatory animus and that its application will result in a discriminatory effect."
Here at #TeamLegal we've lost count of how many times Republicans have tried, and failed, to end or undermine Obamacare. One attempt is to allow more and more insurance companies to offer plans that don't actually comply with the Obamacare rules, like the Department of Labor has proposed. A group of states lead by Democrats New York Attorney General Barbara Underwood and Massachusetts Attorney General Maura Healey are suing the administration to try to stop the proliferation of those plans.