Michigan Democratic Gubernatorial Candidates Take Aim at 'Zombie' Law Banning Abortion
An excerpt provided exclusively to Rewire.News from Abdul El-Sayed's civil rights agenda said he would move to repeal a 1931 law criminalizing abortion in Michigan.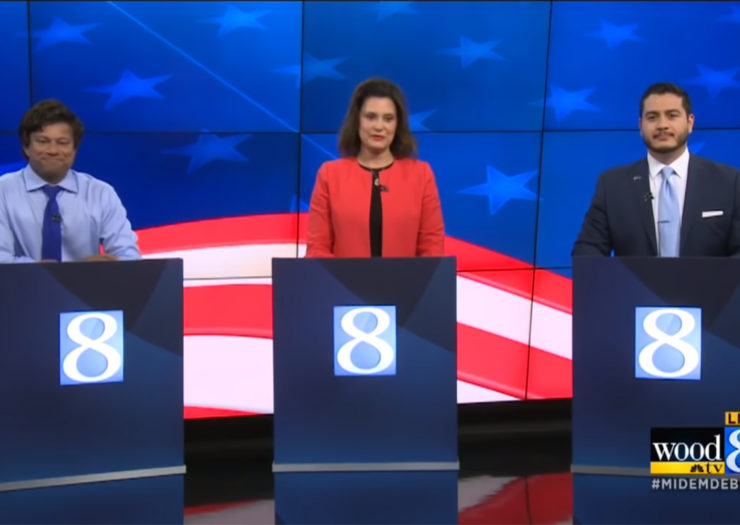 Facing the prospect of a conservative U.S. Supreme Court majority overturning the landmark ruling Roe v. Wade, Michigan's Democratic gubernatorial candidates have again articulated their commitment to protecting abortion rights in the state.
Gretchen Whitmer, the former Democratic leader of the state senate, on Wednesday released a plan to protect abortion rights regardless of the Supreme Court's future rulings on legal abortion. "The stakes in this election couldn't be higher for Michigan women and families," Whitmer said in a statement announcing the plan. "As Governor, I will work fiercely to defend the rights of every Michigan woman, including women's access to all forms of reproductive care and contraception. I am going to fight like hell to pass state laws that will protect women's legal right to control their bodies and make their own decisions about whether and when to become a parent."
Abdul El-Sayed, whose progressive platform recently won him endorsements from Sen. Bernie Sanders (I-VT) and New York congressional candidate Alexandria Ocasio-Cortez, would "implement a Roe v. Wade action plan should federal precedent be overturned," said Adam Joseph, his communications director.
An excerpt provided exclusively to Rewire.News from El-Sayed's soon-to-be-released civil rights agenda included many of the same action points listed in Whitmer's plan. Both would move to repeal a 1931 law, PA 328, criminalizing abortion in Michigan. This "zombie law" puts Michigan in line with roughly a dozen other states that have an unconstitutional and unenforceable near-total abortion ban on the books.
Roe is gone. The chaos is just beginning.
Follow Rewire News Group on Twitter to stay on top of every breaking moment.
The excerpt noted El-Sayed would support "bills introduced by Michigan Democrats in the [state] house and senate in June of 2017" including legislation to "prohibit health facilities from refusing to provide reproductive health services, remove the 24-hour waiting period before an abortion can be performed, and repeal the law requiring a separate insurance rider for abortions, as well as prohibit government interference with physician-patient treatment programs or laws that place a burden on access to abortion."
"Dr. El-Sayed would also repeal the harmful abortion riders that restrict insurance companies from covering abortion, until MichCare (which will cover all comprehensive family planning services) is implemented," according to the candidate's plan, referring to El-Sayed's state Medicare for All plan and the restriction on the books that would block it from covering abortion care.
Whitmer's plan, like El-Sayed's, calls for the repeal of the "rape insurance" restriction—a measure she spoke against when it was first up for a vote in the state legislature by telling the story of her own sexual assault. Then minority leader in the state senate, she later introduced legislation to repeal it—and sought the repeal of the state's forced waiting period for abortion services.
Her plan as governor contains several other proactive pro-choice policies, such as reinstating family planning funding, requiring insurance companies to cover a year's worth of prescription contraception, and addressing the state's sex education laws in part by implementing policies such as requiring affirmative consent curriculum.
Shri Thanedar, who is also running for the Democratic nomination for governor, has faced questions over the authenticity of his embrace of progressive policies. Should he be elected, however, Thanedar says he would create a "Women's Rights Task Force" to address the threat to Roe. That task force would review PA 328 "and make it a central focus of their recommendations to advise repeal of this antiquated law" while the administration asks the state's attorney general to issue an opinion on it, according to a fact sheet on the plan. The task force would review "statewide protocols, practices, and procedures" to make recommendations to the administration on ensuring that services wouldn't be interrupted in the absence of Roe legal protections. Should the decision be overturned, Thanedar would "take legal action to request a stay on the requirement to act and implement" PA 328.
A spokesperson for Michigan Attorney General Bill Schuette, the frontrunner in the state GOP's primary, told the Detroit News that while the candidate wouldn't weigh in on what he would do should Roe fall, "as governor he would enforce the laws on the books, just as he does now as attorney general."
But that's not necessarily what voters in the state want. A 2014 Pew Research Center poll found the majority of Michigan residents believe abortion care should be legal in all or most cases.
Ruth Lednicer, a spokesperson for Planned Parenthood Advocates of Michigan, which endorsed Whitmer in the gubernatorial race, told Rewire.News that the possibility of abortion being criminalized demonstrates how critical elected officials can be in the fight for reproductive rights.
"What we're seeing with the pressure on the Supreme Court with the possibility of Roe being, if not overturned, gutted," she said, "shows the importance of having state-level elected officials, both in the governor's office but also the legislature who are champions of reproductive rights and abortion access."