Anti-Choice Democrats' Convention Features Attacks on Planned Parenthood, NAACP
"I'm trying to close Planned Parenthood down," Democrats for Life of America Executive Director Kristen Day said. "I feel like they're destroying the Democratic Party."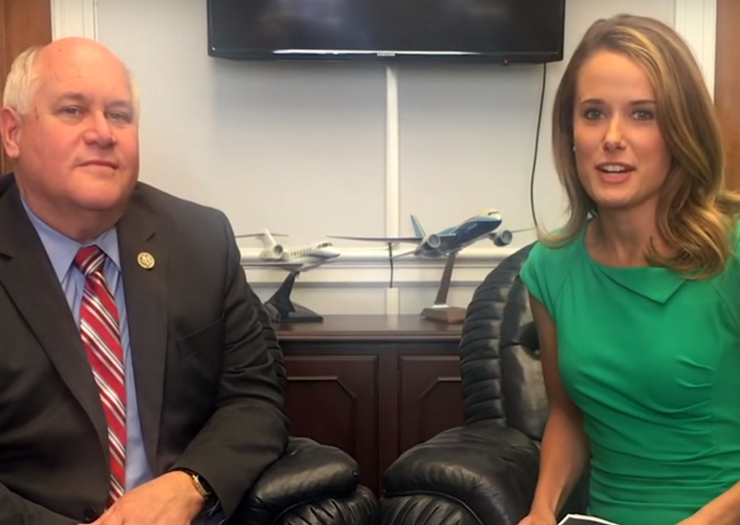 Democrats for Life of America (DFLA) in its inaugural conference in Denver last weekend hosted a Planned Parenthood smear campaign courtesy of the discredited anti-choice group Live Action and other organizations that use false allegations to damage the reputation of the leading reproductive health-care provider in the United States.
Live Action, known for disseminating highly-edited videos purporting to show nefarious activity at Planned Parenthood clinics, is alleging that the health-care provider is guilty of covering up child abuse and aiding sex traffickers. The anti-choice organization sponsored the DFLA conference.
Live Action's Alison Centofante, a Republican, presented a report that was first released earlier this summer called "Aiding Abusers", which attempts to reveal a pattern of negligence from Planned Parenthood employees when it comes to reporting suspected child sexual abuse and sex trafficking.
The campaign is the latest in a coordinated effort by anti-choice groups like Live Action and congressional Republicans to defund Planned Parenthood. Following the release of the "Aiding Abusers" report in June, Republican lawmakers penned a letter to U.S. Health and Human Services Secretary Alex Azar urging him to investigate and defund Planned Parenthood based on Live Action's allegations.
Roe is gone. The chaos is just beginning.
Follow Rewire News Group on Twitter to stay on top of every breaking moment.
Live Action paid actors to wear hidden cameras and pose as pimps, prostitutes, and sex traffickers at Planned Parenthood clinics in order to entrap employees into aiding and abetting criminal activity.
Centofante suggested financial motivation as a reason for Planned Parenthood to cover up abuse. "[Planned Parenthood] will do almost anything for that abortion money," Centofante said during the presentation. "They see money instead of a vulnerable woman, and sometimes a sex abuse victim."
Reports have shown Live Action heavily doctors their "sting" footage, removing context and tampering with audio to make the actions of Planned Parenthood workers appear incriminating.
In 2011, when Live Action first released footage purporting to show Planned Parenthood covering up sex trafficking, Media Matters for America (MMFA) found that they'd distorted audio of workers speaking. MMFA pointed out that Planned Parenthood had already notified the FBI about the suspicious incident, citing a press statement from Planned Parenthood's then-Vice President of Communications Stuart Schear: "If a multistate sex trafficking operation is in place, those responsible must be pursued to stop the exploitation of girls and young women. If these visits are part of a 'dirty tricks' campaign, they must be condemned. Falsely claiming sex trafficking to health professionals to advance a political agenda is an astoundingly cynical form of political activity."
Live Action didn't respond to a request for comment.
Asked whether she believes the allegations Centofante raised at the conference, DFLA Executive Director Kristen Day said she has "no doubt" that there are "bad actors within Planned Parenthood."
Day expressed disdain for the organization. "I'm trying to close Planned Parenthood down," Day said. "I feel like they're destroying the Democratic Party."
The conference featured a few of the usual anti-Planned Parenthood suspects, including Abby Johnson, a former Planned Parenthood worker turned anti-choice mogul. Johnson is known to make dubious claims about what goes on inside Planned Parenthood's walls, and now runs a nonprofit that aims to convince abortion clinic workers to leave their jobs. Johnson recently gained national media attention after she was featured on an episode of HBO's Last Week Tonight, which showed footage of Johnson encouraging fake clinics, or crisis pregnancy centers, to dupe unsuspecting people into thinking they're entering an agenda-free women's health clinic that offers abortion services.  
Also at the conference was Ryan Bomberger, who runs the anti-choice Radiance Foundation. His group has accused abortion providers like Planned Parenthood of genocide, arguing that the health provider systematically places clinics in Black neighborhoods and that abortion is the leading cause of death of Black people in the United States. He was harshly critical of the National Association for the Advancement of Colored People (NAACP) for supporting reproductive rights, and referred to the organization as "the National Association for the Abortion of Colored People."
Asked if she agrees with Bomberger's assessment that Planned Parenthood is a racist organization, Day said, "They do abort a high number of Black babies. The numbers are there."
Bomberger claimed abortion care is linked to an increased risk of breast cancer and complications in future pregnancies. This misinformation is often used by the anti-choice movement to make abortion care seem like a risky procedure, when it is, in fact, safer than carrying a pregnancy to term. Studies purporting to show these side effects have been repeatedly debunked.