OB-GYNs: Speak Out Against Trump's Attack on Title X Before It's Too Late
One advocate said the proposed Title X rule changes would force health-care providers to omit medically accurate information necessary for patients to make fully informed decision.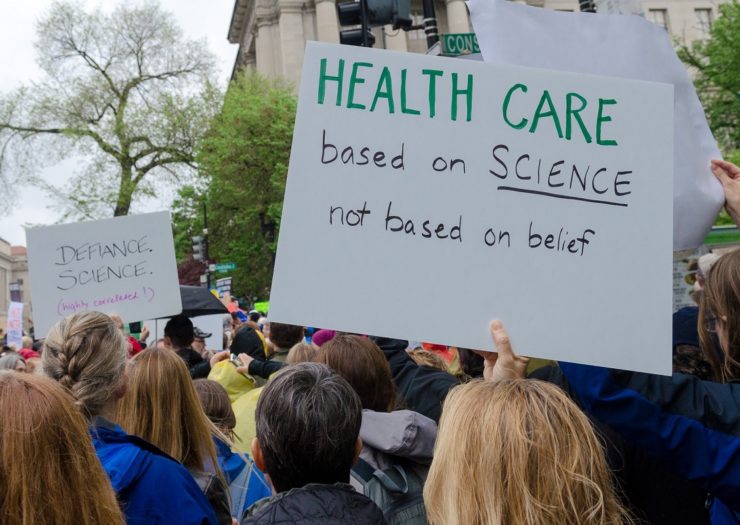 Doctors and health-care professionals from across the United States on Monday spoke out against the Trump administration's proposed domestic "gag rule" and pointed to public comments as a way of pushing back against the new rules.
The proposed Title X regulations would limit patients' access to medically accurate information and prohibit participation of abortion providers in the family planning program.
Reproductive rights advocates have highlighted the importance of submitting public comments opposing proposed rule changes made by federal agencies. The public comment period for the proposed Title X family planning rules ends July 31. To date, more than 66,000 comments have been submitted.
Leaders of organizations representing over 700,000 women's and adolescents' health-care providers—including the American College of Obstetricians and Gynecologists (ACOG), the American Academy of Pediatrics, and the American College of Nurse-Midwives—held a press conference Monday to outline the reasons to oppose the proposed Title X regulations.
Sex. Abortion. Parenthood. Power.
The latest news, delivered straight to your inbox.
Dr. Katie McHugh, junior fellow at the ACOG, said the organization opposes the proposed rule change because it would restrict access to essential care and would disproportionately affect the most vulnerable patients.
"The proposed rule threatens women's lives by restricting access to medically accurate preventative health care," McHugh said. "This puts more than 40 percent of Title X patients at risk of losing this essential health care."
The U.S. Department of Health and Human Services (HHS) proposed significant changes to the regulations governing the Title X, which last year distributed $286 million in funding for family planning services to 4 million patients with low incomes in the United States.
The proposal would reinstate Reagan-era anti-choice restrictions blocking federal family planning funds from organizations that provide abortion care in the same location as their Title X-funded services.
The rules would eliminate the requirements that Title X providers offer a full range of reproductive health-care options and provide information about prenatal care, delivery, adoption, and abortion. They would establish new rules directing funding to religiously affiliated organizations that promote abstinence-only methods of family planning.
Suzanne Berry, interim CEO of the Association of Women's Health, Obstetric and Neonatal Nurses (AWHONN), said the proposed rule changes would force health-care providers to omit medically accurate information necessary for patients to make fully informed decision.
"We support and promote a woman's right to evidence-based, accurate, and complete information and access to the full range of reproductive health-care services," Berry said. "We oppose legislation and policies, like those in the proposed rule, that would limit a health-care provider's ability to counsel women as to the full range of options and to provide treatment and appropriate referrals."