Legislative Lowlights: State-Level Republicans Green Light Discrimination Against LGBTQ Adoption
South Carolina became the tenth state to allow publicly funded adoption agencies to discriminate against same-sex couples and other prospective parents based on the agency's religious beliefs.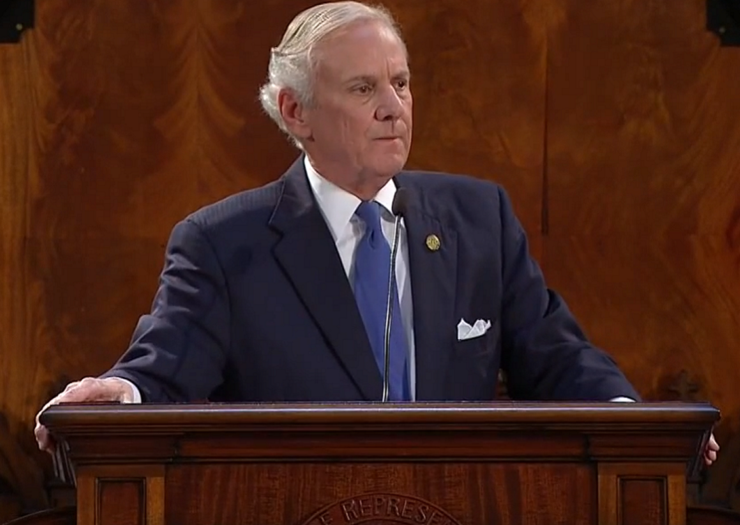 Rewire.News tracks anti-choice and anti-LGBTQ legislation as it works its way through state legislatures. Here's an overview of the bills we're watching.
South Carolina's new budget includes a discriminatory anti-LGBTQ adoption provision, and several anti-choice restrictions took effect last week across the United States. 
South Carolina
South Carolina became the tenth state to allow publicly funded adoption agencies to discriminate against same-sex couples and other prospective parents based on the agency's religious beliefs. The GOP-backed provision, buried in the state's 2018-2019 budget bill, allows child-placement agencies to refuse to provide service that conflicts with a "sincerely-held religious belief or moral conviction." Similar laws were passed by Republicans this year in Kansas and Oklahoma, highlighting the latest effort by religious conservatives to roll back the civil rights of LGBTQ people. The Human Rights Campaign and South Carolina Equality blasted the provision and urged Gov. Henry McMaster (R) to veto the measure, which took effect last week.
Roe is gone. The chaos is just beginning.
Follow Rewire News Group on Twitter to stay on top of every breaking moment.
While the governor failed to remove the discriminatory provision, he managed to strip $16 million from the budget in state and federal funds in an effort to block Planned Parenthood funding. So there's that.
Kansas
More on the religious imposition front: The "Adoption Protection Act" officially took effect this week in Kansas. The law, which was signed by Gov. Jeff Coyler (R) in May, allows child placement agencies to refuse to participate in any placement of a child for foster care or adoption due to the agency's "sincerely held religious beliefs." Kansas was the ninth state to pass such a law.
Florida
A law permanently funding fake clinics with taxpayer money took effect this week in Florida. HB 41, signed into law in March, requires the Florida Department of Health to contract with the Florida Pregnancy Care Network (FPCN) for the management and delivery of pregnancy support and wellness services to eligible clients. The contract requires FCPN to only approve subcontracts with providers that "exclusively promote and support childbirth."
Florida is the first state to codify into law a requirement to contract with a specific organization to distribute grants to anti-choice organizations seeking to discourage people from obtaining abortion care using anti-choice propaganda.
Idaho
Two anti-choice laws took effect this week in Idaho. One law requires doctors to report personal information about their patients, while the other law requires pregnant patients be informed that drug-induced abortions may be reversed.
The Idaho Abortion Complications Reporting Act requires every hospital, licensed health-care facility, or individual physician to file a report with the state health department regarding each individual under their care who reports a complication, requires medical treatment, or suffers death that the facility or physician believes may be the result of an abortion. Each abortion complication report must include the patient's age, race, and the number of previous pregnancies, including the number of live births and previous abortions.
The second law to take effect, S 1243, requires the Idaho Department of Health and Welfare to provide additional informed consent materials to physicians, hospitals, or other facilities providing abortion services. The law requires pregnant patients to be notified where to obtain further assistance in locating a health-care provider whom they can consult about chemical abortion reversal, which continues to not be a thing. The law also requires the patient to be notified of their right to view an ultrasound image and to observe the heartbeat monitoring of the fetus.
Indiana
Indiana had two anti-choice laws take effect this week. One law allows for murder charges when a crime results in the death of a fetus, while the other increases regulations for abortion providers. The fetal homicide law, SB 203, provides that the crimes of murder, voluntary manslaughter, involuntary manslaughter, and feticide, may be committed against a fetus in any stage of development. Current state law allows for murder or manslaughter charges if a viable fetus is killed. Thirty-eight states allow for homicide charges for the unlawful death of a fetus, and at least 29 states have fetal homicide laws that apply to the earliest stages of pregnancy, according to the National Conference of State Legislatures.
While the measure does not apply to lawful abortions, reproductive justice advocates fear such laws advance fetal "personhood" rights, and will ultimately criminalize abortion or punish people who suffer miscarriages or stillbirths.
The second law to take effect, SB 340, makes various changes to state law concerning abortion clinic license applications and inspections, abortion-inducing drugs, complication reporting, and data collection. The law requires medical providers to give personal patient information (including race, number of deceased children, and the date of their last menstruation) to the Indiana Department of Health. It also requires physicians to report on any medical complication that occurs during or after an abortion.
Planned Parenthood of Indiana and Kentucky, with the help of the American Civil Liberties Union, filed a lawsuit in April against the Indiana State Department of Health. The lawsuit contends the reporting rules and a provision requiring annual clinic inspections are both unconstitutional and imposed "unique and burdensome obligations." U.S. District Court Judge Richard Young in late June granted a preliminary injunction, temporarily blocking the reporting provision from taking effect. The law's other provisions, including the annual clinic inspection requirement, took effect July 1.