Delaware Democrats Bow to Right-Wing Pressure on Rules for Transgender Students (Updated)
As originally written, the state's anti-discrimination guideline was a supportive document with backing from educators and LGBTQ advocates. Now it's a "nightmare" for trans students.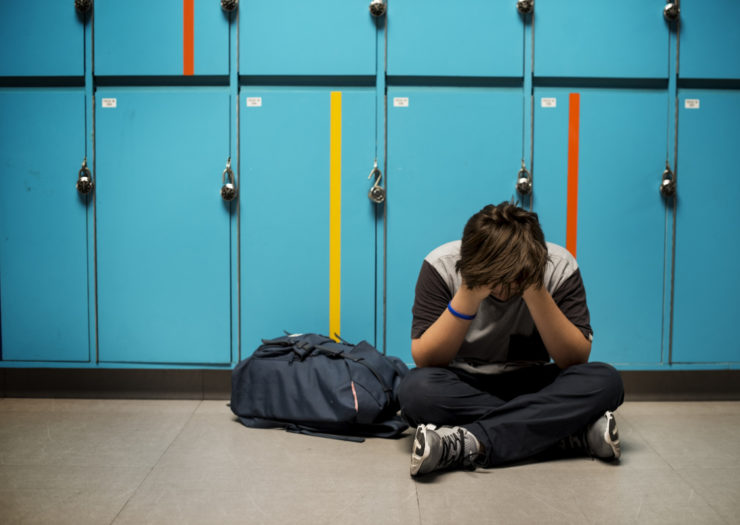 UPDATE, August 2, 5:30 p.m.: Citing "concerns that have been raised by the LGBTQ community" in a statement, Gov. John Carney announced that the Delaware Department of Education would not be finalizing Regulation 225.
The Delaware Department of Education last month bowed to intense conservative opposition and rewrote an anti-discrimination guideline meant to protect transgender students.
The reintroduced regulation includes a parental notification rule, similar to a controversial bill in the Ohio state legislature, requiring teachers and school administrators to notify parents before recognizing a trans student's gender identity.

The Trump administration rescinded Obama-era guidelines for transgender students shortly after Inauguration Day, leaving it to the states to create their own procedures for handling trans students and their transitions. What's unusual about Delaware is that it has a Democratic governor and secretary of education pushing some of the nation's harshest anti-trans education regulations in a state that's known for being accepting of transgender people.

As originally written, the anti-discrimination guideline, known as Regulation 225, was a supportive document backed by educators and LGBTQ advocates, containing a framework for facilitating gender transitions at school and supporting the needs of trans school kids.

"What I have found in the state of Delaware and talked about a lot being on the committee for Regulation 225 is that it's the luck of the draw with the teachers you get, the school you get, with the administrations you get. There are some schools that are safe havens, but it's just because they happen to have the right administration or the right staff or the right school culture," said Andrea Rashbaum, who has a trans stepdaughter and served on the advisory committee that developed the initial iteration of the regulation.
Sex. Abortion. Parenthood. Power.
The latest news, delivered straight to your inbox.
"The goal of several people on the committee for Regulation 225 was to make all schools in Delaware uniform. That a child's experience wasn't based on luck, so that even if at the beginning people were just tolerated and they weren't accepting, they still had to follow a certain uniform code that the state was putting out."
The rule ran into resistance from religious leaders and parents opposed to an alleged "trans ideology." The board of the Indian River School District voted unanimously to send a letter to the governor and board of education protesting the proposed regulation. The regulation received 11,000 comments in its public comment period, most in opposition, at which point Delaware Secretary of Education Susan Bunting rewrote the rule.

"It got on the radar on the professional anti-LGBT and trans people organizations and it has turned into a proposal that would actually make it worse for a lot of trans students," National Center for Transgender Equality (NCTE) Executive Director Mara Keisling said in an interview with Rewire.News. "It's our position that we'd better off without it. Delaware is such a positive state and has been a real beacon for [trans-friendly] public policy and this just isn't."

Along with the usual handwringing over bathroom and locker room access for trans students, the revised regulation includes a provision that would require school personnel to out trans students to their parents before taking action to recognize their rights, a move that, according to Rashbaum, could put students at risk of homelessness. "The idea [for the initial regulation] was not to usurp parents' rights or cut parents out of the process in any way shape or form, it was to make sure that a child was safe," she said. "What the committee talked about was that, especially at the older ages, a lot of kids get thrown out of their home for this. There's a large a percentage of the homeless population between [age] 16 and 24 which is made up of LGBTQ kids who have been thrown out of their home."

LGBTQ youth have a 120 percent increased risk of experiencing homelessness compared to youth who identify as heterosexual and cisgender, according to a University of Chicago study. "We didn't want to be in a position where a junior or senior came to a teacher and was trying to navigate something, [gets thrown out of their home, and isn't] able to finish high school because they came out to a teacher," Rashbaum said.

Parental notification has become a hot button issue around the United States as debate over the nature of gender dysphoria has spilled over from a relatively secluded section of social media into the mainstream. A recent cover story in the Atlantic seeks to paint a nuanced picture of realities faced by dysphoric children, but alludes to a non-scientific theory that gender dysphoria is a social contagion that could go away naturally. This discourse hurts trans kids in a variety of ways.

The Atlantic story features parents who revoked access to social media and YouTube in order to influence their child's gender identity. A judge in Ohio recently denied a petition to change the name of a trans teenager who had the support of doctors, therapists, and even his parents because the judge felt the teen may grow out of their gender dysphoria. The argument that trans children shouldn't be supported when they say they're trans has now made its way into schools, where kids spend the majority of their time.

Delaware's reworked Regulation 225 goes so far as to require schools and teachers use trans students' legal names, a provision which Keisling says singles out trans kids. "If you walk into a class and the teacher calls for David and the kid says 'Oh I prefer Dave', no one cares. But for some reason if the teacher calls for David and you say your name is Katelyn, it's suddenly a big deal," she said. "The school is not in the business of policing what names kids use at school. They don't do it for other kids who use a different name from their legal name. I think it's one of those things that makes sense until you really think about it. The fact is that schools allow nicknames."
A teacher in Indiana says he was fired in May for refusing to use trans students' new names out of religious objections.
Delaware's regulation change has resulted in condemnation from LGBTQ equality groups that supported it in earlier versions, including the Human Rights Campaign (HRC), Equality Delaware, and NCTE.
"The current draft of the regulation fails Delaware's moral and legal obligation to ensure a safe and quality education for all students, including transgender students. Transgender kids in Delaware are frightened by this regulation and we hope that the Delaware Department of Education and Governor [John] Carney will immediately withdraw this draft to end this nightmare for trans kids in our state," HRC National Press Secretary Sarah McBride, a board member of Equality Delaware, said in a statement.
Bunting rewrote the rule to accommodate the protests of conservative activists who oppose transgender rights. According to her official bio, Bunting is a former superintendent of the Indian River School District, which had opposed the initial draft of the regulation. Her office declined to comment for this story, instead pointing to a statement regarding the reworked Regulation 225. Carney's office did not return requests for comment.
Rashbaum said the committee formed to create the initial Regulation 225—which included students, teachers, administrators, as well as parents of trans children—has been cut out of the process to rewrite the regulation. "Why didn't they reconvene the committee if they wanted to rewrite the regulation? I feel like the committee spent a lot of time and effort working on the first iteration of the document," she said.
"You put this committee together because you felt that people had knowledge of transgender students, and then you just dismissed the whole committee and rewrote major sections of the proposed regulation without any comments from people who actually worked with these children."