Republicans Coordinate With Discredited Anti-Choice Group to Call for Planned Parenthood Investigation
The rollout of the latest campaign against Planned Parenthood follows a familiar game plan, including coordination between an anti-choice activist group and Republican lawmakers.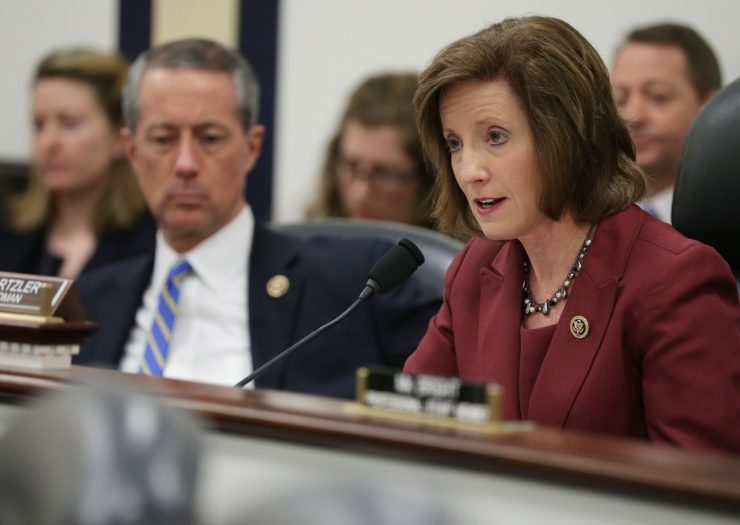 Members of Congress, including U.S. Reps. Vicky Hartzler (R-MO) and Steve King (R-IA), held a press conference Thursday to announce a letter signed by 56 GOP lawmakers calling for investigations into a report from discredited anti-choice group Live Action Network accusing Planned Parenthood of covering up child sexual abuse.
Live Action Network founder Lila Rose and Laura Lederer, former senior advisor on trafficking in persons at the U.S. State Department, spoke at the press conference.
The latest anti-choice campaign against Planned Parenthood follows a familiar game plan, including coordination between an anti-choice activist group and Republican lawmakers. This round of attacks come as the Trump administration looks to reinstate an anti-choice restriction blocking federal family planning funds from organizations that provide abortion services in the same location as Title X-funded services.
The letter, sent to U.S. Health and Human Services (HHS) Secretary Alex Azar, makes the case for investigating and defunding Planned Parenthood. "The report's findings suggest that abusers feel comfortable taking their victims to Planned Parenthood. We are therefore requesting an investigation into Title X recipients, particularly Planned Parenthood, to determine how widespread this failure is and if there are other instances where Planned Parenthood failed in it's duty to report suspected child abuse to local authorities and to HHS," the letter said. 
Roe has collapsed and Texas is in chaos.
Stay up to date with The Fallout, a newsletter from our expert journalists.
The letter asks HHS to provide Congress with records "regarding any and all incidents of Planned Parenthood Title X recipients' failure to report suspected sexual abuse of minors in their care."
The Live Action report, which was released last week and prompted the letter to Azar, includes discredited and extensively edited "sting" footage originally reported in 2008 and 2011. The dubious nature of the videos didn't stop Rep. Mark Walker (R-NC) from expressing shock at the years-old footage. "While certainly astonishing news, sadly I wish I could say that Live Action's recent report is actually surprising," he said during Thursday's presser. Walker called for an investigation into Planned Parenthood and suggested potential criminal prosecution.
Rep. Chris Smith (R-NJ), who has fought against global reproductive rights, said Live Action "has done an enormous public service" in attacking Planned Parenthood. "In a previous expose in 2011, and it's also further documented in today's report, an undercover videotape sting by Live Action exposed seven Planned Parenthood facilities, including in [Perth Amboy,] New Jersey, where the personnel were eager to take part in a trafficking scheme where two people, a young man and a young woman, posing as pimp and victim, they were willing to facilitate the abortion of that person and others who might follow and to ensure that they got back out on the street with no questions asked."
The heavily-edited Live Action video was debunked by Media Matters upon its release in 2011.
Despite a 1999 law clarifying that Title X recipients are not exempt from state laws requiring the reporting of child and sexual abuse as well as human trafficking, the Trump administration's proposed changes to Title X includes a provision to "address explicitly the requirement for Title X projects to comply with all State and local laws" in regards to reporting potential abuse. Citing the debunked Live Action videos, the letter to Azar supports the Trump administration's proposed Title X rules—even though the requirement appears to have been on the books for nearly 20 years and was reiterated in 2014 guidelines.
In comments echoed by her Republican colleagues at the press conference, Rep. Diane Black (R-TN) praised the Trump administration's proposed changes to Title X. "This is something that we've been working on for a long long time, and I applaud the administration for taking these steps," said Black, a member of the $1.59 million, GOP-led Planned Parenthood "witch hunt," which was based on discredited videos from another anti-choice front group. "The integrity of our tax dollars should never be in question, especially with funds intended for family planning."