'Uber-Wealthy' Texans Are Bankrolling the Rise of Fake Clinics Across the State
The proliferation of fake clinics in Texas isn't only the result of Republican policymaking; it's funded by billionaires.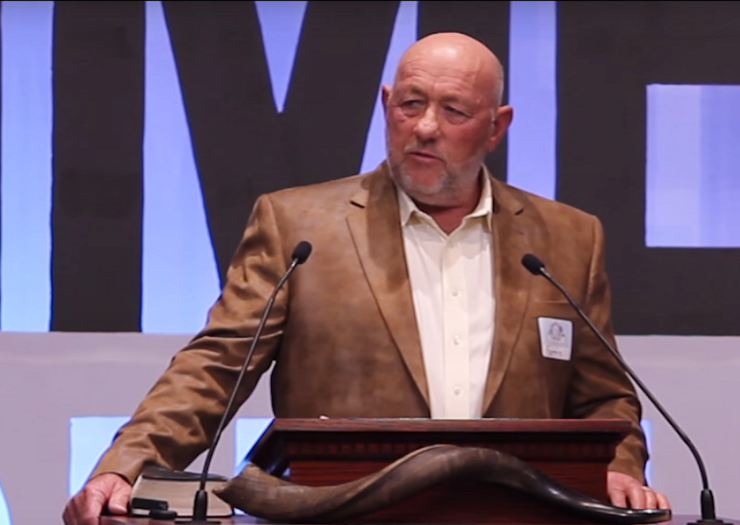 Fracking billionaire brothers Dan and Farris Wilks are kingmakers of Texas Republican politics, making millions in campaign contributions to arch-conservative candidates, political action committees, and fake clinics that have flourished in Texas thanks to years of anti-choice GOP policymaking.
The Wilks family during the 2018 election cycle has made $1.9 million in campaign contributions to the Texas Right to Life Political Action Committee (PAC), along with hundreds of thousands in campaign contributions to other conservative organizations, candidates, and lawmakers. Since 2014, the Wilks family has made more than $3 million in campaign contributions to the anti-choice Texas Right to Life  PAC.
The Wilks brothers are among a few wealthy Texans who support the religious right by funneling donations through nonprofit foundations to religiously affiliated organizations and so-called crisis pregnancy centers, fake clinics that use anti-choice propaganda to try to trick people from seeking abortion services.
Fake clinics outnumber abortion clinics in Texas by a 10-to-1 margin, with more than 50 fake clinics getting state funding through the Alternatives to Abortion program, created by the Republican-held state legislature. State documents reviewed by Rewire.News revealed taxpayer-funded fake clinics have no measurable goals or oversight.
Roe is gone. The chaos is just beginning.
Follow Rewire News Group on Twitter to stay on top of every breaking moment.
The Wilks brothers' campaign cash fueled the Republican civil war during the Texas primary, though their big investment in the GOP primaries resulted in small political gains. The primary fights have contributed to the growing division within the anti-choice movement.
Dan Quinn, communications director of the Texas Freedom Network, told Rewire.News that the injection of millions in campaign contributions from megadonors has inflamed the intra-party battle within the Texas GOP over adherence to a narrow conservative ideology. "It's a radicalization of politics on the right that couldn't exist without the oxygen that is provided by all of this money from just a handful of uber-wealthy folks," Quinn said.
But the Wilks brothers' campaign contributions are dwarfed by donations that aren't found in campaign finance records.
The Wilks brothers and other wealthy conservative Texans have made significant investments in organizations focused on building their vision of the conservative movement. "There's a long history of super-wealthy Texans funneling a lot of money into religious right groups and causes," Quinn said.
The Thirteen Foundation, founded by Farris and his with Jo Ann, has distributed $59.5 million in grants since 2010, and the Heavenly Father's Foundation, founded by Dan and his wife Staci, has distributed $33.4 million in grants since 2011.
The Wilks' foundations have have donated, or approved donations of, a combined $835,000 to the Texas Right to Life Educational Foundation.
The Thirteen Foundation and Heavenly Father's Foundation have donated a combined $1.1 million to Heartbeat International; the Thirteen Foundation has donated an additional $450,000 to Care Net. Heartbeat International and Care Net are prominent anti-choice organizations, functioning as umbrella groups with network of affiliated fake clinics.
The Wilks brothers' foundations have also donated more than $600,000 to individual fake clinics in Texas.
Life Dynamics, the prominent anti-choice group that is based in Denton, Texas, has received $2.25 million in donations from the Thirteen Foundation. The organization is behind bogus legal threats to trick teens into signing away abortion rights, and offers training for activists to become "intelligence operatives" in order to infiltrate abortion clinics throughout the United States.
The Wilks brothers' foundations have donated millions to several of the most prominent organizations of the religious right, including the Family Research Council, Focus on the Family, and the Heritage Foundation.
James Leininger, a physician and conservative Christian activist from San Antonio, founded the Texas Public Policy Foundation, a conservative think tank and one of the most influential organizations in Texas Republican politics. Leininger's Covenant Foundation has donated millions to anti-choice groups and other organizations on the religious right, and the foundation has donated $183,000 to a fake clinic in Texas. 
Gary and Diane Heavin, the founders of the fitness franchise Curves International, have donated nearly $100,000 to a fake clinic in Texas. The couple's foundation donated an additional $600,000 in 2016 to the National Right to Life Committee, the prominent anti-choice lobby and legislation mill.