Lawsuit: Idaho Can't Ignore Your Dying Wishes If You're Pregnant
Ten states have laws invalidating the advance directives of pregnant people. "What we are trying to establish is that pregnancy does not mean you lose your constitutional rights."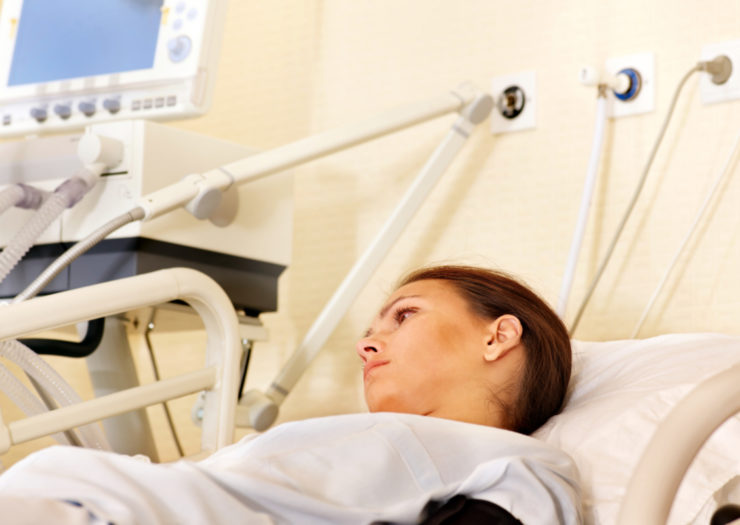 Four Idaho women are challenging a state law that makes their dying wishes to stop life-saving treatment invalid if they're pregnant.
The pregnancy exception is found in the 2005 Idaho Medical Consent and Natural Death Act that applies to living wills, or advance medical directives. The law requires pregnant people remain on life support even if their advance directives don't call for life-sustaining measures.
"What we are trying to establish is that pregnancy does not mean you lose your constitutional rights," said Sara Ainsworth, advocacy director of Legal Voice, one of the organizations filing the lawsuit in U.S. District Court on Thursday. "What the plaintiffs want is the reassurance that should a tragic occurrence happen, their medical directives will be followed."
In a 2014 Texas case involving a brain-dead pregnant woman, Marlise Munoz was kept on a ventilator by a hospital that argued it was following state law—until a judge finally ruled in the family's favor, and Munoz was removed from life support.
Sex. Abortion. Parenthood. Power.
The latest news, delivered straight to your inbox.
Ten states have similar laws invalidating the advance directives of pregnant people, according to Legal Voice. Other states, including Montana, Nevada, and Colorado, require life support when it is probable the fetus will develop to viability.
Ainsworth said pregnancy is the only condition she's aware of where the state intercedes to block an advance medical directive. She said the aim of the suit is to set a precedent for future cases.
"It's just such a clear and blatant violation of constitutional rights," she told Rewire.News. "You're treating women differently than all other adults who are making these decisions about their medical care."
The pregnancy exclusion, included in a form for filing advance directives on the Idaho Secretary of State's website, reads: "If I have been diagnosed as pregnant, this Directive shall have no force during the course of my pregnancy."
The four women bringing the lawsuit are of child-bearing age and have written advance medical directives, according to the court filing. Two of the women are pregnant but not facing a terminal illness. All have tailored their directives for their end-of-life wishes.
"Of course, I hope my baby's birth goes smoothly and we both are healthy after it's over," said plaintiff Chelsea Gaona-Lincoln, who is pregnant with her first child. "But God forbid, if I get a terminal illness during my pregnancy, I do not want the state interfering in my family's end-of-life care decisions."
Hannah Sharp, who is expecting her second child, doesn't want the state to invalidate her advance directive, which does not call for life-sustaining treatment unless her fetus is at or beyond the point of viability.
Anna Almerico, a mother of three, has written her advance directive to call for life-sustaining treatment only if her physician determines the fetus is at or beyond the point of viability and able to survive outside her body without intrusive neo-natal life supporting methods or significant long-term damage to the fetus.
Micaela de Loyola-Carkin wrote her directive to say she does not want life-sustaining treatment if she becomes terminally ill and incapacitated while pregnant.
The suit seeks to bar the state from "nullifying or disregarding otherwise valid health care directives on the basis of pregnancy" and from "instructing the public that pregnant women will be forced to receive treatment regardless of what their health care directives provide."
The defendants in the lawsuit include the Idaho secretary of state and attorney general.
Scott Graf, spokesman for the state attorney general's office, said the office does not comment on pending litigation.