To See the Potential 'Devastating' Effect of Trump's Domestic Gag Rule, Look to Colorado
Colorado clinics receiving Title X funding erected walls and spun off abortion services into separate corporations to comply with restrictions similar to Trump's proposed domestic gag rule. They still didn't receive funding.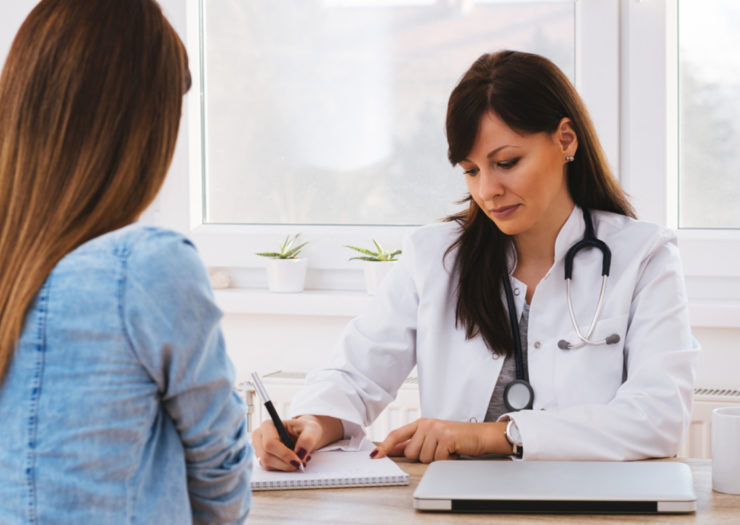 For nearly two decades, the Planned Parenthood clinic in Fort Collins, Colorado, has had two front doors.
"One is the door you come into for family planning," explained Vicki Cowart, CEO of Planned Parenthood of the Rocky Mountains, "Around the corner is the other door," leading to abortion services.
A wall divides the clinic. Abortion patients wait in a separate reception area from other visitors. Staff cross from one side to the other; patients do not.
"It's completely stigmatizing, but it was necessary," Cowart said, referring to an executive order by a late 90s-era Republican administration. Former Colorado Gov. Bill Owens (R) was determined to eject abortion providers from the Colorado family planning program.
As the Trump administration revives a Reagan-esque domestic "gag rule," the anti-choice politics of Owens, and former state health department chief Jane Norton, offer a bleak roadmap of the future should Trump's plan take hold. The Trump proposal, like Colorado's decades-old restriction, demands that providers who perform abortions or make referrals for abortion care make a physical and financial separation between Title X-funded health services and abortion services—or risk losing Title X funds.
Roe is gone. The chaos is just beginning.
Follow Rewire News Group on Twitter to stay on top of every breaking moment.
In Colorado, health centers erected walls and spun off abortion services into separate corporations to comply. Even so, clinics were denied funding. Many closed.
"They came after Planned Parenthood and us," said Susan Buchanan, who runs Boulder Valley Women's Health Center. Today it is the only Title X recipient in Colorado to provide abortions, Buchanan said.
A 1971 federal grant program, Title X last year distributed $286 million for free and low-cost comprehensive family planning and preventive health services to aid 4 million individuals, roughly one-third of whom were people of color. While Title X cannot fund abortion care, its grantees are sometimes abortion providers.
As a Trump administration official told CNN: "Any grantees that perform, support, or refer for abortion have a choice: disentangle themselves from abortion or fund their activities with privately raised funds."
Disentangling proved impossible in Colorado, providers recalled.
"If someone is hell-bent on disqualifying you from this work, they will do it." Buchanan said.
In the late 90s, abortion rights foe Jane Norton, now in Trump's Department of Health and Human Services, ran the Colorado public health department, the gatekeeper of the state's family planning funds. Owens, a fierce opponent of abortion rights, said the state constitution barred state family planning money, including Title X funds, from going to health centers that even indirectly support abortion services, as the Greeley Tribune reported at the time.
The Boulder Valley Women's Health Center spun off a separate corporation for abortion services to comply with the new strict demands.
It didn't matter, Buchanan said.
"There really wasn't any grounds for our disqualification," she explained. "They just said there was no way we could prove that we had adequate separation."
In a strange twist, while the Boulder Valley Women's Health Center was stripped of state Title X dollars, it still received federal Title X dollars—a conundrum that now puts 20 percent of the health center's annual budget at risk under the Trump administration proposal.
"I'm in the middle of this kind of [post-traumatic stress disorder] because I'm remembering it all from back then," Buchanan said.
Meanwhile, Planned Parenthood in Ft. Collins tried to meet that bright line that the state's governor demanded: Two doors, two waiting rooms. Cowart said anti-choice protesters knew the door to target for their harshest vitriol.
Still, the organization was disqualified from the state's family planning program, and hasn't received Title X dollars there since. "The impact was devastating," Cowart told Rewire.News. "In pretty short order, Planned Parenthood started closing health centers."
Planned Parenthood went from having a peak of about 30 health centers, to 18 today in Colorado, Cowart said. "To this day, there are no Planned Parenthood health centers in any rural locations in the eastern half of the state," she added.
Today, she is frustrated by a federal administration she sees determined to erase reproductive health gains. Teen pregnancy rates are the lowest in decades. The number of unintended pregnancies has plunged. Now, that could all change, she said.
"It's a step backward. Women are going to die, women are going to have unintended pregnancies, women are going to have too many children that they can't take care of," she said.
Still, back in Ft. Collins, there's progress. The two doors, two entrances, will soon become just one—a new footnote to a decades-old chapter of Colorado anti-choice politics.
Cowart said an architect is working on plans, a contractor has been picked, and construction should start this summer.
"Soon we'll only have one door. No more stigma," she said.
It's as all health care should be, she said. "And you don't have to come through a separate damn door."