Stacey Abrams Inches Closer to Becoming the First Black Woman Governor in the US
Abrams has sought to challenge the political establishment's view that Democratic candidates in so-called red states must oppose abortion rights or oppose gun control.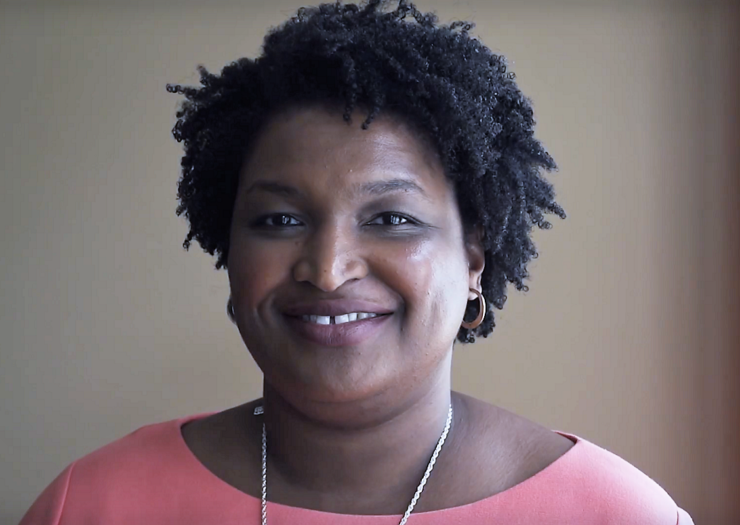 Stacey Abrams on Tuesday became the first Black nominee for governor in Georgia by either party.
If elected in November, Abrams will be the first Black woman elected governor of any state in the United States.
Abrams, the former minority leader of the Georgia state house, defeated state Rep. Stacey Evans (D-Smyrna), winning 76.5 percent of the vote, according to the New York Times. 
"This victory represents a moment of political awakening for our country," Alicia Garza, co-founder and senior advisor of Care in Action—an organization that had endorsed Abrams—and co-founder of the Black Lives Matter movement, said in a statement. "Like in Virginia and Alabama, we're proving that when Black women and women of color show up, we get the job done. Stacey Abrams is putting our issues first."
Roe has collapsed and Texas is in chaos.
Stay up to date with The Fallout, a newsletter from our expert journalists.
Abrams in prepared remarks after her Tuesday night victory said her gubernatorial campaign was "prepared to stand up for Georgians who believe they are in this alone."
"We deserve an economy that works in all 159 counties, and gives Georgians the freedom to do more than just survive," Abrams said in a statement. "We deserve a diverse and inclusive economy, one where everyone can succeed. That gap—between struggle and success—has too often been overlooked by our leaders."
Abrams will face the winner of the Republican primary runoff between Lt. Gov. Casey Cagle and Georgia Secretary of State Brian Kemp after Cagle failed to secure 50 percent of the vote on Tuesday. The candidates will campaign to replace the term-limited Gov. Nathan Deal (R).
The results of the Democratic primary showcased the divergent strategies of the Democratic Party and progressive activists heading into the midterm elections. Abrams campaigned as an unapologetically progressive candidate who sought to mobilize the party's base of young urban Democrats and Black voters, while Evans campaigned as a pragmatic centrist who appealed to suburban moderate Republicans and rural voters.
The November election will be a test of the conventional wisdom that only moderate or conservative Democratic candidates can compete in general elections in the South. Abrams seeks to challenge the political establishment's view that Democratic candidates in so-called red states must oppose abortion rights or oppose gun control.
"The use of reproductive choice is endemic to how we as women can be involved in society: how we can go to work, how we can raise families, make choices about who we are. And so while I am sympathetic to the concern that you have to … cut against the national narrative, being pro-choice means exactly that," Abrams told Rewire.News in August 2016. "If their path is pro-life, fine. If their path is to decide to make other choices, to have an abortion, they can do so."
Georgia's potential GOP gubernatorial candidates oppose abortion rights and have pledged to work with Immigration and Customs Enforcement (ICE) to pursue and deport undocumented people.
Cagle holds a five-point advantage over Abrams in a hypothetical November match-up, according to a recent poll conducted by SurveyUSA. The survey of likely voters shows Abrams is favored by younger voters, while Cagle has the support of wealthier and rural voters.
Women are divided in their support of the potential Republican and Democratic candidates―each with 42 percent of likely women voters.