Tax the Rich to Fund Education? It Could Happen in Arizona.
Arizonans are pushing a ballot measure that would raise tax rates on the wealthy after years of cuts to education investment. "We have to work to explain how ... that burden is being carried by low and middle income people."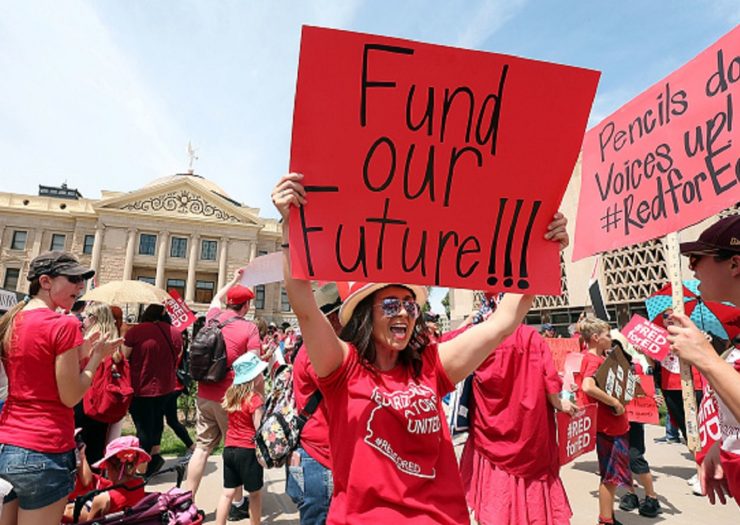 Only weeks after a statewide education walkout, Tucson teacher Mendy Gomez is devoting her free time to a new push to increase K-12 funding in the state.
A proposed ballot initiative would ask voters to hike income taxes on high wage earners to fund public education.
Gomez is getting the word out to gather signatures. "You're talking to your friends and neighbors after school and on weekends, you're using your social media," said Gomez, 50, who mentors new teachers in a Tucson school district and is running for a seat in the state senate.
Organizers suggest the proposal would raise $690 million annually. More than half of the money would go to teachers' salaries in a state with the third lowest rate of per-student spending in the United States. The balance would pay for school operations, raises for support staff, and full-day kindergarten classes.
Roe is gone. The chaos is just beginning.
Follow Rewire News Group on Twitter to stay on top of every breaking moment.
Colorado teachers are also pushing to get an income-tax hike for education on the November ballot.
Arizona education advocates filed the initiative as a statewide teachers' strike roiled the state, following walkouts in West Virginia and other states with GOP-dominated legislatures. The Arizona measure requires 150,642 signatures by July 5 to make the November ballot.
Gomez suggests momentum around education investment hasn't waned since the walkout last month.
"If nothing else [what] we have gained from the #RedforEd movement is we have started the conversation," Gomez said."The general public, people know. They're starting to question our legislative leaders and the way it's going with public education."
Arizona teachers say years of tax cuts have starved schools of much-needed funding. The Republican-led legislature has approved nearly $4.6 billion in cuts to public school funding since 2009, according to the Arizona School Boards Association. A report last year by the state auditor found teachers' pay shrank as class sizes grew. 
Educators won a 20 percent raise after a historic statewide walkout, but lost out on other demands, such as wage increases for non-teachers and a full restoration of education funding.
The ballot measure proposal would boost the income tax rate by 3.46 percent on people earning above $250,000 or couples making more than $500,000. The rate would rise by 4.46 percent on those making above $500,000 and couples earning more than $1 million annually.
Joshua Buckley, chair of the initiative committee and president of the Mesa Education Association, said the proposal would help close the state's years-long education funding gap.
"The movement brought to light for I think a whole lot of people how bad education funding is," said Buckley, who teaches government and economics at Red Mountain High School in Mesa. "It's exciting, it's exciting to have educators plugged in in a way that we've never had this many educators plugged in before."
Buckley said the task ahead is selling the proposal to voters.
"Arizona is typically very tax-phobic," Buckley said. "We have to work to explain how those tax brackets work, and how we rely really heavily on sales taxes, and how that burden is being carried by low and middle income people."
Arizona voters supported sales tax hikes for education in 2000 and 2010, but rejected an education funding initiative in 2012. Whether the voters will approve raising income taxes for education is something of an unknown.
"Yes, voters are willing to approve education funding," Garrick Taylor, spokesperson for the Arizona Chamber of Commerce and Industry. "The mechanism for doing so has proven an important factor in the decision."
The Chamber opposes the proposal, saying that targeting Arizona's high earners would hurt the state's competitiveness, make its tax rates among the nation's highest, and link K-12 spending to a "volatile" source of funds.
"In a downturn, collections would take a dramatic dip," Taylor said. He wonders whether the estimates of the amount of money the proposal could raise are overly optimistic.
Arizona isn't a hub for the wealthy. Census data indicates that fewer than 2 percent of individuals and 4.2 percent of couples make more than $200,000 a year.
This month, the chamber formed a political action committee, Arizonans for Great Schools and a Strong Economy, opposing the initiative. "If you're looking for stable education funding, this initiative is the wrong answer," Chamber President and CEO Glenn Hamer said in a statement.