State-Level Republicans Are Turning Down $32 Billion Because They Hate Obamacare
The uninsured rate in the United States would plummet by 24-26 percent if Medicaid were expanded in every state, according to a report released this week.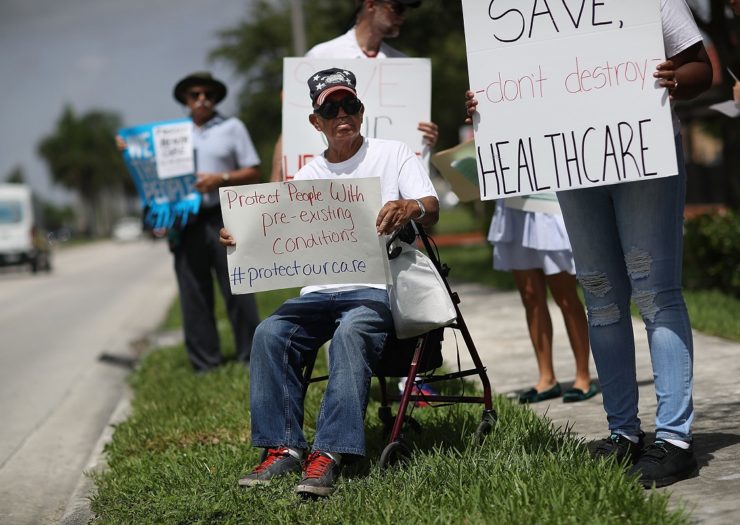 GOP lawmakers who have refused to expand Medicaid under the Affordable Care Act (ACA) are leaving at least $32.1 billion on the table, while upwards of 4.7 million people don't have access to health care today because of Republican resistance to expansion, according to a new report.
The uninsured rate in the United States would plummet by 24-26 percent if Medicaid were expanded in every state, analysis released this week by the Urban Institute and Robert Wood Johnson Foundation found. Legislators in 31 states have implemented Medicaid expansion as part of the ACA, or Obamacare. But lawmakers in 19 states have opposed all efforts to make more people eligible for Medicaid services, leading to markedly worse outcomes in those states.
Another report, released Wednesday by the Kaiser Family Foundation, debunked some of the most common arguments against expanding Medicaid through Obamacare. "Medicaid expansion has not diverted coverage from traditional groups or significantly reduced state spending on other programs," the Kaiser report said, addressing a frequently-cited GOP talking point that giving more people access to Medicaid services would come at the expense of others who receive government health-care services. 
Obamacare between 2014 and 2016 covered 100 percent of the funding for Medicaid expansion, a share that will fall to 90 percent by 2020.
Sex. Abortion. Parenthood. Power.
The latest news, delivered straight to your inbox.
If Medicaid were expanded in all 50 states, around 2 million people who today receive tax credits to purchase health-care plans through the ACA would be eligible instead for Medicaid, according to the new report from the Urban Institute and Robert Wood Johnson Foundation. "The remainder of the new Medicaid enrollees … would have had employer coverage or other nongroup coverage without tax credits in the absence of Medicaid expansion," the report said.
State spending on Medicaid would grow by between $2.3 billion and $3 billion, according to the report's estimates, though that spending uptick "would fully or largely be offset by savings in other areas." "Several comprehensive analyses of current expansion states have found that Medicaid expansion had a net positive impact on state budgets," according to the report.
Medicaid enrollment would explode in non-expansion states that have large populations of low-income people. The Medicaid rolls in Georgia would jump by 39 percent if the program were expanded there, while Wyoming would see a 43 percent increase, Nebraska would see 37 percent growth in Medicaid recipients, and Utah would have a 43 percent spike in Medicaid enrollment.
Idaho's Medicaid rolls would grow by 40 percent, according to the report. Voters in Idaho recently collected more than 60,000 signatures this year to ensure Medicaid expansion is on the November ballot, after years of Republican opposition to accepting federal money and expanding Medicaid for state residents.
Meanwhile, Virginia's Medicaid enrollment would jump by 43 percent if lawmakers expanded Medicaid access. Democratic candidates in Virginia last fall made sweeping gains while running on a platform that included Medicaid expansion in a state where GOP legislators have long blocked the measure.
"Voters in November were abundantly clear they want decisive action on health care, and they want it now," Del. Lee Carter, a Democrat from Prince William County who won election in 2017, told Rewire.News in December.
The Democratic leader in the Virginia State Senate said this week that he would consider a "nuclear option" for moving ahead with a budget proposal that could include Medicaid expansion, the Washington Post reports. Enough Republicans in the GOP-held house and state senate have indicated they would support the measure. Gov. Ralph Northam (D) has said he would support legislative efforts to make Medicaid more accessible in Virginia.
Voters in some states where Republicans have blocked Medicaid expansion are taking the fight to ballot measures in November's midterm elections. Maine voters last year overwhelmingly approved a Medicaid expansion ballot measure after Gov. Paul LePage's (R) prolonged campaign to ensure Mainers didn't gain health-care coverage through the program.
Montana in 2015 became one of the only states to expand Medicaid through Obamacare despite Republicans having control over the state legislature.