South Carolina Legislators Take on Pregnancy Discrimination (Yes, It's Still a Thing)
If Republican Gov. Henry McMaster signs the Pregnancy Accommodations Act into law, South Carolina will become the 24th state to require employers offer reasonable accommodations for pregnant workers.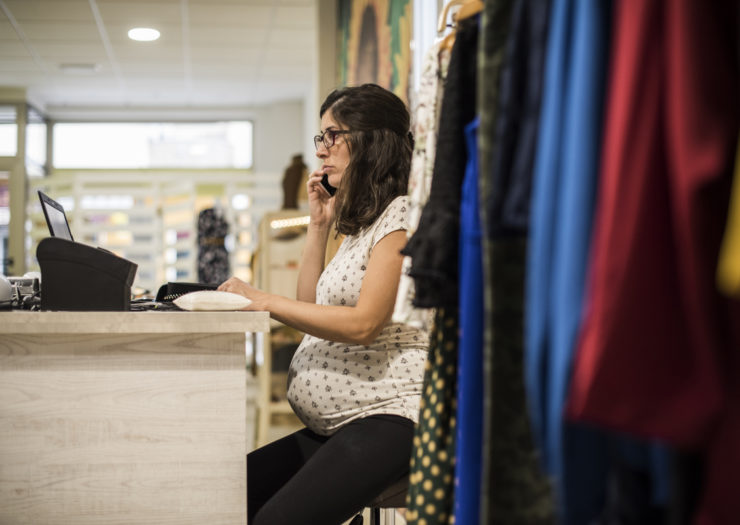 At first, Natasha Jackson thought everything was working out great after she told her manager at her job as an account executive at a Rent-A-Center in South Carolina that she was pregnant. He congratulated her. When she started experiencing morning sickness, he signed onto an arrangement that let her arrive later in the mornings and work further into the afternoon. It helped him too: He could leave work earlier and let Jackson close up the store.
When the district manager found out she was pregnant, he discontinued the new schedule she'd worked out. She was forced onto a conference call with him, human resources, and the regional manager, who expressed concerns over whether she would get hurt or miscarry. Even though she told them repeatedly that she was fully capable of working through her pregnancy without health risks, she was ordered to take a two-week vacation at 13 weeks of pregnancy.
While on her vacation, Rent-A-Center forced her to begin taking her 12 weeks of unpaid time off guaranteed by the Family and Medical Leave Act, even though she wanted to keep working. She complied and tried to return to work when the 12 weeks were up but was told that she had to wait until after her baby was delivered to come back. Even then, she wasn't guaranteed her position—she could get it back if it was still open, she was told.
Her experience looked very different from what other coworkers went through. One manager with a sprained shoulder was allowed to keep working and simply avoid heavy lifting. Another who sprained his foot was given light duty.
Sex. Abortion. Parenthood. Power.
The latest news, delivered straight to your inbox.
Without her income, she and her husband had to back out of a contract to buy a house that they had already put a down payment on. "I was out of a job and no longer able to support my family," she said in recent testimony before her state legislature. "And my husband and I saw our dream to own a home vanish."
Despite multiple attempts to go back to her job after she gave birth, she was never allowed to resume work. She eventually sued and had to bring her claim in arbitration, where she lost. In the process, she and her husband ended up getting a divorce. "I know that the downward spiral of our finances from that troubling period played a role in our marital difficulties," she said.
Thanks to new legislation, pregnant South Carolinians may never have to experience what Jackson went through. On May 10, the South Carolina legislature passed the Pregnancy Accommodations Act with unanimous support in both houses. If signed by the governor, the legislation will require businesses in the state to give pregnant workers accommodations so that they can stay at work unless a business can prove that the changes would cause it an undue hardship. That encompasses not just the needs of pregnant employees who have health complications, but also healthy ones who need things like schedule changes, a water bottle to stay hydrated, or a stool to sit on.
"It's very comprehensive," said Elizabeth Gedmark, senior staff attorney with A Better Balance, which testified in favor of the legislation. "It says that no pregnant woman should have to choose between her job and a healthy pregnancy."
The legislation originated with the Women's Rights and Empowerment Network (WREN) in South Carolina, which was eager to take on an issue that could improve women's economic and reproductive rights with a chance at bipartisanship. The organization was able to get state Rep. Greg Delleney (R-Chester) on board early on. "In a lot of our bills that we work on, we haven't seen eye to eye, so it was nice to be able to bring him into this process and be able to work together," said Eme Crawford, WREN's director of communications. "It takes the support of both parties to make something like this happen."
Testimonies like Jackson's also "made a huge difference," Gedmark said. At first, lawmakers were surprised that pregnancy discrimination is even a problem these days, three years after the U.S. Supreme Court ruled in favor of a former UPS worker who was denied similar accommodations at her workplace, and 39 years after Congress banned pregnancy discrimination. But personal stories made it clear that something needed to be done.
So did the argument that clarifying employers' responsibilities to pregnant employees will save them time and money spent on litigation, as well as represent a cost savings for a state that will have healthier, economically secure parents and babies without having to spend its own resources policing workplaces.
The federal Pregnancy Discrimination Act, as well as the Americans with Disabilities Act, requires pregnant workers to be treated the same as their peers, but employers, and even some arbiters of the law, may still not understand the obligations to healthy pregnant workers. To get their employers to abide by the law and offer them the same benefits as their nonpregnant colleagues, some workers will sue, but those that do have a lot of work to do to prove their claims. A number of states have taken the additional step of protecting pregnant workers through legislation like South Carolina's, which makes everything crystal clear on both sides.
"It makes it very streamlined and much less costly for really everybody: the employer, the employee, and the state that would perhaps be investigating it," Gedmark said.
And it keeps employees in their jobs and gets them the help they might need immediately. "Workers cannot afford to wait months and months for a lawsuit," Gedmark said. "They're pregnant and they need a water bottle immediately, sometimes to prevent miscarriage or really serious health consequences."
If Republican Gov. Henry McMaster signs the Pregnancy Accommodations Act into law, South Carolina will become the 24th state to require employers offer reasonable accommodations for pregnant workers. Other Southern or deep red states with such a policy on the books include Alaska, Nebraska, Texas, Utah, and West Virginia. "In red states, or blue states for that matter, these bills pass unanimously or near unanimously because this issue doesn't know party lines," Gedmark said.
South Carolina is not a leader in women's equality. The Institute for Women's Policy Research ranked it number 42 for women's health and number 41 for economic opportunity. "There are so many things that it's easy to get frustrated and negative about that are happening in our state," Crawford said. But this legislation offered a welcome reprieve. "We feel this is something special and big," she said. "We can be a leader in the South, and we can show other red states in the South here's how we can still make a positive and meaningful change … in pregnant workers' lives." Advocates are cautiously optimistic that McMaster will sign the legislation.
More red states are working on their own versions. Kentucky has a bill with a Republican sponsor in the state senate that was voted out of committee with bipartisan support, while bills have been introduced in Georgia and Indiana.
"It's been a huge wave of momentum really across the whole country," Gedmark said. "People are hungry for an issue they can be positive about and they can say, 'We're making really good change here.'"
Congress could be the next to get on board. Democratic lawmakers have introduced the Pregnant Workers Fairness Act, which would require all businesses to give pregnant employees reasonable accommodations, in multiple sessions of Congress to no avail. But in 2015, two Republican senators got on board.
"As more and more states are falling in line," Gedmark said, "we look forward to working with their Congressional representatives." State lawmakers might just be the right advocates to convince members of Congress of both parties that this is an issue whose time has come.