'Lawless': Advocates Sue Over HUD's Reversal of Fair Housing Policy
A lawsuit filed Tuesday claims the Trump administration is unlawfully trying to roll back anti-segregation efforts from the Obama administration.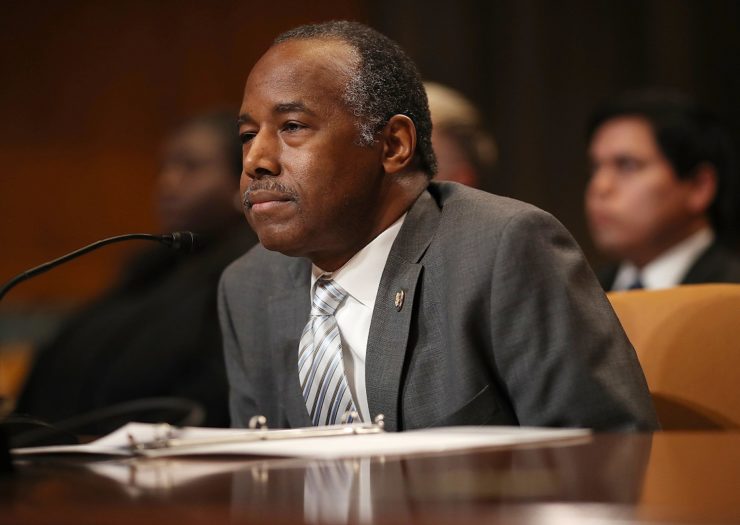 Fair housing advocates on Tuesday filed a federal lawsuit demanding that the U.S. Department of Housing and Urban Development (HUD) and Secretary Ben Carson reinstate an Obama-era rule that requires local and state governments address segregated housing patterns as a condition of receiving agency funding.
In July 2015, HUD adopted a set of federal regulations known as the "Affirmatively Furthering Fair Housing" (AFFH) Rule to guide the compliance efforts of local and state recipients of HUD's block grant funds.
"With this lawsuit, the civil rights community is standing up to Secretary Ben Carson and fighting back against an egregious attempt to roll back a hard fought victory," Kristen Clarke, president and executive director of the Lawyers' Committee for Civil Rights Under Law, said in a statement. "The 2015 Affirmatively Furthering Fair Housing Rule is a critical part of ongoing work to address structural racism and inequality today."
The AFFH Rule requires more than 1,200 communities that receive federal housing dollars to study local segregation patterns, analyze barriers to housing integration, and to create plans to desegregate their communities. Under the AFFH Rule, communities are required to do this study via an Assessment of Fair Housing (AFH). This is an in-depth planning process that is designed to tackle entrenched areas of housing segregation using data and community input. HUD grantees must conduct AFHs on a regular schedule by using a HUD-approved tool. HUD then reviews the AFHs and either approves or rejects them. 
Sex. Abortion. Parenthood. Power.
The latest news, delivered straight to your inbox.
The rule called for most communities to begin submitting these plans to HUD in 2016. Those communities without HUD-approved plans under the rule would no longer receive federal funding. 
Carson in January announced HUD was suspending the AFFH Rule and granting communities until at least 2024 to prepare and submit desegregation plans, a move advocates claim effectively removed civil rights oversight of as much as $5.5 billion per year for almost 1,000 jurisdictions.
The move was in many ways not a surprise. Carson, before he was confirmed as head of HUD by Senate Republicans and six Senate Democrats, had attacked the AFFH Rule in an op-ed, assailed LGBTQ housing protections, and expressed his concerns over people "vegetating in public housing."
"It took HUD almost 50 years to create an effective way to 'affirmatively further' fair housing—one that would actually eliminate the barriers that keep people of color trapped in segregated, low-opportunity neighborhoods," Sherrilyn Ifill, NAACP Legal Defense and Educational Fund, Inc. president and director-counsel, said in a statement. "For Secretary Ben Carson and HUD to wipe away the rule just as it was beginning to take effect is shameful and contradicts what has been a fundamental principle of HUD's mission."
In place of the AFFH Rule, HUD directed funding recipients to use a fair housing planning and reporting process that advocates and the Government Accountability Office (GAO) claim is ineffective. The pre-2015 process did not require jurisdictions to submit their fair housing plans to HUD, and according to the GAO's analysis, many jurisdictions did not even complete them. In court papers filed with the complaint, advocates pointed to examples in places like Westchester County, New York, where they claim local housing officials repeatedly certified the county's compliance with AFFH requirements even as it steered affordable housing developments into the most segregated neighborhoods in the county and permitted many white jurisdictions to resist affordable housing altogether.
These jurisdictions were falsely certifying to HUD that they were fulfilling their obligation to affirmatively further fair housing when they were not doing so.
"We have spent over a decade working with state and local governments to provide understanding that segregation is not an accident—it is the product of decades of intentional government policy," Madison Sloan, director of Texas Appleseed's Disaster Recovery & Fair Housing Project, a plaintiff in the lawsuit, said in a statement. 
"Reversing segregation is critical—and not just for the communities that have been denied access to safe, decent neighborhoods through exclusion and disinvestment. It is research-based policy that benefits everyone. HUD's unlawful suspension of the AFFH Rule is a huge step backward in the movement to create equitable, inclusive communities."
In a call with reporters, plaintiffs and their attorneys detailed examples in places like Houston, Texas, where local jurisdictions got federal housing dollars despite advancing flood protection policies that favored white neighborhoods, or Hidalgo County in the Rio Grande Valley, where the AFH process allowed residents to confront local officials about the lack of quality water and other municipal services to local communities.
Advocates in the lawsuit filed Tuesday allege HUD is attempting to delay and dilute the AFFH Rule in violation of the Administrative Procedure Act (APA). HUD failed to provide advance notice or opportunity to comment on the suspension and failed to articulate any plausible reason for the suspension, as required by the APA, according to the allegations in the complaint.
"This action is best described as lawless," Sasha Samberg-Champion, an attorney representing the plaintiffs, said Tuesday in a call with reporters. "An agency can't just decide one day that it's not going to follow its own regulations."
Samberg-Champion noted that in promulgating the 2015 rule, HUD under the Obama administration "did a lot of work." The agency considered more than 1,000 public comments over the span of many years before finally issuing the regulations. That process, Samberg-Champion explained, means the regulations have the force of law and HUD doesn't have discretion to abandon them. 
The regulations can only be changed if HUD were to go through a similar administrative process, said Samberg-Champion.
"What HUD has done in suspending the AFFH Rule can only be described as dereliction of its solemn duty to ensure that federal housing funds are distributed only to jurisdictions that comply with their civil rights obligations," Michael Allen, partner in the civil rights firm Relman, Dane & Colfax, said in a statement.  "Flouting the rule of law, HUD's action signals to every jurisdiction in the country that there will be no consequence for civil rights violations, and that HUD has no interest in helping cities, counties and states to expand housing opportunities for their residents."
The National Fair Housing Alliance (NFHA), Texas Appleseed, and Texas Low Income Housing Information Service (Texas Housers) are plaintiffs in the lawsuit. The plaintiffs are represented by the Lawyers' Committee for Civil Rights Under Law, the law firm of Relman, Dane & Colfax PLLC, the American Civil Liberties Union (ACLU), the NAACP Legal Defense and Educational Fund, Inc. (LDF), the Poverty & Race Research Action Council (PRRAC), and Public Citizen Litigation Group.
The plaintiffs ask the court to order HUD to restart the implementation of the AFFH Rule immediately.