On National Day of Awareness for Missing and Murdered Native Women, Here's What We Don't Know
So little is known about existing protocols for reporting missing Native women and girls or the process for collecting current data that recommendations for ways to improve accuracy have been vague.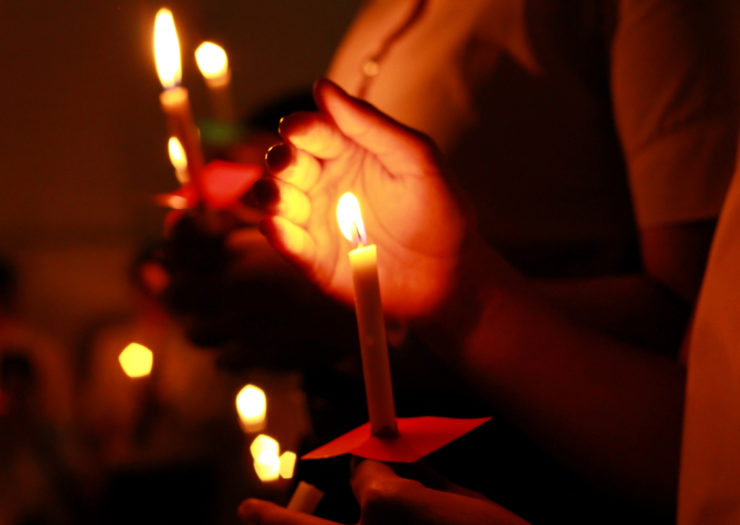 For the second year in a row, the U.S. Senate has declared May 5 the National Day of Awareness for Missing and Murdered Native Women and Girls. Montana Sen. Steve Daines (R), along with several co-sponsors, introduced the resolution to honor Hanna Harris, a member of the Northern Cheyenne tribe of Montana who went missing in 2013 and was later found raped and murdered. Harris' birthday is May 5.
Although it is seemingly a newly discovered epidemic by political leaders and legacy media, the tragedy of missing and murdered Native women and girls has gone on for generations. Carmen O'Leary, coordinator of the Native Women's Society of the Great Plains in South Dakota, told Rewire.News in a previous article, "It happens all the time in Indian Country."
Confounding elected officials and advocates is the actual size of the crisis, along with widespread confusion about how law enforcement agencies are gathering—and should gather—basic data on the number of missing Native women. So little is known about existing protocols for reporting missing Native women and girls or the process for collecting current data that recommendations for ways to improve accuracy have been vague.
Data provided by federal, local, and tribal law enforcement agencies, as well as ad hoc volunteer organizations and politicians, vary wildly. The National Missing and Unidentified Person's System (NAMUS) currently lists 102 reported cases of missing Native American women. Other databases list as many as 5,712 cases.
Roe is gone. The chaos is just beginning.
Follow Rewire News Group on Twitter to stay on top of every breaking moment.
Law enforcement agencies must vet missing reports in order for them to be included in NAMUS' volunteer listing, which is available to the public. Law enforcement, however, can decline taking reports of missing adults at its discretion.
"It's not against the law to go missing if you're over 18," noted Janet Franson, a retired homicide investigator from Florida who maintains the Facebook group Lost and Missing in Indian Country.
"If no report is taken by police, the missing person is not eligible for listing in NAMUS. This is when families contact me and other volunteer missing persons groups via social media seeking advice on what to do next," she told Rewire.News.
According to B.J. Spamer, NAMUS director of forensic and analytical services, there are a number of benefits to being included in NAMUS, namely that it offers free-of-charge DNA analysis to police or families and enters the missing person report into the national FBI database, the Combined DNA Index System (CODIS), and the National Crime Information Center (NCIC). In order to ensure an authentic chain of evidence, the DNA collection must be handled by police using a kit sent to them from NAMUS.
After creating an account on the NAMUS site, one enters information on the missing person. After verifying that police have taken a missing persons report, officials at NAMUS will send the DNA kit directly to the reporting agency. Blood relatives can then elect to go to the police, where a sample of their DNA is collected per directions in the DNA kit and returned to NAMUS for analysis and final inclusion in CODIS.
Spamer noted that many police agencies, especially tribal police, may be unaware of the existence of NAMUS. Of the 102 reported cases of missing Native women in the database, only five tribal police officers entered case information; non-tribal police generated the remaining 97 reports. Tribal police departments are notoriously understaffed and may not have time to pursue investigative options such as NAMUS.
"Our resources are limited. In addition to investigating missing persons reports, we also have to attend to daily operations," said Sam Lincoln, investigator for the Three Affiliated Tribes in North Dakota.
Lincoln noted that after extensive investigation, his office recently turned over a missing persons case involving Olivia Lone Bear—a 32-year-old mother of five—to the federal Bureau of Indian Affairs (BIA) police.
Lone Bear, of the Fort Berthold reservation, went missing on October 24, 2017. According to Lincoln, the tribe is using its funds to do whatever is necessary to find Lone Bear, but also wanted the help from the federal government. "The BIA police have more resources and can do ongoing investigation on the case on a daily basis," Lincoln said.
NAMUS recently received $7.5 million in federal funding to work on increasing public and law enforcement awareness about its services, according to Spamer.
NAMUS offers a more direct, economical method for law enforcement, as well as medical examiners and coroners, to enter missing persons reports and DNA for inclusion in the CODIS and NCIC databases, Spamer explained to Rewire.News.
If not using NAMUS, smaller agencies, such as tribal law enforcement, may depend on larger county or state law enforcement to collect and upload data into national databases, including NCIC. NCIC data, however, offers the public limited usable information about the numbers of missing Native women.
For instance, Sen. Heidi Heitkamp (D-ND) recently released data from NCIC indicating 5,712 reports of missing Native women in the United States in 2016. Heitkamp has been calling for more resources and better reporting for tribes and law enforcement in addressing sexual violence in Indian Country and missing Native women and girls for a long time. Her report of the number of missing Native women and girls is especially noteworthy since it is more than double any previous reports by either law enforcement or volunteer organizations tracking missing Native women in the United States.
However, Heitkamp fails to mention in her report that, according to NCIC data provided by her office to Rewire.News, 5,618 of the cases were listed as purged, leaving only 94 active remaining cases. To the casual observer, this might suggest that police are very successful at resolving cases of missing Native women and girls. But the term "purged" is an ill-defined category and can include cases in which the missing person was found, returned home, found dead, or the report was "removed by the reporting agency due to a determination that the record is invalid," as noted by NCIC.
"The information doesn't tell us if the reports were investigated; it only indicates that a report was taken," explained attorney Troy Eid with the law firm Greenberg Traurig, a current member of the Navajo Judicial Conduct Commission, former chair of the Indian Law and Order Commission, and co-author of A Roadmap for Making Native America Safer. Eid also helped draft the 2010 Tribal Law and Order Act (TLOA), which enhanced tribes' ability to prosecute and punish criminals of sexual and intimate partner violence.
"Some of us argued that, as part of TLOA, law enforcement should be required to explain why they decide not to open investigations on crimes and missing persons reports," he told Rewire.News. "Ultimately, we were unable to include that requirement."
Heitkamp continues to work on numerous fronts to push for more specific data. The senator introduced Savanna's Act in October 2017, which proposes adding specific direction for tribal, state, federal, and local data sharing in relation to missing and murdered persons. The act is named after Savanna LaFontaine-Greywind, who was killed in August 2017 in a horrific case of fetal abduction.
The act would require the U.S. attorney general to update the online data entry format for federal databases to include a new data field for the victim's tribal enrollment information or affiliation; develop protocols for law enforcement in dealing with missing and murdered Native people; make the protocols available to the public; and create standards for entering information on missing persons to federal databases, such as a time frame within which to enter data after it's received.
According to a spokesperson in Heitkamp's office, the senator is also pushing for funding for Savanna's Act under the Commerce, Justice, Science Appropriations Bill. As Rewire.News reported, TLOA was enacted without appropriation of any additional federal monies; the Department of Justice funds the act within its existing budget. As such, it has failed to reach its full implementation despite what some legislators have come to believe.
"Lawmakers and the public tend to think that all the problems with criminal justice in Indian Country were solved after TLOA was passed," Eid said. "At the time it was enacted, TLOA was the first major federal Indian legislation to pass in 30 years. It's a good start, but it's just a first step in working to protect Native women, a disproportionately victimized population," he said.
As advocates have long argued, developing adequate protections depends on accessing accurate data.