Culture & Conversation Maternity and Birthing
'Things That Helped' Is an Elegant Memoir of Living Through Postpartum Depression
In this essay collection that's a testament to recovery, Jessica Friedmann writes about debilitating sadness and inertia after her son's birth—and how creativity helped her find balance again.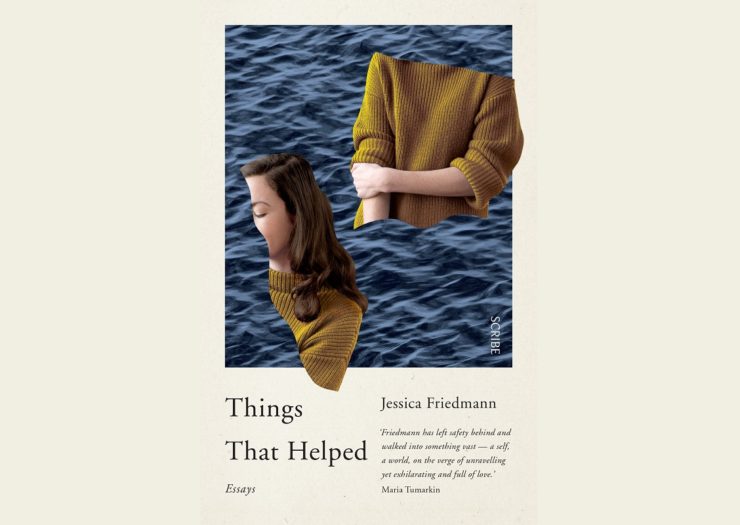 Australian writer Jessica Friedmann begins her exquisitely written memoir, Things That Helped, with a nod to the Old Testament: "In the beginning there was the river, wending its way around the top of the suburb …. The water was deep and cold and full of silt, and in the months after I had my baby, I would often dream of going down to drown myself in it."
This breathtaking writing is emblematic of Friedmann's honesty, but the book is far more than a deep dive into despair. In fact, it is an often amusing look at relationships—collegial, familial, and intimate—and an exploration of the role that art, music, literature, writing, and walking can play in healing the hurts that assail all living beings.
If you're like me, tears will occasionally stream down your cheeks as you read; you're also likely to bounce between anger and the desire to cheer as you meander through the 12 essays that comprise the book.
Friedmann experienced postpartum depression several years ago after she gave birth to her son, Owen. She informs readers that this was not her first bout of depression: She had been depressed as a child, an awkward adolescent, and throughout her twenties. Still, she'd managed, finishing several degrees, finding work, falling in love, and planting roots.
Sex. Abortion. Parenthood. Power.
The latest news, delivered straight to your inbox.
Then her postpartum depression blindsided her, leaving her unable to think, read, reason, or cope.
Friedmann's partner, Mike, is described as caring, patient, and supportive, as loving a mate—and a father—as anyone could ask for. At the same time, like all couples, they do not always see eye-to-eye, and Friedmann finds some of Mike's actions befuddling. Not the least of them is his enlistment into the Australian Air Force, a deliberate decision born of a deep-seated need for job security, a steady paycheck, and a guaranteed pension.
"There is," she writes in the "Rings" chapter, "a part of him I will never understand: Disciplined, unbending, but ready to bow to somebody else's authority if he thinks it will serve a greater good."
This tendency is completely alien to Friedmann, whose impulse to question authority and dissect every situation has been unwavering, albeit tempered when she was in the throes of her postpartum crisis. For example, Friedmann is acutely aware of her relative privilege as a white, college-educated, middle-class, cis-born heterosexual, and knows that women of color, trans women, lesbians, and the poor are typically not treated with the same kid-gloved-care that the medical establishment afforded her.
"In the time that I am sick, nobody tells me that I am a bad mother," she writes in "Walking." "Nobody tells me that my history of depression means that I should never have risked having a child." In retrospect, she berates herself for not speaking out and condemning the blatant disparities evident in the treatment of Black, white, and indigenous females, disparities she was witness to—and heard about from colleagues and friends—again and again. At the time, she admits, she simply had no fight in her.
Nonetheless, she writes that on occasion, other realities stopped her in her tracks. For one, at the same time that Friedmann was pondering taking her life, she was cognizant that women were being murdered throughout the world, killed by abusive lovers, police officers, warlords, political opponents, and all manner of haters and misogynists.
"I know that suicide is an affront, not just to myself, my self, which is already in danger of splitting up and flying away—but to the thousands of women who end up in rivers not by choice, but by violence," she concludes in the chapter "Swanlights, Turning." She mentions women like Honduran environmental activist Berta Cáceres, killed in 2016 "for exposing the ecological devastation that had been allowed by the corruption of her government" or Marsha P. Johnson, a "queer Black woman who threw one of the first bricks at the Stonewall riots," and whose body washed up on the banks of New York City's Hudson River in 1992. And so many others, both named and unnamed.
Awareness, of course, goes only so far, and when Friedmann was in the deepest chasm of her depression, the affairs of the world did not concern her. Once she was stabilized on anti-depressants and working with a trusted therapist, she was able to reflect and assess the things that lifted her from the haze: listening to the musician Anohni; learning to weave; putting on makeup; taking long, daily walks with her dad and son; writing; and watching movies about ballet and ballerinas.
That she is now feeling better—penning art criticism, essays, and poetry, and enjoying the daily chores endemic to raising a small child—is heartening, but Friedmann understands that the specter of depression will never be completely vanquished.
Could this, she wonders, be her legacy as the half-Jewish granddaughter of Hungarian Holocaust survivors?
Friedmann understands that she is not a Jew according to religious tradition—religious law deems a person Jewish only if one's mother is Jewish, and hers is not—but she discards this notion as absurd. "It is Jewishness, to which I am officially denied a claim, with which I identify so strongly in memory and in blood," she writes.
Citing research into intergenerational trauma, she reports that children and grandchildren of survivors tend to cluster into two categories: those who are "demonstrably more resilient" and those who are "more vulnerable to stress than others." A 2013 article in the Israel Journal of Psychiatry and Related Sciences bears this out; the authors report that researchers have discovered a chemical coating on the chromosomes of close family members of survivors "which could represent a kind of biological memory of what the parents' experienced," she writes.
Does this explain Friedmann's postpartum or other depression?
Maybe. Or maybe not.
Things That Helped does not offer a definitive explanation for postpartum depression, a phenomenon that the Centers for Disease Control and Prevention estimate affects one in nine Americans who give birth. But this in no way diminishes the book. Wise, thoughtful, and provocative, Things That Helped raises important issues and asks important questions about white privilege, unequal access to medical care, cultural memory, and how best to navigate complex relationships with peers, family, employers, and acquaintances. The things that helped Friedmann may not help everyone suffering from postpartum depression, but as a testament to recovery, the text is sure to inspire, uplift, and educate.