Kansas Schools Just Got a $530 Million Increase. It Might Not Be Enough.
Should the Kansas Supreme Court find the legislature's school funding attempts are still in violation of the state constitution, lawmakers will be back for a special session or risk schools not opening in August.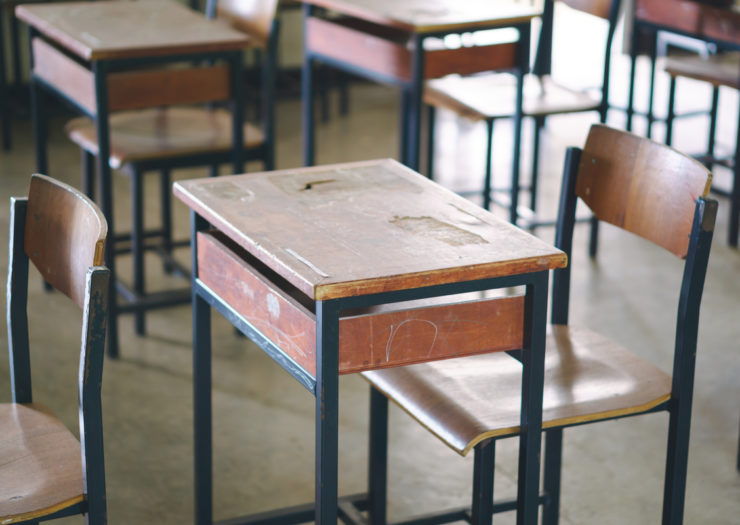 The Republican-majority Kansas legislature made progress Monday toward adequately funding education with the clock ticking toward a court-imposed deadline that would close schools.
Education advocates, however, are concerned the efforts aren't enough to satisfy the state supreme court's demands.
Legislators in April passed a $530 million school funding increase in response to a 2017 Kansas Supreme Court ruling that school funding is unconstitutionally low due to the GOP's economic austerity program. The measure contained an error that resulted in $80 million less funding than intended, making the issue a top priority during the legislature's nine-day wrap up session that began April 26.
Even after addressing the $80 million hole, education advocates aren't convinced the funding increase, to be phased in over five years, will satisfy the court's requirement to "adequately and equitably" fund schools, per the state's constitution.
Roe is gone. The chaos is just beginning.
Follow Rewire News Group on Twitter to stay on top of every breaking moment.
"There's not a lot of confidence that the bill passed, even with taking care of the error, will satisfy the Supreme Court Gannon decision," said Mark Desetti, government relations director with the Kansas National Education Association.
The court gave the legislature until April 30 to increase school funds, but lawmakers were able to extend that deadline to May 7 to allow time to address the error, which came about when lawmakers included some local property taxes as part of base state aid.
The house on Saturday approved a fix that would restore the $80 million and the measure was approved by the state senate on Monday. It now goes to Republican Gov. Jeff Colyer, who has promised to sign the bill. This may not be the end of Kansas' legal battles over school funding.
In the 2010 lawsuit Gannon v. Kansas, local school districts sued the state, alleging the GOP-held Kansas legislature unconstitutionally underfunded schools. The Kansas Supreme Court agreed last fall. Legislators commissioned an education funding study that found $2 billion is needed over five years to improve educational outcomes. Democrats and moderate Republicans offered amendments to further increase funding, specifically to fund teacher raises, special education, and mental health. Those amendments were defeated.
"We supported the bill because we needed to get something together to go before the court, but we've said from the beginning we think it has a 50 percent chance of not fully satisfying the Gannon decision," Desetti said.
Last year, after gains by Democrats and moderate Republicans in the 2016 election, lawmakers reversed a signature piece of former Gov. Sam Brownback's (R) sweeping tax cuts, effectively closing an income tax loophole for 300,000 Kansas businesses. State revenues fell by around $700 million in the first year of the tax cuts. Since 2009, total funding per pupil has fallen more than $700 million behind inflation through 2017, according to the Kansas Association of School Boards
Rolling back the Brownback tax cut has resulted in a revenue increase of about $1.2 billion, and revenues continue to exceed expectations, Desetti said.
"Rolling back those tax cuts is key. We would not be in this position today had the legislature not voted to roll back those tax cuts and override the governor's veto," Desetti said. "There's more money now than when they passed the bill so some legislators are saying, 'OK, let's increase funding in this bill in a way that's more likely to meet the court's ruling.'"
The court will hear oral arguments May 22 and will have a decision about whether Kansas has met funding requirements by June 30. Should the court find the legislature's school funding attempts are still in violation of the state constitution, lawmakers will be back for a special session this summer or risk schools not opening in August.