Under Trump Policy, Thousands of Vietnamese Refugees Are Newly at Risk of Deportation
As the 43rd anniversary of the end of the Vietnam War has approached on April 30, some have been fighting back.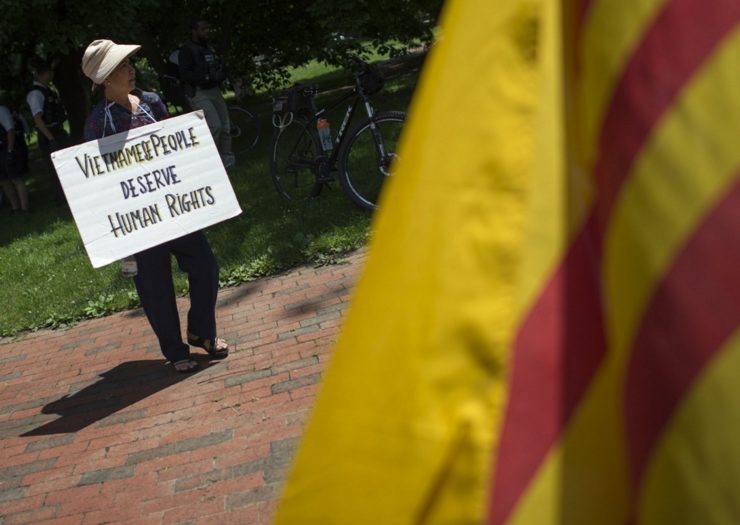 In March 2017, Cuong Nguyen, a 34-year-old nail technician who lives in Jacksonville, Florida, was picked up by Immigration and Customs Enforcement (ICE) while pulling out of his driveway on his way to work. He spent about a year in detention, missing his son's first birthday and leaving his wife to run their nail salon alone.
This was the second time Nguyen has been detained for months on end. Since he was released two months ago, he told Rewire.News, he's realized the toll his absence has taken on his family.
"I feel so bad for my wife and what she had to go through … she's really stressed out, she lost so much weight, she's so depressed. It's been really hard for her," Nguyen said. He added that his son, now 2, mistakes his uncle for his dad: "He's really confused. They explained to me that every time my brother comes over, [my son] is just waiting for a hug."
Nguyen, whose father served in the South Vietnamese army during the war and brought their family to the United States as political refugees when he was 11, is facing deportation because of a 2006 drug charge, for which he served 24 months in prison. He lost his green card after being convicted. During two different detainments, Nguyen spent more than two years in immigration custody while waiting for Vietnam to repatriate him, in addition to the time he'd served for his conviction.
Roe is gone. The chaos is just beginning.
Follow Rewire News Group on Twitter to stay on top of every breaking moment.
Nguyen is one of thousands of Vietnamese immigrants, most of whom fled the new Communist regime after the war, at risk for deportation under the anti-immigrant Trump administration. As the 43rd anniversary of the end of the Vietnam War has approached on April 30, some have been fighting back.
Under a 2008 repatriation agreement between Vietnam and the United States, Vietnamese immigrants cannot be deported back to Vietnam if they entered the United States before July 12, 1995, when the two countries established diplomatic relations. Historically, ICE has released these immigrants with final orders of removal within 90 days of detaining them. But in 2017, thanks to an executive order issued by President Trump, officials deviated from this practice.
Now, anyone without legal status—regardless of whether they came to the country as a refugee—who has a criminal history can be targeted for removal. In contrast, the Obama administration largely focused on violent criminals or people who posed a national security risk. Trump's executive order also identified countries who refuse repatriation as a problem and ordered sanctions against them.
Earlier this month, Ted Osius, who served as the U.S. ambassador to Vietnam from 2014 to 2017, revealed that he decided to leave his post after being asked by the Trump administration to "press" Vietnam into accepting "more than 8,000 people, most of whom had fled South Vietnam on boats and through the jungle in the years immediately following the war." Osius said he feared many of those "would become human rights cases," and called the policy "repulsive."
Phi Nguyen, litigation director at the Atlanta chapter of Asian Americans Advancing Justice (AAAJ), agrees. "It strikes me as pretty inhumane to envision people who fled Vietnam and came here as refugees to be sent back to a country that they risked everything to escape," she told Rewire.News.
That's why the organization is taking action. In February, AAAJ filed a lawsuit against the federal government, alleging ICE has unlawfully detained Vietnamese refugees who have received orders of removal. Their argument is that it's illegal to hold these people, some of whom have been detained for more than a year, unless there's some expectation that their home country will take them back. Their detention, attorneys argue, violates the 2008 repatriation agreement.
"Vietnam's longstanding practice of refusing repatriation has for years protected pre-1995 Vietnamese immigrants from being removed to the country they fled to escape starvation, violence, and death," the complaint states.
The class action lawsuit seeks to represent all Vietnamese nationals who arrived before 1995, have received removal orders, and have been detained by ICE for more than 90 days. The attorneys have identified at least 45 pre-1995 Vietnamese immigrants with deportation orders who, at the time of filing, were in ICE custody. On April 25, they also filed a motion asking the judge to certify the proposed class and demand the government release their plaintiffs from detention.
The suit states that immigration officials have also begun re-detaining some pre-1995 Vietnamese immigrants who'd already gone through the deportation process, never received their travel documents from Vietnam, and thus were released with orders to check in annually. One of those people is Robert Huynh, a 49-year-old who lives in Houston. He came to the United States with his mother and was given legal status as a political refugee in 1984.
Because his father was an American soldier, he, like other Amerasian children, was discriminated against by Vietnamese society. According to the lawsuit, the United States enacted laws in the 1980s to give Amerasians the "opportunity to leave behind a country that never accepted them in order to start anew in the homeland of their fathers." Those laws include the Amerasian Homecoming Act, which was implemented in 1987 and allowed approximately 25,000 Amerasians to immigrate to the United States and apply for refugee status by 2009.
A month ago, Huynh was released from Houston Contract Detention Facility after being detained for one year and nine days. He, too, has been ordered for removal because of a 2004 drug charge, for which he served 30 months in federal prison. He was picked up by ICE in February 2017 and told he'd be interviewed by the Vietnamese consulate to be considered for repatriation. That interview never happened. He ultimately filed his own habeas corpus—that is, he petitioned the court for a hearing on the basis of being illegally confined—and was released.
It's the second time Huynh has been in immigration custody: In 2006, he spent four months in Oakdale Federal Detention Center in Louisiana, and has been checking in with immigration officials annually since 2007. He expressed frustration that the U.S. government has had ten years to convince Vietnam to take him back, and yet he still had to spend a year of his life away from his family, including his 83-year-old mother.
"For all these ten years," he told Rewire.News, "the Vietnamese government, they still don't want to take me back. That means [ICE] locked me up in there for one year for nothing. I don't think that was fair for me."
Neither Huynh nor Cuong Nguyen, the refugee who lives in Florida, are named in the class action suit filed by AAAJ (Nguyen actually came to the United States in October 1995), but their stories shed light on the impact of the Trump administration's change in enforcement policy. Though both men lost their legal status after getting into trouble, they'd already sat in immigration custody for months, ultimately released on orders of supervision. Once Trump took office, they were detained and separated from their families a second time.
"As of December 2017," ICE spokesperson Brendan Raedy told International Business Times, "there were 8,600 Vietnamese nationals residing in the United States who are subject to a final order of removal, of whom 7,821 have criminal convictions."
Phi Nguyen, of AAAJ, said that's part of the reason why the Vietnamese community is so divided over this issue. "It's easy for people in our community who aren't directly impacted by this change in policy to say, 'Well, those people are criminals so it doesn't matter,'" she explained. "But everybody who has lost their green card due to a criminal conviction and now finds themselves in the position of being held by ICE has served their time in the criminal justice system. They've served their time, and now they deserve a second chance."
She also pointed out that it's "almost inevitable" that some refugees get caught up in the criminal justice system because of the lack of resources they receive when they arrive. In fact, Cuong Nguyen says it was his fear of losing everything after finding out his father owed a large sum of money that pushed him to agree to deliver drugs.
"It was just something I did to help my family," he said. "I chose the wrong path."
Now, he's preparing his family for the possibility he'll be deported—that is, if Vietnam ever agrees to take him back. "I worry about my family," he said. "I just try to work and then I try to get them situated … just in case I get deported, they'll be OK."