Idaho GOP Lawmakers Won't Expand Medicaid, so These Signature Gatherers Will (Updated)
"Cancer doesn't care if you're a Democrat, Republican, Libertarian, independent or nonpolitical. People in the health care coverage gap are of all political persuasions."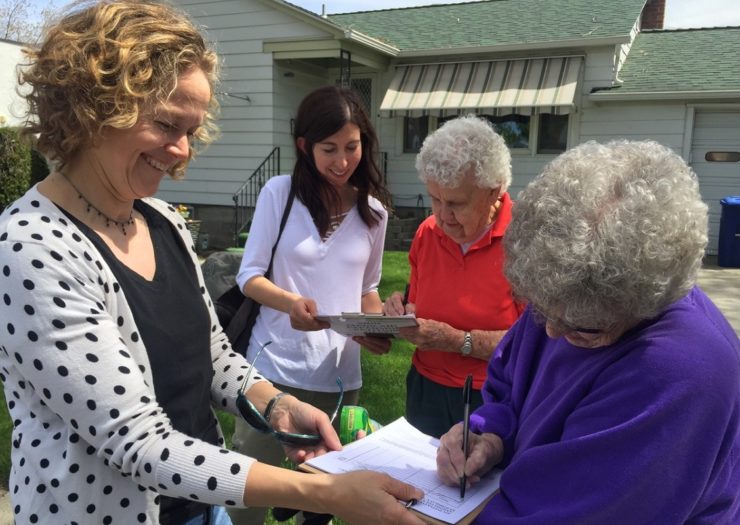 UPDATE, April 30, 2:28 p.m.: Signature gatherers collected and submitted the more than 56,000 signatures needed to get Medicaid expansion on the November ballot.
Stephanie Hanson gathered signatures on Wednesday outside the library in Nampa, a town west of Boise, Idaho. The 50-year-old will be in Boise Thursday night, knocking on doors.
Hanson is among the nearly 900 volunteers who are part of a final push to put Medicaid expansion on the November ballot in Idaho. Organizers announced Wednesday they need around 1,000 more signatures to reach the 56,192 signatures required to qualify by the May 1 deadline.
"I'm very optimistic we'll get this on the ballot, and very optimistic it'll be passed in November," said Hanson, a business owner, who figures she's put in nearly 20 hours this month gathering signatures. "It's so nice to be doing something in this day and age where you can see the good results that will come."
Sex. Abortion. Parenthood. Power.
The latest news, delivered straight to your inbox.
Idaho is among the states following the lead of voters in Maine, who last November passed Medicaid expansion through a ballot initiative. More than 70,000 people in Maine could benefit from the expansion. A Medicaid expansion campaign this month in Utah turned in more than 165,000 signatures, more than needed to qualify for the November ballot.
Voters are seeking ballot initiatives in response to GOP-led roadblocks to allowing wider access to Medicaid. Idaho is among 18 states that rejected federal money for Medicaid expansion, according to the Kaiser Family Foundation. These hold-out states lost out on federal Medicaid dollars from the Affordable Care Act (ACA), or Obamacare. Between 2014 and 2016, the ACA covered 100 percent of the funding for Medicaid expansion, a share that will be pared down to 90 percent by 2020.
Research suggests Medicaid expansion increased access to care and recipients' financial security, and showed a positive association between expansion and health outcomes.
Yvonne "Sam" Sandmire, Ada County co-chair with Reclaim Idaho, the ballot initiative organizers, said the group didn't trust the state's Republican-majority legislature to agree to Medicaid expansion this year, and instead decided to put the question to voters.
"We pay federal taxes, we send our taxes to the federal government," Sandmire said. "We're paying for citizens of other states to get health care and none of that money is coming back to Idaho. Accepting federal Medicaid expansion dollars just makes sense both fiscally and morally."
Sandmire, a retired Boise State gymnastics coach, said when she talks to Idahoans about Medicaid expansion, either they fall into the coverage gap or they know someone who does.
Under the ACA, nearly all people with incomes at or below 138 percent of the poverty line are eligible for Medicaid expansion. These people make too much to qualify for Medicaid, but don't qualify for insurance subsidies on the ACA exchanges. Estimates suggest 78,000 Idahoans fall in this gap, and most are working.
Universal concerns about health care, Sandmire said, have made it relatively easy to recruit campaign volunteers in the Republican-dominated state. The majority of volunteers are retired women, who use an app to make sure they're knocking on the doors of registered voters.
"We say bring your charged smart phone, and we train them," Sandmire said. "Many of them have never downloaded an app before."
Sandmire said staying healthy without going bankrupt is a sentiment that Idahoans understand. It's one of the reasons she thinks the ballot initiative will succeed.
"Cancer doesn't care if you're a Democrat, Republican, Libertarian, independent, or nonpolitical. People in the health care coverage gap are of all political persuasions."