Communities Band Together as Oklahoma Teacher Walkout Has No End in Sight (Updated)
Local organizations have stepped up to provide food and educational programming for the children who are entering their eighth day of school closures.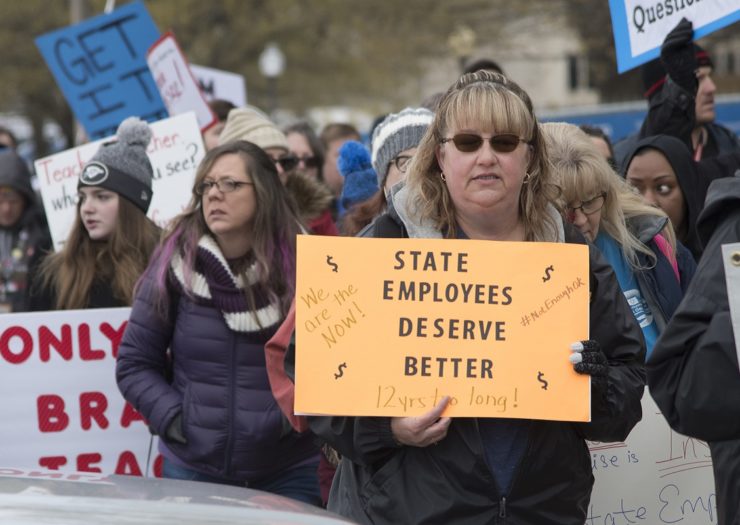 UPDATE, April 13, 8:33 a.m.: The Oklahoma teachers' walkout was called off late Thursday after the state's GOP-held legislature passed tax hikes for the first time since the 1990s, Reuters reports. A teachers union official declared the legislative action a "victory for teachers."
Thousands of Oklahoma teachers have rallied at the state Capitol for the past eight days demanding more funding for education.
The almost two-week walkout continues after Gov. Mary Fallin (R) signed legislation Tuesday repealing a $5 hotel and motel tax that would have provided additional funding for schools, failing to meet one of the demands for which teachers had pushed.
The tax had been included in a measure that the GOP-majority state legislature passed and Fallin signed, giving teachers a roughly $6,100 pay raise. But educators pushed back, demanding $10,000 and additional funding for classrooms.
Roe has collapsed and Texas is in chaos.
Stay up to date with The Fallout, a newsletter from our expert journalists.
Fallin signed two additional revenue measures into law and said this would complete K-12 funding for the 2019 fiscal year.
The Oklahoma Education Association (OEA), the largest teacher union in the state, had called on Fallin to veto the hotel and motel repeal bill.
"Gov. Fallin has spent years doing far too little for public education, so it's no surprise that she took measures to further neglect students today," OEA President Alicia Priest said in a statement following the bill signing. "The governor and lawmakers keep closing the door on revenue options when Oklahomans are asking for a better path forward. Filing for office starts Wednesday. Public education should be the issue this November. We need candidates who are worthy of our children."
The union has called for the passage of a bill that would eliminate the state's tax deduction on capital gains. It applied for a permit to continue its walkout next week, FOX23 News reported.
OEA estimates that between 25,000 and 35,000 educators, support staff, and supporters have attended the rallies at the Capitol each day last week. Some of those teachers and supporters have been walking to the Capitol. A group of educators and supporters in Tulsa on Tuesday completed a 110-mile weeklong journey to Oklahoma City.
Local organizations have stepped up to provide food and educational programming for the children who are entering their eighth day of school closures.
The Community Food Bank of Eastern Oklahoma has sent 2,300 meal kits to local libraries and early learning centers, spokesperson Greg Raskin told Rewire.News. Mobile eateries and pop-up markets have also provided nourishment.
"We know there are a lot of kids going hungry," he said. "It's going to make a big impact to them."
Raskin said the food bank is committed to providing food to students for as long as the walkout lasts. "Time away from school doesn't mean going hungry," he added.
At the Woody Guthrie Center in Tulsa, about 250 students last week took part in songwriting sessions, art projects, concerts, sing-alongs, and some Oklahoma history lessons, said Jerry Wofford, education and public program manager at the Center.
"We have had a team of volunteers helping to bring these programs to different sites as they are needed, giving students something a little different to do and helping relieve some pressure on the full-time staff at these sites," he said.
The programming continued into the second week of the walkout. Wofford called the experience with the children "incredible."
"Kids have a lot to say, and it serves us all well to listen more," he said. "When prompted to write a song last week, one student was sheepishly writing on a big piece of paper and would turn it over at the end of each line. When she looked like she was finished, I asked if I could read it and she handed it to me. I read it and started to cry right away. It was so thoughtful and emotional and you could tell this girl had a lot to say. I'm thankful she had the opportunity."
The Tulsa Area United Way has coordinated local efforts among organizations.
"We will keep providing programming where and when it's needed for these sites, though we're starting to see the same students again so we're freshening up our curriculum and doing a few different programs," Wofford said. "But it all comes back to music and expression and making sure these students know they have a voice and that it's an important one for us to hear.