Lawsuit Challenges Host of Mississippi Anti-Choice Laws
A federal lawsuit looks to build on the 2016 ruling in Whole Woman's Health v. Hellerstedt and knock down some Mississippi anti-choice laws that have been on the books for years.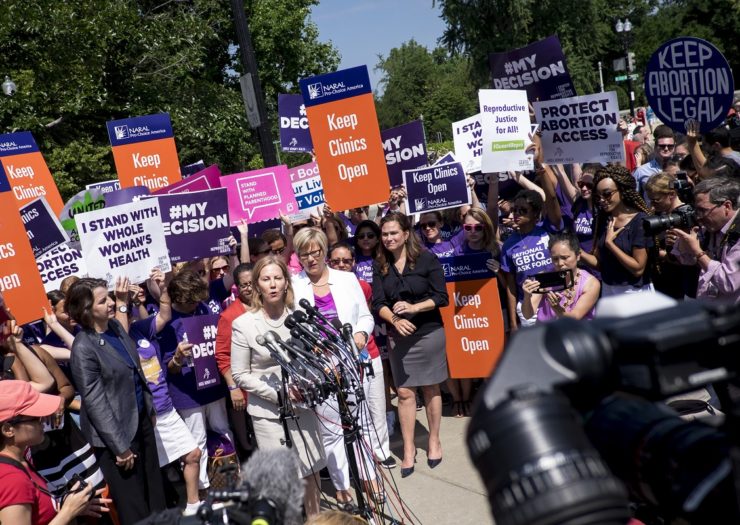 Reproductive rights advocates on Monday filed a lawsuit to challenge a patchwork of Mississippi abortion restrictions they claim are among the most onerous and blatantly unconstitutional in the United States. 
The lawsuit builds on a recent challenge to the Mississippi GOP's 15-week abortion ban. That anti-choice law is blocked by a federal court. 
The restrictions challenged in Monday's lawsuit include laws that target both abortion access and procedures. Those include Mississippi Republicans' targeted abortion clinic licensing "scheme" and the state's requirement that only physicians provide abortion care. 
The litigation challenges the state's 24-hour forced waiting period, a requirement that makes a patient take two separate trips to and from a clinic before receiving abortion services. The lawsuit also challenges the state's ban on telemedicine abortion. 
Roe has collapsed and Texas is in chaos.
Stay up to date with The Fallout, a newsletter from our expert journalists.
Attorneys from the Center for Reproductive Rights; the law firm Paul, Weiss, Rifkind, Wharton & Garrison LLP; Mississippi civil rights attorney Robert B. McDuff; and the Mississippi Center for Justice brought the lawsuit on behalf of the state's only abortion provider, the Jackson Women's Health Organization.
"At some point it's the straw that breaks the camel's back," Nancy Northup, president and CEO of the Center for Reproductive Rights, said in a call with reporters, explaining why some of these laws that have been on the books for years are now being challenged.
Northrup told reporters during that call that the U.S. Supreme Court's 2016 decision in Whole Woman's Health v. Hellerstedt, which struck as unconstitutional two Texas abortion restrictions, has helped provide both clarity for the courts when judging abortion restrictions and a new tool for advocates to challenge longstanding abortion restrictions that do not advance pregnant people's health. 
"The precipitous drop in access to abortion in Mississippi over the past 25 years is the result of a coordinated strategy to undermine or eliminate women's constitutional rights to legal abortion with deceptive laws and unnecessary regulations," Northrup said in a statement. 
"Mississippi's regulations have nothing to do with women's health, and everything to do with shaming women and blocking access to abortion care."
Northrup promised more litigation from advocates like the lawsuit filed Monday in Mississippi. 
"We're taking Mississippi and other states to court to protect abortion access and make it clear to anti-choice politicians across the U.S. that they are not above the law—and that in a court of law, facts, evidence, and the Constitution still matter," Northrup said.
Attorneys for the State of Mississippi have not yet responded to this latest lawsuit.