Tennessee Immigration Raid Creates Chaos and Solidarity
Tennessee may be a conservative state, but the sudden arrests of 97 long-time immigrant residents and workers have galvanized the people of Hamblen County to come to the aid of their neighbors, suggesting a break with Trump's immigration policy.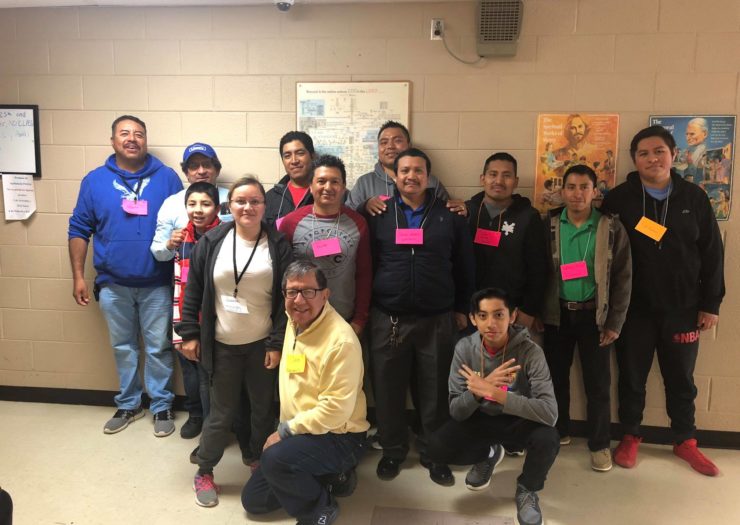 Ninety-seven workers at a Tennessee meatpacking plant were taken into custody last Thursday in what advocates say may be the largest workplace immigration raid in a decade.
The raid, coordinated by Immigration and Customs Enforcement (ICE), the Internal Revenue Service, the Department of Homeland Security's Homeland Security Investigations arm, and the Tennessee Highway Patrol, ostensibly was based on execution of a federal criminal search warrant at Southeastern Provision in Bean Station, Tennessee, whose owners are accused of tax evasion, filing false tax returns, and illegal hiring of immigrants. 
The arrests have simultaneously thrown the community into chaos and brought it together, said Stephanie Teatro, co-executive director of Tennessee Immigrant and Refugee Rights Coalition (TIRR), which is based in Nashville. Teatro spoke to Rewire.News from a Catholic church in Morristown that has become a central operating center for the hundreds of family members of those arrested and for volunteers from throughout Hamblen County, a county next to the plant where workers have deep community roots.
On the face of it, Tennessee is a very conservative state. President Trump won the majority of votes in 92 out of Tennessee's 95 counties in the 2016 presidential election. Grainger County, in which the meatpacking plant is located, went for Trump by a margin of nearly six to one. Tennessee has one of the fastest growing immigrant populations in the country, and is undergoing rapid demographic shifts, according to Teatro. Because of these rapid changes, there are a lot of communities susceptible to the fear and scapegoating promoted by Trump.
Roe is gone. The chaos is just beginning.
Follow Rewire News Group on Twitter to stay on top of every breaking moment.
Hard right members of the Tennessee legislature have worked hard to pass anti-immigrant legislation. "We've killed more than 150 anti-immigrant bills in the state legislature since 2003," Teatro said. Even so, "next week they are considering bills that would make life harder for immigrants." One would prohibit any local or state agency from accepting certain forms of identification often used by immigrants to enroll their kids in school, and another would prohibit cities in the state from adopting a sanctuary city ordinance. "The votes on these could go either way," according to Teatro.
Nonetheless, immigration advocates say a vote for Trump may not translate into unequivocal support for his policies: The sudden arrests and plight of children left behind have galvanized support for the workers and their families from throughout Hamblen County. "It may be a conservative state," said Teatro, "but on the ground it's about people. It's about your neighbors and who you go to church with."
Those connections explain why the county has rallied to the aid of those arrested, according to Teatro. "The workers had no warning at all that a raid was going to take place," said Teatro. "Many of them have been working at the plant for more than ten years, and some have been living in this area for more than 30 years. They have children, they have families, they have roots here."
Teatro said ICE summarily closed off roads, surrounding the plant, and arrested the 97 workers, forcing them into a truck without asking them their names, work status, or immigration status. "None of the workers were interviewed on site. Instead they were taken to the National Guard center, where they were fingerprinted and interviewed," Teatro said. "It is uncommon and also illegal for them to arrest these workers without asking them anything. Some of them have work authorization, so were later let go."
"As of 

[Sunday night]

, 54 of those arrested remain in custody, and 32 were released from custody but are still in deportation proceedings and will have to start checking in with ICE as soon as this week," Teatro said. 
Among those arrested were the parents of an 8-month-old; the woman was later released so she could care for the baby, but is still in deportation hearings. The status of the majority of those arrested remains unclear, as some were arrested for criminal charges, though on what basis is not yet clear, and the rest on civil immigration charges. Rights advocates said
it also was not yet clear exactly if or when those still detained would have the chance to see a judge. According to Teatro, some individuals likely won't be given the chance to see a judge and make a case for reuniting with their families.
The arrests caused panic, sending hundreds of people to area churches seeking help. One church has become the center of operations, with community members offering legal services, counseling, and information, and rooms there are now full of diapers, clothing, and food for the families affected. Children whose parents have been arrested are being looked after at the church by volunteers. And attorneys are helping families draft papers giving temporary custody of their child or children to friends in the event they are detained or deported.
"In fact, we drafted papers tonight for a kid whose parent is in detention," said Teatro. "An aunt is going to take custody of one woman's children but we have to send the forms to ICE so the mom can sign custody over to her sister."
The outpouring of support has been overwhelming, said Teatro. "So many children have been affected by this, many of them very young children whose parents were taken away. One guy in detention has five kids. Imagine the trauma of losing a parent or not knowing where your parent is or when you will see them."
"And fear is now widespread throughout the immigrant population," Teatro said. "We have been hearing reports from teachers that an estimated 600 kids were absent from school the day after the raid."
On Saturday morning following the raid, TIRR sent an email to teachers in the county asking them for help, and 120 teachers showed up that same night to offer assistance. "It's hard to describe what is going on here," said Teatro. "It's an incredibly powerful space with a huge amount of trauma met by an incredible amount of support."
Teatro is not completely surprised at the response. Morristown is a rural community reliant on both agriculture and related industries. English as a second language is widespread and the rate of those enrolled in English language classes is much higher than in much of Tennessee, Teatro said. Many churches have Spanish-language Mass, many immigrants have U.S.-born children, and many longtime Morristown residents have deep relationships with their neighbors. "Some of the immigrants are telling me their stories in thick southern accents," Teatro said.
"This raid drew a line in the sand for many people," Teatro added. "The majority of people in Morristown don't think you should be able to storm into a factory where their neighbors have worked for 15 years, leave kids without parents, and leave families devastated. It's been a real shock to Morristown community. And it is showing what Morristown really is about: solidarity within the community."
This article was updated at 6:21 am Monday, April 9th to clarify estimates of those arrested who have work authorization and the uncertainties about if and when individuals will be given any chance to see a judge.
We will continue to update this story as new information becomes available.