The Congressional Omnibus Bill Was Surprisingly Good for Native Survivors of Violent Crime
"The passage of the bill reflects the dedication and hard work of countless grassroots Native advocates, who pounded the pavement to bring awareness to the needs of victims in Indian Country."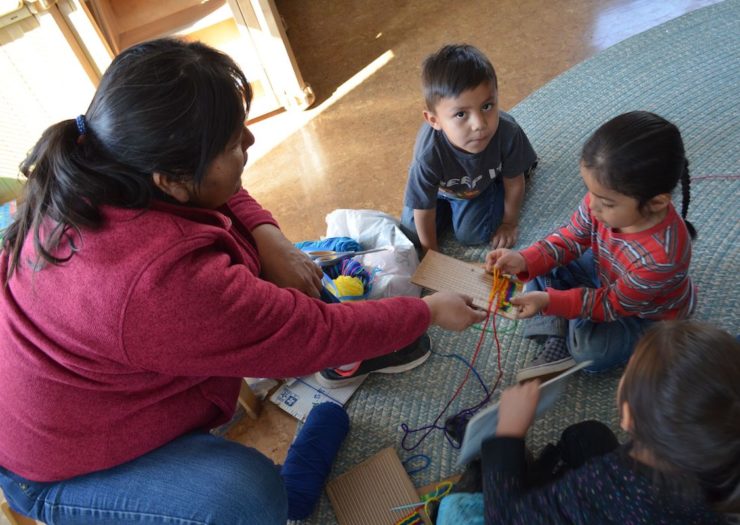 An unexpected funding boost for Native victims of violent crime was tucked away in the massive "omnibus" spending bill signed by President Trump on March 23.
The bill includes first-time tribal funding set aside within the Victim of Crime Act (VOCA)'s Crime Victims Fund. The 3 percent set aside will amount to around $133 million, according to an analysis by staff at the National Congress of American Indians (NCAI).
"We were literally crying in gratitude when we heard the news," said Caroline LaPorte, senior Native affairs policy adviser with the National Indigenous Women's Resource Center (NIWRC).
Tribal victims services providers and community members have not previously been allowed access to the VOCA funding. Native providers compete, instead, for discretionary grants from the Department of Justice under the Children's Justice Act and the Office for Victims of Crime. As policy analysts at NCAI explained, the DOJ grant process forces tribes to compete against each other; tribes with greater human resources and ability to employ experienced grant writers end up with larger shares of funding while tribes with the greatest needs often go without. Most DOJ funding is awarded on a two- to three-year cycle, thwarting sustainable support for successful programs.
Roe is gone. The chaos is just beginning.
Follow Rewire News Group on Twitter to stay on top of every breaking moment.
"As members of Congress, we have an obligation to meet the safety and justice needs of Indian Country," said Rep. Betty McCollum (D-MN) in a statement. "I am proud that we are taking a big step forward today by allowing tribal nations, whose communities suffer from the highest rates of victimization in the country, to directly access the Crime Victims Fund and build a better network of support and services for survivors."
Enacted in 1984, VOCA included the Crime Victims Fund, financed by fines and penalties paid by convicted federal offenders, to be used by providers supplying services to victims and victim compensation for crime-related expenses, such as medical costs, funeral and burial costs, mental health counseling, and lost wages or loss of support.
Under VOCA, each state and territory receives dedicated funding for qualifying victims services. Tribes have received small portions of the funding as state pass-through grants. Between 2011 and 2014, programs to support Native survivors of violent crimes received 0.5 percent of annual Crime Victims Fund funding.
Tribal leaders have for years advocated for tribal access to the Crime Victims Fund, pushing for an amendment that would create a funding set aside. Although the appropriations bill doesn't represent a permanent change in the VOCA legislation, it is a hopeful sign.
"The Bill doesn't change the underlying VOCA statute. In the past, however, once a set aside is enacted, it is often continued in future funding," said Steve Derene, executive director of the National Association of VOCA Assistance Administrators.
Until now, tribes had to ask states to provide them with a portion of VOCA funding. "It was like California asking Wisconsin for money. States wouldn't do that for each other or for tribes, so tribal victims were unable to access the help they needed," LaPorte said.
"We are beyond elated. Tribes have been shut out of this funding since 1984," she added.
"The passage of the bill reflects the dedication and hard work of countless grassroots Native advocates, who pounded the pavement to bring awareness to the needs of victims in Indian Country," according to LaPorte.
"This bill represents real progress for Indian Country …. It rejects the president's dangerous proposed budget cuts and instead provides funding increases that will lead to healthier communities and better outcomes across Indian Country," noted Sen. Tom Udall (D-NM), vice chairman of the Senate Committee on Indian Affairs in a press release.
Trump in 2017 proposed a budget that included cutting $303 million from the Bureau of Indian Affairs (BIA) and $252 million from the Indian Health Service (IHS).
The bill includes a 10 percent budget increase for IHS and a 7 percent increase for BIA and the Bureau of Indian Education.
The increase at the BIA includes an additional $2 million for implementing Violence Against Women Act services for the agency's public safety and justice programs, and a $9 million increase in criminal investigations and police services.