An Ohio Woman Demands Better Care for Black Patients After Her Involuntary Hospitalization
She says her experience is emblematic of a greater problem: the treatment Black patients face when they seek psychiatric care.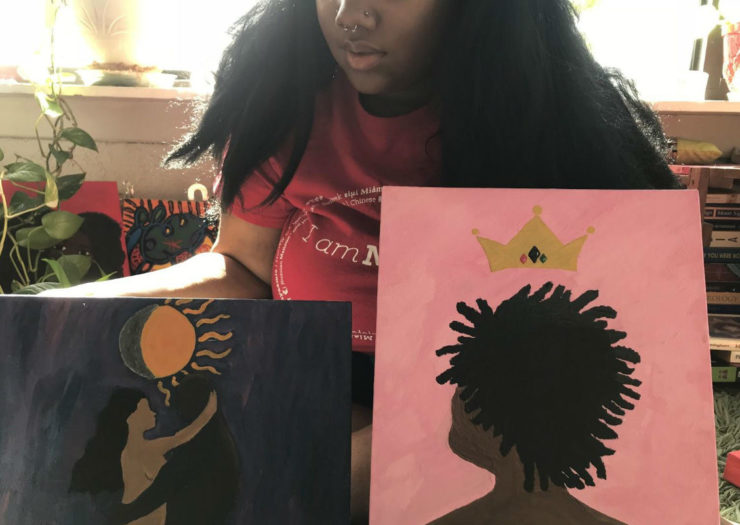 When Nisa Muhammad's suicidal ideations intensified one night in late January, she knew she needed to seek professional help. Having struggled with depression and self-injury since she was a preteen, the 20-year-old had undergone voluntary psychiatric hospitalization in the past. That same night, she had her grandmother drive her to the University of Cincinnati's (UC) Psychiatric Emergency Services, hoping to be admitted for inpatient care.
Staff treated Muhammad over the course of five hours for a bout of exhaustion brought on by low blood pressure and dehydration. As it grew later, her grandmother left her under the impression that the hospital would be keeping Muhammad well into the next day.
That night, though, a doctor discharged Muhammad, telling her he wanted her to come back of her own accord to be sure she consented to being admitted for care. Not wanting to disturb anyone at such an early hour, Muhammad made her way to the Cincinnati Metro bus stop around 4 a.m. to figure out her next move.
Then, in an instance of what she calls "synchronicity," her guy friend suddenly called and invited her to come stay with him in Bowling Green, Ohio. Eager to get away from the things troubling her in Cincinnati, she caught a Lyft to the Greyhound bus station. She arrived, unbeknownst to her family, in Bowling Green six hours later.
Roe has collapsed and Texas is in chaos.
Stay up to date with The Fallout, a newsletter from our expert journalists.
"At first I was panicking that everyone was trying to find me. But then I started to feel like I was in a good place," Muhammad said. "I was getting a lot of writing done and was figuring out how I wanted to manifest my goals for 2018." Having turned her phone to "do not disturb" mode, she also created art, practiced yoga, and meditated while in Bowling Green.
But insomnia also accompanied her sudden mood shift. Muhammad believes she only slept for eight total hours during the four days she was away.
Eventually growing weary of having her whereabouts in question, Muhammad came back to Cincinnati on February 4. After she was home for a day, her mother, Lameesa Muhammad, grew concerned about her daughter's lack of sleep and ramblings about suddenly having life figured out.
"We weren't sure what was normal behavior for a person who hadn't been sleeping and what might be a bigger concern," Lameesa Muhammad told Rewire.News of her daughter.
She and Muhammad's father, Kush, called UC Psychiatric Emergency Services and decided to take her in for an evaluation, to which Muhammad consented. Based on her past experiences, and the fact that she didn't feel like a danger to herself or others, Muhammad and her parents only expected the hospital to keep her for an overnight examination. Instead, she was involuntarily held in inpatient psychiatric care for 14 days.
Muhammad alleges she was ignored as she suffered allergic reactions, was falsely accused of being disorderly, and was over-medicated and psychologically gaslighted during those two weeks at UC. She has filed a grievance with UC and complaints against two of her physicians there with the Ohio Medical Board—and she says her case reflects the broader obstacles Black patients face when they seek psychological care.
"I Felt Unsafe in That Environment"
According to chapter 5122.10 of the Ohio Revised Code, a patient can be involuntarily detained if certain licensed health-care professionals or law enforcement officials determine the patient represents a substantial risk of physical harm to themselves or others.
Once an involuntary patient has undergone an examination—which must be conducted within 24 hours of the patient being admitted—the hospital has up to three court days to either file an affidavit for a temporary order of detention (TOD), or the patient must agree to update their admission status to "voluntary." If no affidavit is submitted within that time frame or the court does not issue a TOD, the patient must be discharged.
According to the dates on the documents Muhammad provided, the hospital followed protocol in that regard. The judge made the decision to hold her based on evidence doctors presented to him. Muhammad argues, though, that the person who examined her and the psychiatrist who submitted the affidavit misrepresented her behavior and risk level in their reports.
By the time she was released from the hospital, Muhammad says she had been medicated—sometimes by force—with different antidepressants and antipsychotics, including risperidone. According to MedlinePlus, risperidone can cause a number of side effects, including nausea, vomiting, and skin rashes. Muhammad says she experienced all three.
"When I tried to tell the nurses, they said I was doing it to myself," Muhammad told Rewire.News. "They said I stuck my whole hand down my throat when I didn't. None of them even saw me throw up." Her mother and grandmother brought her natural soaps and oils to alleviate her skin irritation, after hospital staff dismissed her complaints; Muhammad's medical records note that she experienced a rash in response to the risperidone, but neither of the other symptoms. They also state "we could find no objective evidence of the allergy."
"When I went to see her, I could clearly see she was broken out on her face and around her lips," Lameesa Muhammad said. She went on to research risperidone and found that the commonly documented side effects aligned with what her daughter was experiencing. She then says she presented her findings to one of the psychiatrists overseeing Muhammad's care.
"He told me they weren't seeing an allergic reaction and that it was highly unlikely," Lameesa Muhammad said.  "He was basically trying to tell me that because he had never seen it, it was impossible for her to be having those types of reactions."
In addition to the seeming allergic reaction brought about by the risperidone, Muhammad said the first room she was given was exceedingly dusty and aggravated her dust mite allergy.
"It was making me really sick," Muhammad said. "And when I told a nurse, he acted like he didn't see anything. I literally picked a piece of dust up off the floor and showed it to him."
Another patient, 33-year-old Gabe Rodrig, said he witnessed Muhammad's reaction to the dust. "When she got here, her room was full of dust and so was mine," he said. "She was up at night coughing. It sounded like she couldn't breathe and was gasping for air." Staff eventually switched Muhammad's room in response to her requests, and the dust was no longer an issue.
Beyond disregarding her allergy complaints, Muhammad says clinicians manipulated some of the things she told them to make her seem less aware of reality. She says hospital staff mischaracterized things she voiced about her artistry and spiritual beliefs as delusions.
In an affidavit submitted to the Hamilton County Probate Court, a psychiatrist wrote that Muhammad was "still grandiose" and stating that "she is an artist and she plans to change the world by selling her art." He indicated that she "would benefit from treatment in a hospital for [her] mental illness and is in need of such treatment as manifested by evidence of behavior that creates grave and imminent risk to substantial rights of others or [herself]."
Art is such an integral part of Muhammad's life that her nickname is "Mona Nisa".
"I'm literally a published poet," Muhammad said. "And I've been creating art since I was five years old. I was in theater, I've played musical instruments. I'm a multidisciplinary artist."
The social worker who initially examined her wrote in a statement of belief that Muhammad expressed "that God talks to her and tells her to 'create.'" Muhammad was raised Muslim and incorporates various New Age practices like crystal healing, astrology, and chakra cleansing into her lifestyle.
Muhammad believes that because she challenged the hospital about the quality of care she was receiving, they attempted to weaponize racist stereotypes about Black women against her.
"They said I was telling people not to take their medicine and that I was following nurses around, intimidating them and trying to make them cry," Muhammad said. She denies the allegations.
"We're already considered to be angry as a collective. Personally, I've never had anybody in my life describe me as being 'angry,'" said Muhammad, whose high school nickname was "Bubbles." "But that's who they wanted me to be. It was very hurtful."
Muhammad's boyfriend, Jhamal Sambola, describes her as a "very vocal but soft" person who has never been in a physical altercation. "What they were saying about her was completely out of character," Sambola said.
Kush Muhammad also said the hospital's claims about his daughter's behavior seemed amiss. "She's the opposite of a bully," he said. "Nisa tries to help everybody." He went on to describe the experience with UC as "frightening."
Muhammad said nurses also falsely accused her of being physically combative, sedated her, and put her in seclusion twice. Ultimately, she was diagnosed with Bipolar 1, including psychotic symptoms, during the psychiatric hold. But she says her counselor is reluctant to agree with this assessment. (Citing patient privacy laws in the Health Insurance Portability and Accountability Act, the counselor declined to confirm this for Rewire.News.)
"The whole entire time it's like they believed I was psychotic," she said. "They treated me like I was out of my mind because I stood up for myself. I felt unsafe in that environment." At one point, Muhammad wrote the words "help me" on a wall with blood from her arm, she said.
The University of Cincinnati declined to comment for this story.
A Broader Issue
The treatment Muhammad received is emblematic of a greater problem: the treatment Black patients face when they seek psychiatric care.
A 2014 study done by professors at the University of Akron School of Counseling determined that Black people are disproportionately diagnosed with schizophrenia and other psychotic disorders; in fact, they are five times more likely to be diagnosed with schizophrenia than white people.
The study concluded that factors such as the misapplication of diagnostic criteria, tendencies to readily assign the socially "deviant" behaviors associated with psychotic disorders to Black Americans, and clinicians' misinterpretation of psychopathology in Black people may explain the disparity. A 2012 study published in the American Psychiatric Association's Psychiatric Services journal concluded that clinicians' perceptions of African American patients' honesty are significant mediators of the racial disparities in schizophrenia diagnoses.
Such diagnosis rates have consequences: A 1996 study published by the Psychiatric Services medical journal found that Black emergency psychiatric services patients received more psychiatric medications, more doses of antipsychotics, and more intramuscular injections of antipsychotics than non-Hispanic white patients. Research from 2012 published by the Journal of Clinical Psychiatry supports this, concluding that patients of color diagnosed with schizophrenia are more likely to be administered long-acting injection antipsychotics than other patients.
Black patients say this pattern extends beyond diagnosis and treatment of psychotic disorders to other mental illnesses.
When managing her chronic condition got to be too overwhelming last fall, congenital heart disease survivor and awareness advocate Camille King, voluntarily admitted herself for psych care at UC.
"I'd had three open heart surgeries in three years," the 28-year-old said. "I just hit the point where I was done. I didn't want to fight or take medicine anymore, and I was tired of the ticking in my chest; it's never silent."
King was placed on 100 milligrams of quetiapine for depression and bipolar disorder. "I was like a zombie," she said. "I was so exhausted that I couldn't do anything."
Knowing that she wouldn't be able to tend to her young son in such a state, she requested to be prescribed a lower dose. But when she was discharged from the hospital, she says the dosage on her prescription hadn't changed.
"I felt like I wasn't being heard," King said. "I'm a very big advocate for my own health because I have to be. Doctors think that because they have a white coat and a degree, they know what I need better than I do."
King said that she was told if she didn't take the medication as prescribed, she wouldn't be released. She took the medication as instructed but was able to have the prescription decreased by an outpatient psychiatrist a couple weeks later.
Chicago-based crisis therapist Kristen Rogers works with youth—mostly of color—under the age of 21. In her experience, institutions, including schools, emergency rooms, and social service agencies, will sometimes attempt to misuse hospitalization as a disciplinary tool.
"I see a lot of kids being overdiagnosed" by mental health clinicians, Rogers said. "Instead of the school-to prison pipeline, it's becoming a school-to-mental institution pipeline." Rogers frequently explains to individuals that she cannot hospitalize kids who are not an imminent danger to themselves or others just because of poor behavior.
"I feel like I really have to fight for these kids," she said. "I let people know I'm not hospitalizing a kid because you don't feel like doing your job or because they cussed you out."
This, too, is supported by research: A 2004 Psychiatric Services study found that Black people are referred to inpatient psychiatric care by the criminal justice system more than Hispanic and non-Hispanic white individuals. And according to a 2001 report done by the Department of Health and Human Services, African American patients are significantly more likely to be hospitalized in specialized psychiatric hospitals and beds than white patients.
Once patients enter the medical system, there's a need for "providers to have cultural competency training, so they can understand how to treat people as individuals based on their culture," said Jan Desper Peters, executive director of the Black Mental Health Alliance (BMHA), in an interview with Rewire.News. "If you go to a Pentecostal or Baptist church and you see people gyrating around, jumping up and down, passing out, and catching the spirit, that could look strange if that's not your experience."
The fifth and most recent edition of the Diagnostic and Statistical Manual of Mental Disorders (DSM-5) exempts religious and spiritual beliefs from being classified as or deemed symptomatic of a mental illness. The last edition, the DSM-4, was the first to do so.
There are no federal laws requiring medical professionals to undergo cultural competency certification. But there should be, according to Desper Peters.
"There are many hospitals and treatment facilities that serve a population whose culture they don't understand," Desper Peters said. Organizations like the BMHA, which provides mental health services to patients and trains and educates providers about issues specific to the Black population so they can provide informed, competent care, exist to address the cultural barriers found in behavioral health services.
Although there is little scientific data available on the topic, existing research shows that racial biases can play out in mental health professionals' perceptions of how dangerous patients are. Indeed, Black patients have experienced firsthand what can happen when their actions are interpreted as aggressive—and sometimes the results are deadly.
In 2012, the University of Cincinnati settled a wrongful death lawsuit after the 2010 death of an unarmed Black patient, Kelly Brinson, who was tased by a UC police officer. The 45-year-old man voluntarily admitted himself for inpatient psychiatric care. Staff sedated Brinson and officers placed him in seclusion after he became agitated. An officer tased Brinson three times in the process of restraining him, causing him to go into cardiac arrest. He died three days later.
Because of the history of institutions mistreating Black patients, there is a prevailing, generational distrust of the health-care system at large in Black communities. This legacy, combined with the cultural stigma of having mental health disorders, makes Black patients reluctant to seek psychiatric care.
For her part, Muhammad has been assigned a case manager by UC in response to her grievance. She is beginning to connect with advocacy groups to see if they can aid her in the process. Ultimately, she told Rewire.News she didn't feel like she was taken seriously by the hospital because of her mood disorder in conjunction with her race and gender.
"I have high standards about my treatment and the service I receive anywhere," she said. "People don't take me seriously because I'm young, Black, and a woman. But I take myself seriously because I know what I deserve."