Advocacy Groups Launch Mobile Billboard Campaign Targeting Anti-Choice Clinic Ads on Google
"By running sham abortion clinic ads on Search and Maps, Google fuels this industry of deceit and puts women's health and lives at risk," UltraViolet Co-Founder Nita Chaudhary said in a statement.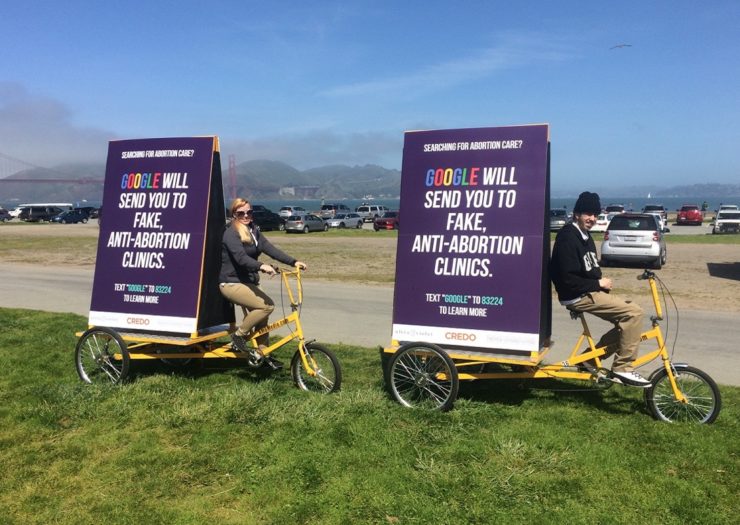 Bicyclists with mobile billboards cycled along San Francisco streets on Tuesday in a new campaign criticizing "'fake anti-abortion clinic' Google search ads."
The billboards, paid for by the advocacy organizations UltraViolet and CREDO, read: "Searching for Abortion Care? Google Will Send You to Fake, Anti-Abortion Clinics. Text 'Google' to 83224 to Learn More."
Organizers said the aim was to pressure the search giant to crack down on its search ads bought by abortion foes that operate so-called crisis pregnancy centers.
These anti-choice clinics buy Google ads to attract pregnant people searching for abortion providers, intending to discourage them from getting abortions. Google said it removed anti-choice clinic ads from its platform in December after Rewire.News found nearly 40 percent of searches for "abortion" in some U.S. cities produced at least one anti-abortion clinic ad. The ads violated company policy against misrepresentation, the search giant told Rewire.News. But a recent investigation by Gizmodo found searches for "abortion" in Google Maps also directed individuals to crisis pregnancy centers.
Sex. Abortion. Parenthood. Power.
The latest news, delivered straight to your inbox.
Nita Chaudhary, co-founder of UltraViolet, said Google must take immediate action to uphold its policy against misrepresentation.
"Millions of women rely on Google for honest, accurate information to find legitimate reproductive health care facilities," Chaudhary said in a statement. "By running sham abortion clinic ads on Search and Maps, Google fuels this industry of deceit and puts women's health and lives at risk."
The CEO of RealOptions, which operates anti-choice facilities, told the San Jose Mercury News in February it buys Google keywords for the terms "abortion" and "pregnancy" and "unplanned pregnancy." Buying keywords produces ads when users search Google for those words, as the San Jose Mercury News reported. 
A Google spokesperson said in an email to Rewire.News that the company maintains and enforces its policies against misleading and misrepresentative ads.
More than 175,000 UltraViolet and CREDO members have signed petitions asking Google to take down the ads, according to a statement from the organizations.
The billboard campaign continued on Wednesday.
The campaign comes at a pivotal time. The U.S. Supreme Court is poised to decide whether a California law requiring anti-choice clinics to notify pregnant people about access to abortion and other services violates the facilities' free speech rights.
In February, a nationwide network of independent abortion clinics paid for six billboards in the Bay area in a campaign aimed at dispelling "politically-motivated deception about abortion." The billboards followed a controversial decision by the state nursing board to approve a course on abortion pill "reversal."
This week, the pioneer of the experimental treatment, Dr. George Delgado, published a paper suggesting using progesterone to stop a medication abortion in a sample of 547 patients "appears to be both safe and effective," as the Washington Post reported. However, the American Congress of Obstetricians and Gynecologists has condemned "reversal" as "unproven and unethical."
Dr. Daniel Grossman, director of Advancing New Standards in Reproductive Health at University of California at San Francisco, said his research has found that women who took the first abortion-inducing medication, mifepristone, but not the second, had a 25 percent chance of the pregnancy continuing without any intervention.